This article has been reviewed by Wego's editorial team to ensure that the content is up to date & accurate. 
Excitement is in the air as the festival of colors, Holi, approaches again in Dubai! This festival has been celebrated with boundless enthusiasm for years, and next year promises to be unforgettable. So get ready to embrace the spirit of Holi and make the most of this fantastic celebration. There's much to look forward to, from colorful powders to sweet treats during this magical festival. To help you make the most of this special occasion, we've compiled some of the best ways to celebrate Holi in Dubai 2024. So immerse yourself in a world of vibrant colors, joyous music, and unforgettable memories. Let's make this year's Holi celebration in Dubai the best yet!
Here is all you need to know about the celebration of the Festival of Colors in the UAE.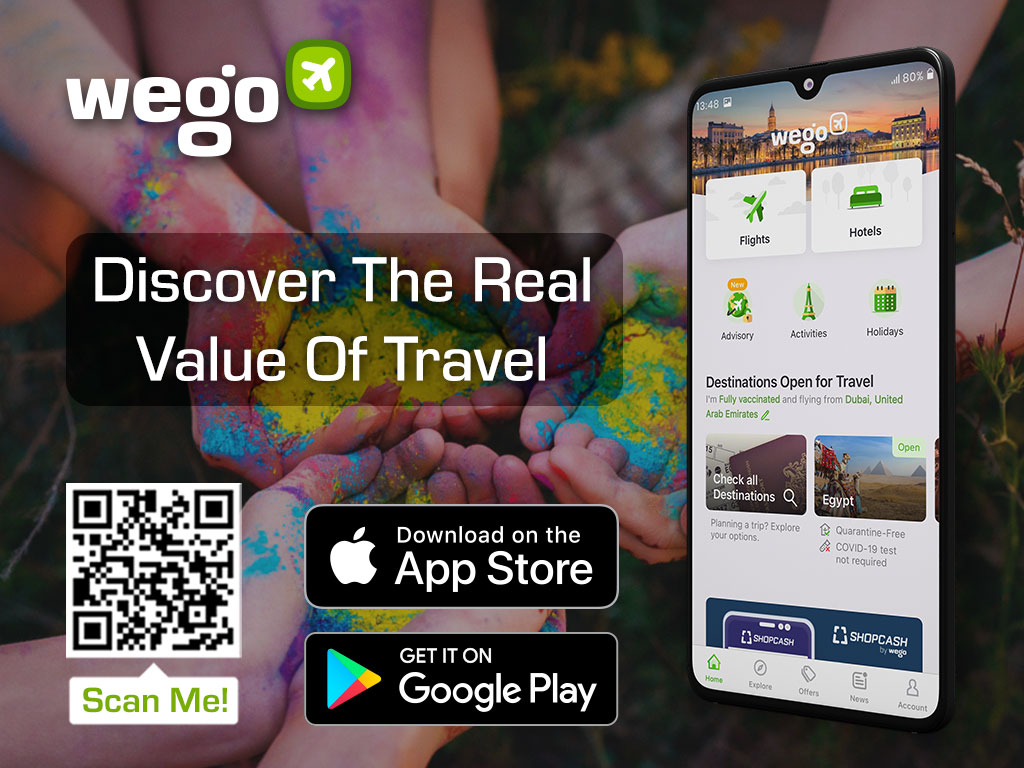 Holi 2024 in UAE date and time
Next year Holi will be celebrated on 25 March 2024.
Holi celebrations in Dubai and UAE
Holi celebrations in the UAE share many similarities with those of the rest of the world, albeit with minor differences. People attend Holi events to meet and interact with friends or family.
During the Holi celebrations, the air is filled with the sound of joyous music and the sight of vibrant colors. People gather together to sing, dance, and play with colorful powders, water guns, and water balloons, creating an atmosphere of pure happiness and excitement. The streets are alive with the festival's energy as people joyfully splash each other with colored liquids and return drenched and dyed.
It's a time to forget all worries and embrace the spirit of Holi, surrounded by a kaleidoscope of colors and the warmth of loved ones. So immerse yourself in this magical celebration, where the music, dance, and colors merge to create an unforgettable experience that will leave you with cherished memories for years.
A range of mouth-watering delicacies is prepared, including Punchranga pulao, Dhal maharani, medu vedai ki chaat, channa kachori chaa, Paneer diwani hand, Aloo gobi and many more. Sweet treats like the kesar gujiya, raisins and chironji nuts, and thandai drinks are also served on the special occasion of Holi.
The UAE celebrates the festival of Holi by hosting several day-time festivities at public venues in Abu Dhabi, Dubai and Ras Al Khaimah.
Best places to celebrate Holi 2024 in Dubai and UAE
While this year's Holi bash is yet to be announced in the UAE, here are the top spots that celebrated Holi.
Color Splash 2023 – Ras Al Khaimah
Color Splash 2023 took place on the occasion of Holi 2023. The fun-filled festive event was organized by Marquee Tourism and Events, including delicious dining options and groovy music by some of the most popular DJs in the country.
Rang Barse – Dubai
Rang Barse 2023 was an event hosted by Dyine Entertainment in Dubai that offered various activities with great music, live DJs and Punjabi singers. Holi color packs were available for sale at stalls inside the venue. The event was held at Creek Park Dubai's Beach Area on 12 March 2023.
Holi Festival Of Color At Jumeirah Golf Estates
The Holi Festival of Color at Jumeirah Golf Estates was the perfect way to celebrate the festival of colors in Dubai. The event featured Indian food stalls, a DJ, and drinks, making it a memorable. Attendees had the opportunity to collect their color packet, starting at AED 10, to fully immerse themselves in the festive spirit. It was a fun-filled celebration that left a lasting impression.
Holi Hai – Dubai
Holi celebrations also took place at Zabeel Park's Mega Ball Arena. The event was open to all ages and nationalities.
Color Beach Party – Dubai
La Mer North Beach in Dubai hosted the ultimate beach Holi event. With 12 hours of non-stop music, an exceptional line-up of DJs, good food, dance, and color, the Color Beach party was perfect for getting guests in the groove of the festivities and enjoying Holi this season. Children below 12 years were granted free entry.
[Total:

302

Average:

4.7

]