This article has been reviewed by Wego's editorial team to ensure that the content is up to date & accurate. 
Holi is the Hindu festival of colours that celebrates the arrival of spring, the end of winter. The Hindu community residing in UAE prefer to celebrate this festival by distributing gifts and sweets and attending Holi events where their friends and families zealously throw fists of vibrant coloured powders and water at each other to celebrate this special occasion.
Ex-pats and residents in the UAE can expect several activities and events on the occasion of Holi which can be attended by all. Here is all you need to know about the celebration of the Festival of Colours in the UAE.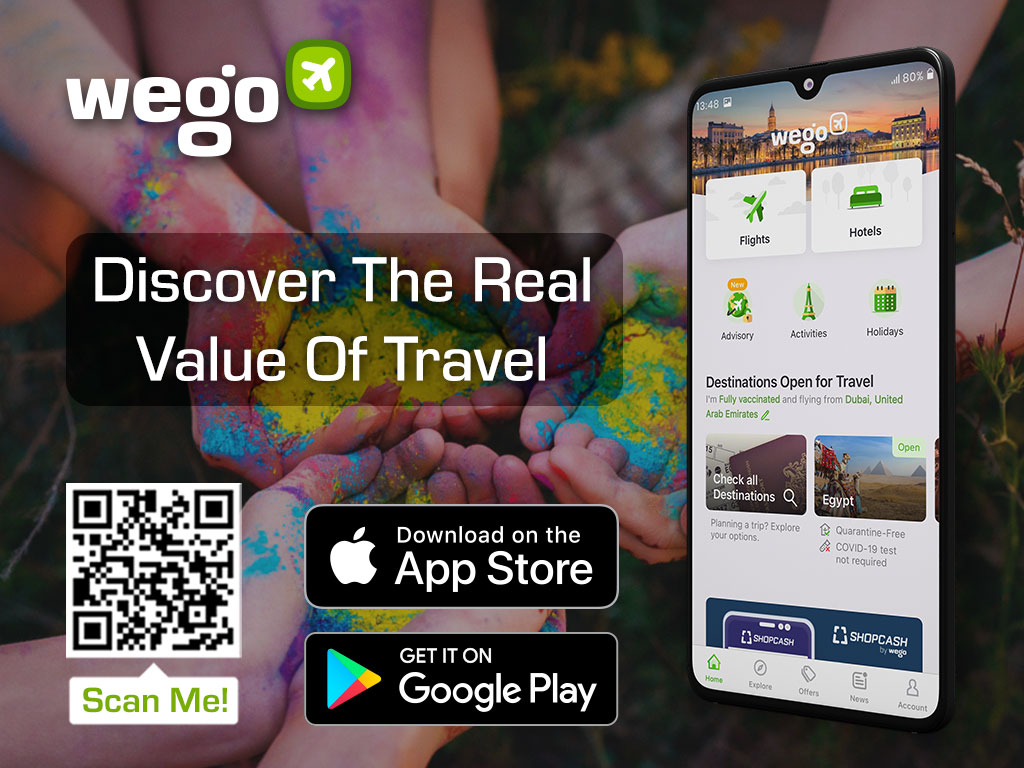 Holi 2023 in UAE date and time
Next year Holi will be celebrated on 18 March 2023.
Holi celebrations in Dubai and UAE
Holi celebrations in the UAE share many similarities with those of the rest of the world, albeit with some minor differences. People attend Holi events to meet and interact with friends or family.
Singing and dancing is a key part of the Holi celebrations. People play with coloured powders and liquids, water guns and water balloons and return drenched and dyed. The cheerful festival is usually celebrated with music, dance and lots of colours.
A range of mouth-watering delicacies is prepared, including Punchranga pulao, Dhal maharani, medu vedai ki chaat, channa kachori chaa, Paneer diwani hand, Aloo gobi and many more. Sweet treats like the kesar gujiya, raisins and chironji nuts along with thandai drinks, are also served on the special occasion of Holi.
The UAE celebrates the festival of Holi by hosting several day-time festivities at public venues at Abu Dhabi, Dubai and Ras Al Khaimah.
Best places to celebrate Holi 2023 in Dubai and UAE
While this year's Holi bash is yet to be announced in the UAE, here were the top spots to celebrate Holi last year, in 2022.
Colour Splash 2022 – Ras Al Khaimah
Colour Splash 2022 took place on the occasion of Holi 2022. Organized by Marquee Tourism and Events, the fun-filled festive event included scrumptious dining options and groovy music by some of the most popular DJs in the country.
Rang Barse – Dubai
Rang Barse 2022 was event hosted by Danube Group in Dubai that offered an array of activities with great music, live DJs and Punjabi singers. Holi colour packs were available for sale at stalls inside the venue. The event was held at Creek Park Dubai's Beach Area on 20 March 2022.
Colour Fest 2022 – Dubai
Souk Al Marfa hosted an exciting event at its waterfront destination, including live performances, music, dance and a marketplace. Located at Deira Islands, the colour fest was scheduled for Saturday, 19 March, from 11:00 – 18:00.
Holi Hai – Dubai
Holi celebrations also took place at Zabeel Park's Mega Ball Arena. The event was open to all ages and nationalities.
Colour Beach Party – Dubai
La Mer North Beach in Dubai hosted the ultimate beach Holi event. With 12 hours of non-stop music, an exceptional line-up of DJs, good food, dance, and colour, the Colour Beach party was perfect to get guests in the groove of the festivities and enjoy Holi this season. Children below 12 years were granted free entry.
[Total:

302

Average:

4.7

]