This article is reviewed regularly (on a monthly basis) by Wego's editorial team to ensure that the content is up to date & accurate.
Updated 26 October 2022
Revered as the largest Gurudwara in the world of Sikhism, the Kartarpur Gurudwara has finally opened up for both Indian and Pakistani pilgrims after shutting down for over a year due to the pandemic. Kartarpur corridor, the visa-free border crossing that joins the Indian border to the Gurdwara in Pakistan, reopened its doors on 17 November. 
Here is everything you need to know about the Kartarpur corridor, how to get there, and the latest guidelines in place that you should be aware of.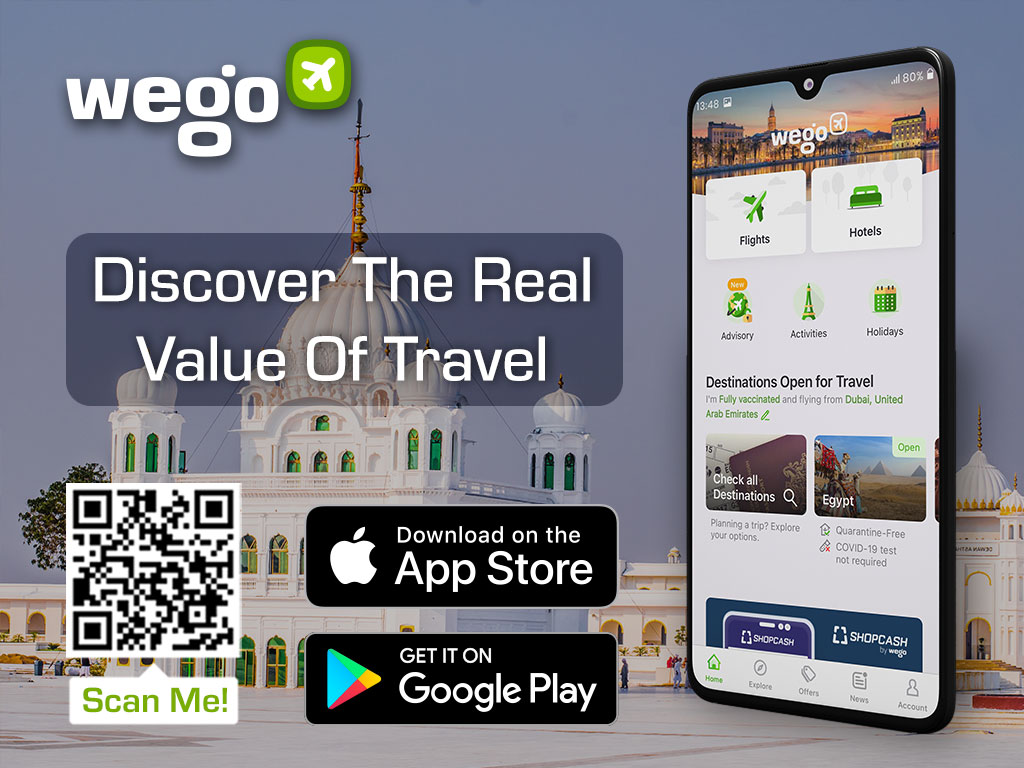 Reopening of Kartarpur Corridor
The Kartarpur Corridor allows Sikh pilgrims to travel visa-free via the Attari-Wagah border to Gurdwara Darbar Sahib, located at Kartarpur in Pakistan's Shakargarh in Narowal district. 
Pilgrims from India can now visit the iconic Gurudwara, donned by white marble and special lights, as the Kartarpur Corridor has opened on 17 November. The Kartarpur Corridor is immensely important for Sikhs living in India and Pakistan. It is one of the holiest places for the Sikhs who are strong followers of Baba Guru Nanak. 
Kartarpur, also called a 'peace corridor' between India and Pakistan, had seen around 45,000 pilgrims travel through it between November 2019 and February 2020 before it was shut. The Corridor was closed in March 2020, barely four months after it was inaugurated because of the COVID-19 outbreak.
Current entry guidelines 
In this post-pandemic state, Pakistan has loosened up their COVID-19 travel restrictions. However, there are some things that pilgrims need to pay attention to visit Kartarpur. Here is the comprehensive guide on how to get to the Kartarpur Corridor right now. 
Eligibility for entry
All Indian passport holders can visit Kartarpur. However, foreigners are not allowed. Indians belonging to any religion can use the Corridor and enter the Gurdwara. It's not limited to only Sikhs.
Pakistanis can also visit Kartarpur Sahib, and they do not need to use the Corridor, but they must carry their CNIC card. 
Kartarpur Corridor registration 
For Indians
For the pilgrims coming from India, you can get yourself registered online through the link https://prakashpurb550.mha.gov.in. It will be convenient for you if you register at least 10 days before your intended travel date. Before filling out the online registration:
It is recommended to have Acrobat Reader is installed on your computer system. If you do not have the software, you can download it

here

.

Applicants must be aware of his/her blood group for filling the registration form.
Conditions for the applicant:
Applicants should possess a valid passport.

Overseas Citizenship of India (OCI) cardholders need to fill in OCI card details in the registration form.

It is the applicant's responsibility to feed accurate information complete in every respect, including spelling of the name, date of birth etc., as in the passport.

Incorrect or false information, concealing any material facts in the application form will be ground for rejection of the application. 
Keep the following items ready while filling out the registration form:
Scanned copy of the passport-size photograph (in JPG format not exceeding 300 kb in size).

Scanned copy of passport (containing photo & personal particulars) and last page containing family details in pdf format only not exceeding 500 kb in size. 

Scanned copy of the first page of OCI Card in pdf format only not exceeding 500 kb in size.
Follow this link https://prakashpurb550.mha.gov.in/kpr/applicationStatus to check your application status online. After successful online registration:
Take a printout of the registration form and keep it with you for reference.

Applicants who are granted permission will be sent electronic travel authorization (ETA) via the e-mail address provided in their application. Pilgrims are required to bring a copy of the ETA for entry. 
Please note that pilgrims will have to go in the morning and return on the same day. Pilgrims shall be allowed to visit only Sri Kartarpur Sahib and not anywhere outside. Indians will get a yellow card to mark their nationality.
For Pakistanis 
For Pakistanis, the entry process is simple and all you need is to have your CNIC with you for verification upon entry. Pakistanis will receive a red card to mark their nationality. 
Kartarpur Corridor entry fee
For Indians
Indian pilgrims entering through the Corridor will have to pay US 20$ at the entry point. Transportation and other facilities will be free of cost. These pilgrims cannot stay overnight at Gurdwara Darbar Sahib Kartarpur.
For Pakistanis 
Pakistani pilgrims entering via the Wahga border need not pay any entry fee. They can visit Gurdwara Darbar Sahib Kartarpur on the Pakistani entry side, and they are not allowed to return via the Corridor. They are allowed to stay overnight inside Gurdwara.
Important things to keep in mind when visiting Kartarpur
You will receive an ETA (Electronic Travel Authorization) with confirmed status if you are qualified. Only four days before your scheduled departure date will you learn the status of your application. The terminal has four security checkpoints. You won't require a visa, passport, or stamp. However, you must bear the following in mind:
Visitors cannot carry a weight of more than 7 kg.
Visitors can carry cash up to ₹11000.
They are not allowed to stay overnight.
Pay $20 to the Pakistan Government for the visit.
A golf car will drop you at the Indo-Pak border. Another buggy from the Pakistan side will drop you at the Gurudwara.
You must return before sunset.