This article has been reviewed by Wego's editorial team to ensure that the content is up to date & accurate.
Updated April 2023
Imagine arriving in a city that embodies sustainability and innovation, where you can encounter diverse cultures and the latest technology. That's what awaits you at Neom Airport, the commercial airport of Neom, Saudi Arabia's new visionary city. Below, you'll find everything you need to know about Neom, Saudi Arabia's most recent leading-edge airport.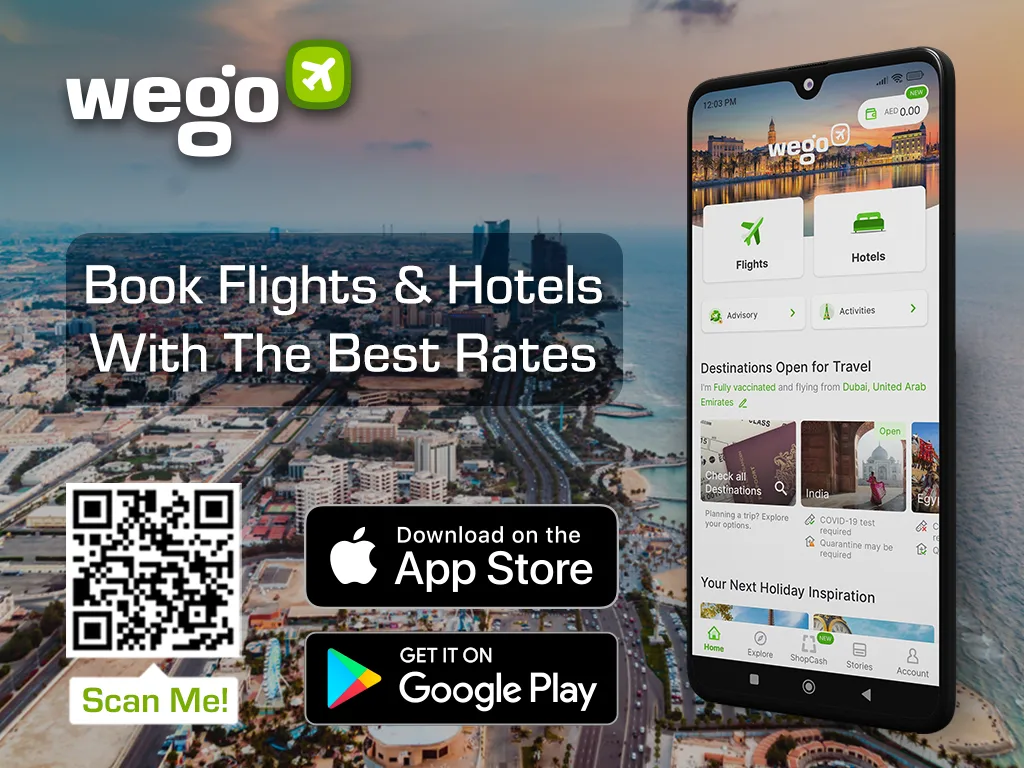 Neom Airport explained
Neom Bay Airport, situated in Neom, Saudi Arabia, is a bustling commercial hub that forms a crucial component of the city's larger plan to become a global leader in innovation and sustainability. The airport is one among a planned network of four airports in the city, which includes an international one as well. Its location near the borders of Saudi Arabia, Jordan, and Egypt is a strategic advantage that makes it a convenient travel option for visitors from multiple countries.
But Neom airport is more than just a transport facility. It is an entrance to a new future, where visitors can get a sneak peek into Neom's vision of transforming how people live, work and play. It symbolizes Saudi Arabia's unwavering ambition and innovation in the 21st century and serves as a representation of its commitment to creating a brighter and more sustainable tomorrow.
Neom Airport was launched for commercial traffic in June 2019, with the arrival of a Saudia flight from Riyadh. Since then, the airport has expanded its network to encompass several destinations, including Bahrain, Dammam, Dubai–International, Jeddah, and London–Heathrow. Flyadeal, Flydubai, and Saudia Airlines operate the airport, and it has quickly established itself as a key player in the aviation industry.
The airport boasts a modern and sophisticated design that incorporates the latest technology. It is the first airport in the region to employ 5G wireless network service, making it a pioneer in providing high-speed internet access to passengers. Additionally, the airport has a runway length of 2,630 meters (8,630 ft), enabling it to accommodate a variety of aircraft. The airport's primary focus is on serving Neom Bay, the first region to be established under the project's framework.
Neom Airport code
Neom Airport is identified by two codes: NUM for the International Air Transport Association (IATA) and OENN for the International Civil Aviation Organization (ICAO). These codes are used to distinguish the airport in different systems and databases.
Neom Airport flights
Neom Airport provides a range of airline services for travelers. Flyadeal operates flights from Neom Airport to Dammam, while Flydubai offers flights to Dubai International Airport. Saudia, on the other hand, provides an extensive range of destinations from Neom Airport, including Bahrain, Dammam, Dubai International Airport, Heathrow International Airport, Riyadh, and Jeddah. With these different airlines and destinations available at Neom Airport, travelers have a broad range of options to choose from when planning their travel itinerary.
Neom Airport location
Neom Airport is situated at Neom Bay, the first region to be developed under the project's framework. It is approximately 48 kilometers (30 miles) east of the nearest airport, Sharm El Sheikh International Airport. The airport's strategic position makes it a vital transportation hub, connecting three countries: Saudi Arabia, Jordan, and Egypt. Its location offers easy access to various destinations in the region, making it a convenient choice for travelers looking for a well-connected airport.
[Total:

161

Average:

4.5

]