This article has been reviewed by Wego's editorial team to ensure that the content is up to date & accurate.
Saraswati Puja—or as it is alternatively called, Basant Panchami or Shree Panchami—heralds the arrival of the spring season. It is dedicated to Goddess Saraswati, the deity of knowledge, language, music, and arts. Hindus especially worship her and seek her blessings on this auspicious day.
Although the fervour and devotion with which the festival is celebrated remain the same across the country, different states have different traditions passed down from the ancient generations.
Looking forward to welcoming this spring festival? Read on to learn more about celebrating Saraswati Puja in 2022.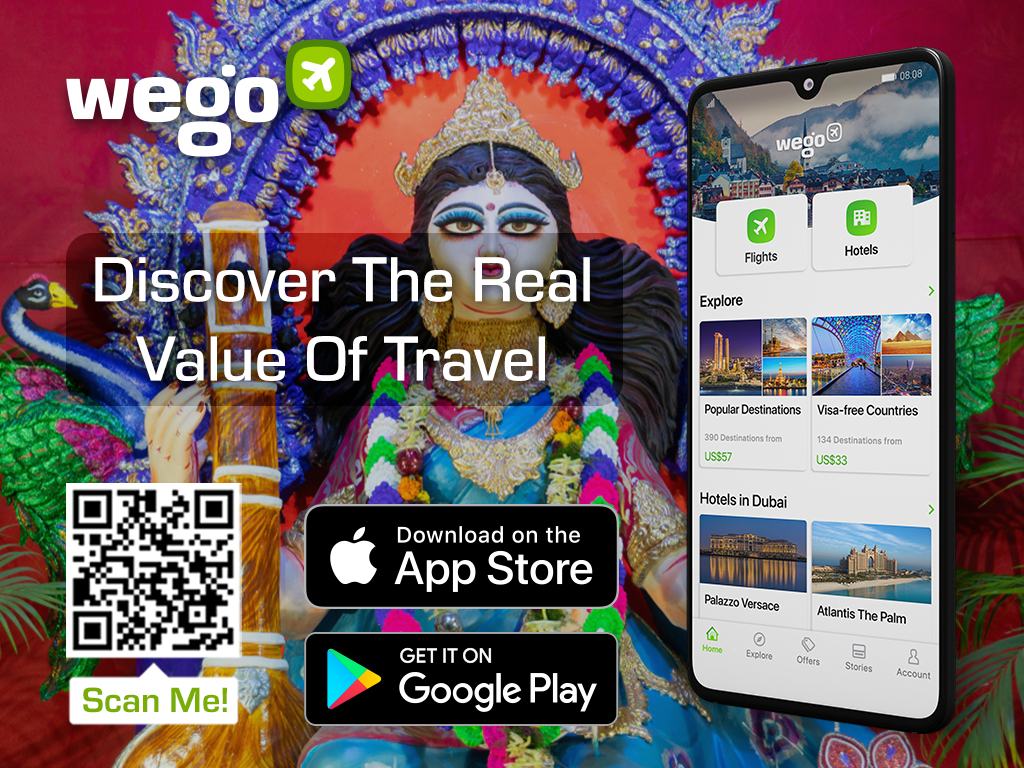 Saraswati Puja 2022 date
Saraswati Puja, that is Basant Panchami, falls on Saturday, 5 February 2022.
The Muhurat lasts for 5 hours 28 minutes from 07:00 AM to 12:35 PM. The Madhyahna moment is at 12:35 PM. This year, the Panchami tithi begins at 03:47 AM on February 5 and extends up to 03:46 AM on February 6.
It is celebrated on the fifth day of the bright half of the Hindu month of Magha, which usually falls in late January or February. It precedes spring by forty days, as it is believed that any season takes that long to come into full bloom.
The festival is widely celebrated by Hindus in India, Bangladesh, Nepal, and many parts of the world. In fact, it is also observed in some parts of Indonesia and Bali as Hari Raya Saraswati.
Notable traditional celebrations across the country
The highlight of the festival is the worship of Goddess Saraswati. People dress enthusiastically in vibrant shades of her favourite colour, yellow, and pray before her statues and idols in nearby temples.
In educational institutes as well the goddess is worshipped with special prayers and pujas so as to seek her blessings for better knowledge and wisdom. Poetry and musical programs are also organized as a sign of reverence.
As the pandemic is still raging across India, some of the public aspects of the celebration may be more subdued. However, some states have eased restrictions following the Saraswati Puja celebrations.
Bengal and Bihar
Yellow-coloured sweets and rice dishes are prepared using saffron. Delicacies like boondi, ladoo, kheer, malpua, kesar halwa, kesari bhaat, sondesh and rajbhog are offered along with Ganga jal and mango wood.
Moreover, for the year 2022, West Bengal Chief Minister Mamata Banerjee has announced that schools (classes VIII to XII), colleges, universities and polytechnic institutes will reopen on 3 February. This means that most institutions in Bengal are now planning to go ahead with their Saraswati Puja celebrations, keeping in mind all the necessary Covid-19 protocols.
Odisha
In Odisha, many schools and colleges have homas and yagnas for their students. Toddlers between the age of 2-5 years start formally learning on this auspicious day in the Khadi-Chuan or Vidya-Arambha, wherein they are introduced to the local music, dance, and language.
For the year 2022, the Odisha Government has revised the Covid-19 guidelines in the state easing certain restrictions owning to the dip in the cases. As per the new guidelines announced by the authorities, the night curfew will now stay in place between 10 pm and 5 am in urban areas, instead of the earlier 9 pm and 5 am.
Furthermore, the Government has allowed Saraswati Puja in schools with a limited number of students, in compliance with all Covid-19 protocols. The festival can also be observed in temples without the participation of devotees.
Maharashtra, Madhya Pradesh, Chhattisgarh and Uttar Pradesh
According to the legend believed in these states, this was the day when Madana, the Hindu god of love, shot arrows of flowers and bees to Lord Shiva to bring him back from his meditation and pay attention to wife Parvati. 
That's why, in these states, people also go to Shiva temples and worship the couple, offering mango flowers and the ears of wheat. In Uttar Pradesh, Saraswati idols are immersed in River Ganga as part of the rituals.
Punjab
In this Northern state, the festival is celebrated by the Sikhs as Basant Panchami. Dressed in bright yellow clothes and turbans, they engage in spirited competitions of kite-flying, young and old alike. On this day, Sikhs also commemorate the martyrdom of Haqiqat Singh who was arrested by Muslim ruler Zakariya Khan on false charges of insulting Islam.
Rajasthan
Here, it is customary for women and young girls to wear jasmine garlands.