This article has been reviewed by Wego's editorial team to ensure that the content is up to date & accurate.
Updated December 2022
With the World Cup 2022 being the most anticipated event this year, Qatar has become the most desired destination for tourists and football lovers with plans on staying and enjoying the World Cup 2022 festivities.
While Qatar will be opening its borders to regular visitors, World Cup-specific rules concerning entry and visa requirements have been implemented for millions of football fans from across the globe.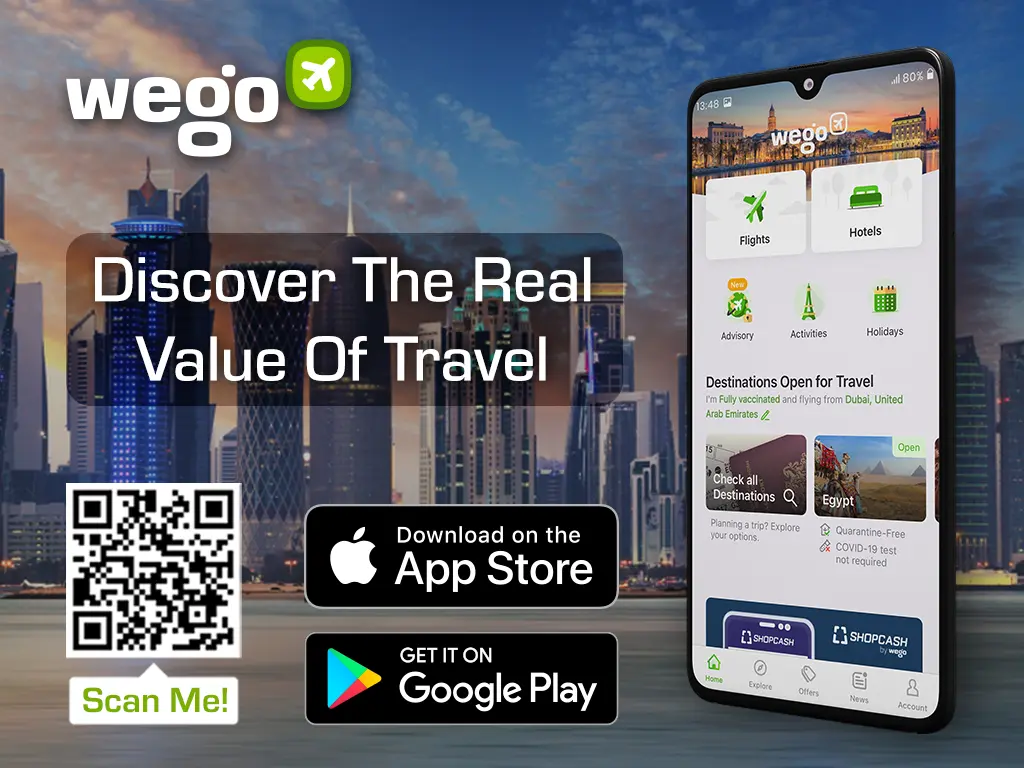 Please note: With the World Cup reaching its conclusion, the Qatari authorities have reinstated visa on arrival priviliges for travelers from eligible countries. While there has yet to be a formal announcement regarding the reissuance of Qatar's standard visas, Hayya card holders are still permitted to stay in the country until 23 January 2023.
For football lovers eager to head to Qatar and cheer for their favourite team, we have gathered information about Qatar's visa requirements for the end-of-year event. Keep reading to find out more about the World Cup visa.
Can I travel to Qatar for the World Cup?
Yes, you can travel to Qatar for the World Cup. Qatar welcomed international travellers from a majority of countries but has introduced certain requirements for the duration of the World Cup.
The Qatari authorities have announced the suspension of entry for visitors into the country from 1 November until 22 December 2022. Only Hayya Card holders, Qatari citizens, and holders of a residence permit will be allowed entry during this period. On 23 December 2022, regular visit visa applications will start to be permitted.
Will I need a World Cup visa to enter Qatar?
Effective on December 23, the Visa on Arrival is reinstated to replace the Hayya card requirements. Visa on Arrival is available to travellers from more than 95 different countries, who may also take advantage of the flurry of brand-new activities that have opened in the run-up to the FIFA World Cup Qatar 2022. However, visitors who already own a Hayya card are still given permission to stay until 23 January 2023.
Nationals from over 80 countries can enter Qatar visa-free, while 95 countries are eligible for the Qatar visa on arrival.
Fan Visa for Hayya Card holders
Qatari authorities are continuously providing newer and better ways of facilitating entry into the country. In terms of visas, fans who are looking to attend these matches now have an additional option in the form of the newly launched Fan Visa.
All visitors who have entered the country prior to 1 November 2022 through any type of visit visa reserve the option of converting their visit visa into a Fan Visa if they have a Hayya Card. This latest initiative by the Ministry of Interior (MoI) is meant to facilitate visitors holding the Hayya Card looking to attend the World Cup Qatar 2022.
To take a closer look at Fan Visa Qatar; its eligibility, fees, as well as validity period, you can check out our dedicated article below:
World Cup visa application
As mentioned, the Hayya Card will serve as your visa for the World Cup. To get your Hayya Card, ensure that you have:
Confirmed your accommodation

Applied for the Hayya Card via

hayya.qatar2022.qa

 or the mobile application (available on both iOS

 and 

Android

)
However, please note that those planning on staying in nearby countries can obtain their Hayya Card without a hotel booking. All they need to do is provide their day trip details which typically involve shuttle flight bookings through the Hayya portal or Hayya app.
If you would like to learn more about the Hayya Card, you can check out our dedicated article below:
What else do I need to prepare?
Apart from the Hayya Card, you will need to prepare the following to allow you to visit Qatar and enter the stadiums.
Secure your World Cup match tickets
Travellers were able to purchase match tickets online through FIFA's official ticket portal. Millions of match tickets were sold since the beginning of group stage.
For a detailed explanation of how to purchase your tickets, please refer to our World Cup tickets article.
World cup visas from other countries
World Cup visa KSA
Saudi Arabia has launched a special multiple-entry visa for Hayya Card holders that even allows them to perform Umrah for free. Please check out our dedicated article below to learn more about Saudi's Multiple Entry Tourist Visa for World Cup fans.
World Cup visa UAE
As a show of support for Qatar, the UAE government has announced a multiple-entry visa for all World Cup fans with Hayya cards at a discounted rate. Please check out our dedicated article below if you want to learn more about UAE's Multiple Entry Tourist Visa for World Cup fans.
[Total:

217

Average:

4.7

]