This article is reviewed regularly (on a monthly basis) by Wego's editorial team to ensure that the content is up to date & accurate.
With the FIFA World Cup still seven months away, football fans armed with their match tickets have already begun plotting the easiest way to get to Qatar in November.
Most Emiratis looking to witness the most prestigious and anticipated football event of the year have been considering reaching Qatar via car, as it is the more economically feasible option with airfares between UAE and Qatar soaring astronomically.
Looking to take the road from the UAE to Doha for this FIFA season? Then here's everything you need to know before your road trip, the documents necessary and other aspects of driving between countries.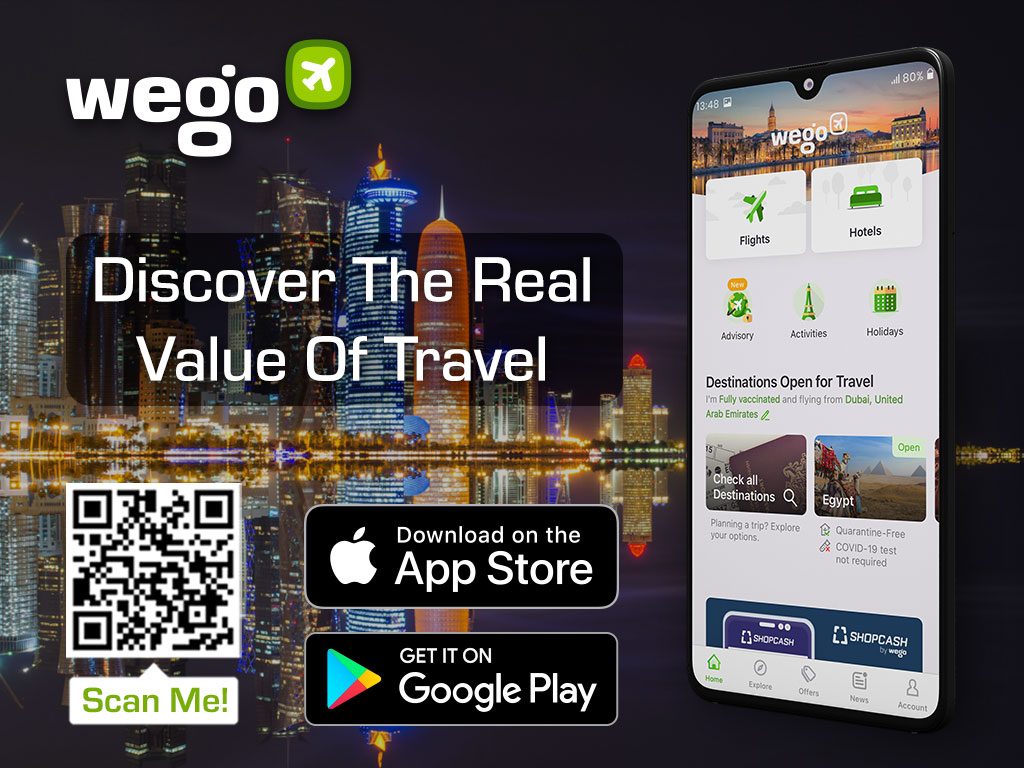 How long does it take to reach Doha from the UAE?
While flights take only 1 hour 15 minutes to reach Doha from the UAE, airfares have been skyrocketing following the increased demand for flight tickets. Instead, driving to Doha is cheaper and enjoyable too, especially for those with a passion for driving. 
Dubai to Doha: 693.9 km
Time duration: 7 hours
Speed: 90-100 km/h
Abu Dhabi to Doha: 588.7 km
Time duration: 6 hours
Speed: 90-100 km/h
How to drive to Doha from the UAE?
With a little more time to shed on travelling and acquiring proper vehicle insurance and visa, you can easily drive your way to the World Cup this year. 
Route map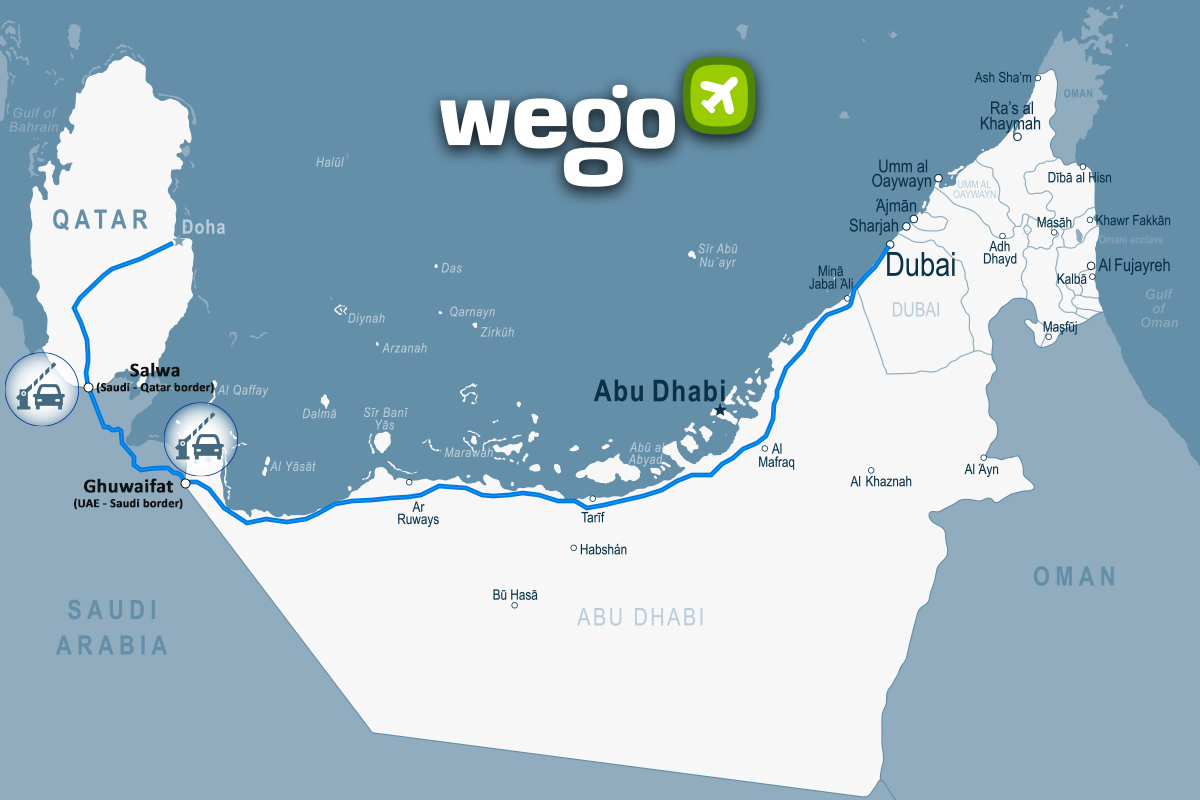 To reach Doha, you will have to travel through Saudi Arabia after crossing the Ghuwaifat border post, the border crossing to Saudi Arabia on the transit road to Qatar. After crossing Salwa, the Saudi Arabia-Qatar border, you will be entering Qatar. The transit road, which is around 120 km between these two borders, is in excellent condition, and you can have a hassle-free drive. 
However, border clearance in Ghuwaifat and Salwa may even take upto two hours, depending on traffic and scrutiny. 
Visa requirements
Emiratis will need a visa to travel between countries and this can be easily applied online. However, they must have third-party insurance to cover them for the GCC.
Saudi Arabia
Those looking to enter the Kingdom by road need to apply for a single entry Transit visa permit. This can be done online via the Enjaz e-service visa platform. The transit visa allows individuals to pass through the Kingdom and is applicable for short stays of over 12 hours, providing transit visas.
In order to apply for a transit visa you will need
A valid original passport of a minimum of six months.
A residence permit from the country you are applying from, and in this case your UAE permit
A passport-sized colored photograph.
A Saudi Visa questionnaire filled out and signed.
The declaration of Saudi laws, signed.
Printed visa application submitted through the Enjaz e-portal.
Once you have assembled all these documents:
Login to Enzaj website.
Choose "Individuals".
Choose "Application for Visa from Saudi Missions Abroad"
Click on "Register" to create a new account (if you do not already have an account) and provide the required information.
In order to proceed, you must agree to the Terms and Conditions.
You will then be redirected to a new page, where you will be required to enter all your details along with a 200 x 200 photograph.
Select the visa type by choosing "Transit Visa".
Fill in all the required information in the application form and click "Save".
This e-service will cost you 300 SAR. It is advisable to apply for your visa in advance as the visa processing may take time.
Qatar
UAE residents are eligible for visa free entry into Qatar for upto 30 days. Visitors wishing to avail of this visa scheme may be asked to present official documentation stating their profession upon entry to Qatar.
COVID requirements 
Certain COVID restrictions are still in place in Saudi Arabia and Qatar. 
Saudi Arabia 
Saudi Arabia has done away with its testing and quarantine measures but before entering KSA, make sure to pre-register yourself on the Muqeem platform.
Enter your vaccination details if you are fully vaccinated. Although, vaccination is no longer a necessity to enter the Kingdom. 
Qatar 
All those entering Qatar via road who are unvaccinated and non-residents of Qatar will have to register themselves on the Ehteraz platform mandatorily. Unvaccinated travellers must also submit a negative RT-PCR test taken at least 48 hours prior to entering Qatar. 
For GCC nationals and GCC residents, including UAE residents who meet the immunity criteria, the Al Hosn app will be accepted in Qatar instead of online pre-travel registration on the condition that it reflects the immune status. 
Vehicle insurance
Vehicle insurance is necessary to enter Saudi Arabia and Qatar. All travellers upon reaching Saudi border will be required to buy mandatory vehicle insurance for around 220 SAR, which will be valid for 15 days. While returning back to the UAE through Saudi Arabia, if your insurance had expired by then, you will once again be required to buy insurance. To avoid this, it is recommended to get GCC wide insurance, either for few months (at around AED 190) or for a year long insurance (at around AED 500) .
Car rentals
If you do not own a car, you can go for car rentals, which starts from about AED 200 per day. However, make sure to check that the rental company allows you to drive the car out of the country, as only a handful of car rentals in the UAE permits drivers to do so. Keep all necessary documents like rental agreement and car ownership ready, along with insurance.
Most rental companies will ask for:
Enough available funds for the car's deposit.
A valid driving licence.
Passport or any other ID the rent company needs to see.