This article is reviewed regularly (on a monthly basis) by Wego's editorial team to ensure that the content is up to date & accurate.
Last updated on 15 July 2021
As India continues to wage war against an unchronicled virus, its alpha world city remains one of the worst-hit places to date, with the state of Maharashtra sitting atop the list of states recording the highest number of total cases. While the city of dreams Mumbai struggles to keep the COVID-19 outbreak within control, the city has started opening up in a phased manner following social distancing norms.
Read along to know in details about traveling to Mumbai, quarantine regulations, and reopening in Mumbai.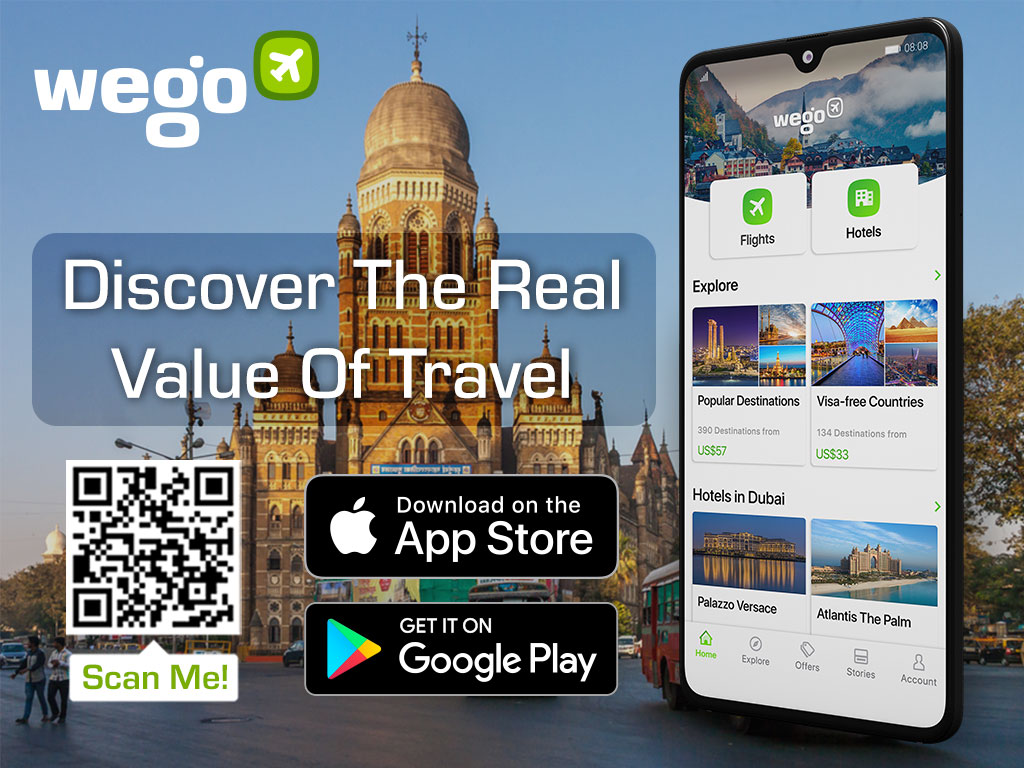 Who can travel to Mumbai?
Indian nationals and citizens stuck abroad
Since the inception of the Vande Bharat mission, the Indian Government has repatriated Indian nationals stuck in several parts of the world. Up to 15 July, as many as 2.1 lakh citizens have been repatriated from foreign lands via various modes.
OCI cardholders
If you are an Indian citizen, you can enter the country through Mumbai since it is some of the cities which is receiving international flights. If you are a foreign national but an OCI (Overseas Citizen of India) cardholder, you can also travel to Mumbai.
OCI cardholder minor children whose parents are Indian nationals, OCI cardholders married couples where one of the partners is an Indian national, and students whose at least one parent is either an Indian national or OCI cardholder will face no restriction to enter Mumbai.
Selected categories of foreigners
A few select categories of foreigners can also travel to India per the guidelines of the Ministry of Home Affairs, Government of India. This includes foreign businessmen on business visas (excluding B-3 Visa for sports), foreign healthcare professionals, engineers, technicians, managerial, and design specialists on having the recognized invitation from Indian facilities, among others. Aircrafts carrying these people would meet no restrictions as imposed earlier.
Foreigners married to Indians, dependents of foreign diplomats, and foreign nationals stuck in neighboring countries who wish to return to their country through India can also travel to Mumbai. Visitors for all other employment purposes and their dependent family members on Dependent visas and Indian origin foreigners who need to travel for family emergencies in the country will also be allowed entry in Mumbai.
Anyone that falls under those categories needs to obtain a new business visa or employment visa from Indian posts abroad, and those who already have long-term valid visas for multiple entry purposes would have to re-validate them.
India travel bubble arrangement or flying to Mumbai
India currently has bilateral travel bubble arrangements with 27 countries, including Afghanistan, Bahrain, Bangladesh, Bhutan, Canada, Ethiopia, France, Germany, Iraq, Japan, Kenya, Kuwait, Maldives, Nepal, Netherlands, Nigeria, Oman, Qatar, Russia, Rwanda, Seychelles, Tanzania, Ukraine, the UAE, the UK, the USA, and Uzbekistan.
Under this agreement, if you hold any valid visa issued by the Indian Mission for any of the previously mentioned categories, you can travel to Mumbai from outside the country. However, for tourism purposes, entry is still restricted.
Regular two-way flights continue to operate between Mumbai and these countries under this arrangement as the Vande Bharat mission has moved into the tenth phase. The present phase will last until 31 October 2021.
Scheduled commercial international flights remain to cancel till the end of July 2021.
Do I need to quarantine after I reach Mumbai?
Domestic travellers
It is mandatory for passengers arriving into Mumbai from other states/UT to carry a negative RT-PCR which will have to be issued from up to a maximum of 48Hours before the time of arrival into Mumbai. RT-PCR timeline starts from the report issuance time. Passenger not in possession of the same shall be denied boarded at the origin station
International travellers
The Union health ministry had issued a set of revised guidelines for international arrivals amid the spread of mutant variants of coronavirus in many countries. These are the fresh guidelines for all international travellers coming/transiting through flights originating from the United Kingdom, Europe and the Middle East:
All international travellers will have to submit self-declaration (SDF) for Covid on the online Air Suvidha portal before the scheduled travel.
They will also have to upload a negative COVID-19 RT-PCR report on the online portal www.newdelhiairport.in.
The test should have been conducted within 72 hours prior to the journey and each passenger will also have to submit a declaration with respect to the authenticity of the report, as per the guidelines.
All the travellers arriving from/transiting through flights originating in the United Kingdom, Europe or the Middle East shall be mandatorily subjected to self-paid confirmatory molecular tests on arrival at the Indian airports concerned (port of entry).
All travellers from Europe and the Middle East shall give samples at the designated area and exit the airport. If the test report is negative, they will be advised to self-monitor their health for 14 days. If the test report is positive, they will undergo treatment as per standard health protocol.
In addition to the above, travelers originating from the United Kingdom, South Africa, or Brazil shall adhere to below as well
In case the traveler's journey ends at the first port of entry into India, they need to undergo a molecular test upon arrival at their own cost and proceed towards home quarantine/self-health monitoring. They are not required to wait for test results.
In case of onward connection, travelers shall have to wait for the RT-PCR test results. Onward journey shall be permitted only if the test result is negative
Exemptions
Arrival in India without a negative report shall be allowed only for those traveling to India in the exigency of death in the family. If they wish to seek such exemption they shall apply to the online portal at least 72 hours before boarding. The decision taken by the government as communicated on the online portal will be final.
Can I get tested for COVID at Mumbai Airport?
Yes, you can. The RT-PCR testing center has been set-up at the exit gates near Terminal 2 Level P4, Ground Transportation Lobby (GTL), next to Niranta lounge, and is open for both domestic and international air travelers.
You will be charged INR 600 for the RT-PCR test and have to wait for not more than 8 hours to get your results. So, if you are an international traveler who wishes to continue the journey to some other city after landing in Mumbai, it is advisable that you keep your connecting flight at an interval of 8-12 hours.
Rapid RT-PCR test is available at a charge of Rs. 4,500 per test and the results are provided in 1-2 hours.
After the test, you will have to wait in a designated lounge area before the results arrive. If you test negative, you are good to go ahead, but you'll need to home quarantine after you reach your destination. If you test positive, you will be escorted to a quarantine hotel in Mumbai.
You can book your appointment on the online portal of Suburban Diagnostics or approach the helpdesk at the airport on arrival.
What is open and closed in Mumbai?
Mumbai is under level 3 restrictions.
This means there are restrictions on crowding till 5 PM and on movement after 5 PM (i.e, Jamav Bandi till 5 PM and Sanchar Bandi after 5 PM).
Shops, services and marketplaces
Essentials: till 4 PM on all days
Non-essentials: till 4 PM on weekdays
Restaurants: dine-in only at 50% capacity till 4 PM on weekdays, home delivery and takeaway as usual
Salons, beauty parlours and spas: till 4 PM only, 50% capacity, appointment basis only, no air conditioning
Entertainment and sports venues
Malls, theatres, auditoriums: closed
Sports centres: 5 AM – 9 AM and 6 PM – 9 PM, outdoor sports only
Gyms and wellness centres: till 4 PM only, 50% capacity, appointment basis only, no air conditioning
Shooting: inside bubble only, no movement outside post 5 PM
Other public places: 5 AM – 9 AM on all days
Public gatherings
Cultural, social, entertainment: 50% capacity till 4 PM on weekdays
Marriages: 50 people at most
Funerals: 20 people at most
Meetings, elections and political assemblies: 50% capacity
Offices and industries
Private offices: all (except exempted categories) till 4 PM on working days
Attendance (government and private both): 50%
Construction: only onsite labourers allowed, or labourers must leave by 4 PM
Agriculture: till 4 PM on all days
E-Commerce: regular
Export Oriented Units: regular
Transport and travel
Local trains: restricted to medical and a few essential purposes and women
Public buses: 100% without standing
Cargo (max three persons): regular
Inter-district travel: regular, except if passing through any level 5 area with a stoppage inside, where e-Pass is required