This article is reviewed regularly by Wego's editorial team to ensure that the content is up to date & accurate. 
Updated July 2023
Saudia (previously Saudi Airlines), the flag carrier of Saudi Arabia, is one of the most popular airlines in the Middle East. As a result, it creates numerous job opportunities in the region. Saudia recruits local workers for its on-ground and in-flight teams and attracts international talent to the Kingdom.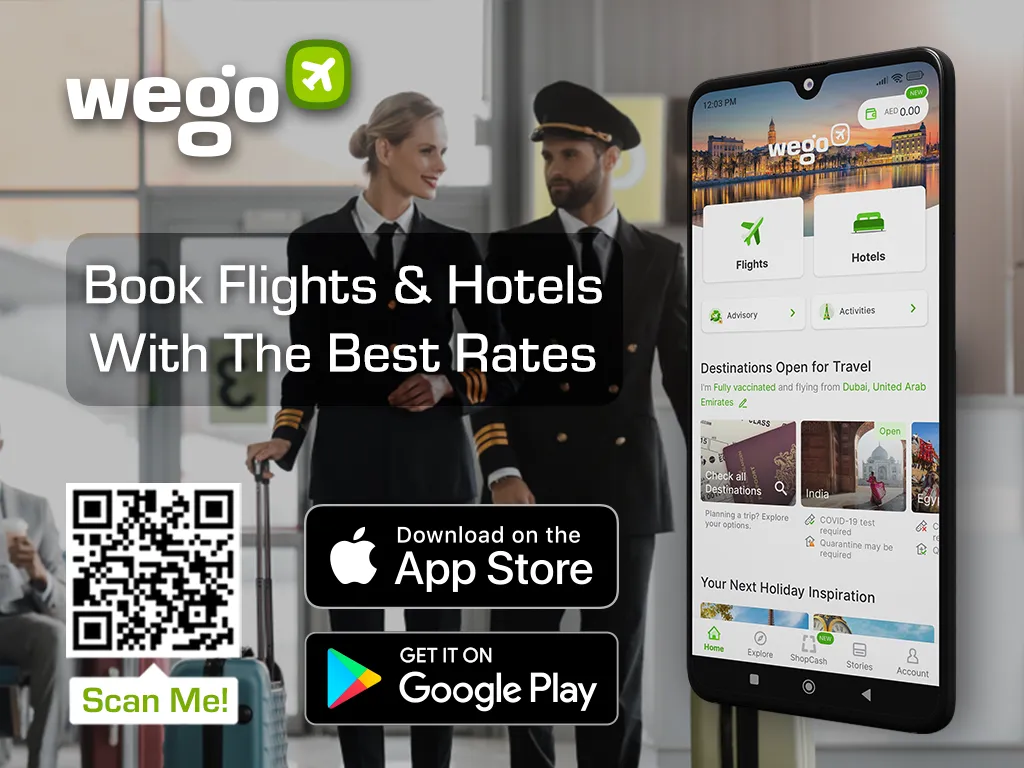 If you're interested in working for Saudia, you may wonder what kind of jobs are available, the requirements, and what perks come with the job. Read on to find out more.
Saudia jobs website
If you're interested in pursuing a career with Saudia, a world-class multi-cultural airline, you can explore the available open positions on its e-recruiting portal.
The portal provides a comprehensive list of job vacancies in all the different business entities under the Saudia brand, including Saudia Air Transport Company, Saudia Aerospace Engineering Industries, Prince Sultan Aviation Academy SBU, and the holding company of Saudia.
Book cheap flights to Saudi Arabia
Documents required
Generally speaking, all complete applications should have the following attachments:
Latest personal Curriculum Vitae (CV) or Resume

valid Saudi National ID with a minimum validity of 6 months

valid Passport with a minimum validity of 6 months

Official education degree with an overall average/GPA (minimum of high school) shown on it. 

An accreditation letter for applicants outside the kingdom.

Standardised Test for English Proficiency (STEP) by QIYAS with a minimum score of 72
How to apply
To apply for a vacancy, you must create an account on the Saudia portal or sign in with your LinkedIn account:
fill out the three candidate information forms, which include your personal details, education, work experience, and certifications

attach all applicable documents

answer any job-specific questions that may be asked to verify your suitability for the position

attach your e-signature to the application

review all the information you have provided, and if everything is correct, submit your application
Type of jobs available in Saudia and requirements
Saudia offers a variety of job opportunities for both ground duties and in-flight services. The airline recruits both local and international talent.
Although Saudia offers jobs in various locations globally, most vacancies are concentrated in the Kingdom of Saudi Arabia, particularly in Riyadh and Jeddah.
The basic requirements for Saudia jobs are listed below. However, checking the detailed job descriptions on the Saudia job portal for specific requirements for each vacancy is recommended.
Ground staff
Saudia's ground duty jobs include Safety & Quality, Marketing Services Development, Maintenance Control Centres, Flight Operations, and Aircraft Maintenance positions.
Qualification requirements
The required qualifications for each position vary based on the job profile's primary duties.
Generally, you will need a bachelor's degree in your domain with a minimum GPA of 2.75 out of 4 or 3.75 out of 5.

Some vacancies may accept a high school degree or diploma, but they require relevant work experience.

Applicants must also achieve a minimum score of 72 in the QIYAS Standardized Test for English Proficiency (STEP) within three years before the application date. This requirement is mandatory for all applicants.
Certification requirements
Some technical roles at Saudia require certifications in their respective domains.
For instance, Aircraft Maintenance applicants must have an A&P license, an Avionics certificate, or preferably, the FAA license or EASA B1/B2 type rating.
Cabin crew
Saudia seeks confident individuals who can work independently and effectively as a team to join its cabin crew.
The minimum requirements for cabin crew applicants, both male and female, are as follows:
At least a high school degree with a "Good" overall grade.

Aged between 20 and 30 years, according to the Gregorian Calendar, at least 155 cm in height, and arms reaching 212 cm on tiptoes. Weight must be according to Saudia standard chart.

Must pass the screening assessment as per SAUDIA's standards:

pleasant overall appearance

good personal hygiene

teeth must be in good condition

clear skin on the face and hands is essential

no visible tattoos and body piercings

medically fit for this demanding role as per Saudia medical verification
English proficiency requirements
All vacancies at Saudia, whether on-ground or in-flight, require a level of proficiency in the English language.
All applicants must take the Standardized Test for English Proficiency (STEP) by QIYAS and achieve a minimum score of 72. Other English proficiency tests will not be accepted. The test must have been taken within the past three years from the date of application.
If the applicant still needs to take the STEP test, they can complete their application and update their STEP score in the job application once they have taken the test.
[Total:

112

Average:

4.6

]