This article has been reviewed by Wego's editorial team to ensure that the content is up to date & accurate.
Updated 22 October 2021
While Saudi Arabia has lifted its air travel restrictions thereby allowing international flights to and from the kingdom to largely resume, this does not mean that all countries now have the privilege of entering Saudi Arabia. Travel into Saudi Arabia right now is possible only from countries that are not facing entry suspension or prohibition; in other words, countries from the Saudi green list of allowed countries. 
So which countries are allowed into Saudi Arabia? Can you travel to Saudi Arabia from your country of residence? Here is the latest information on the Saudi Arabia green list 2021.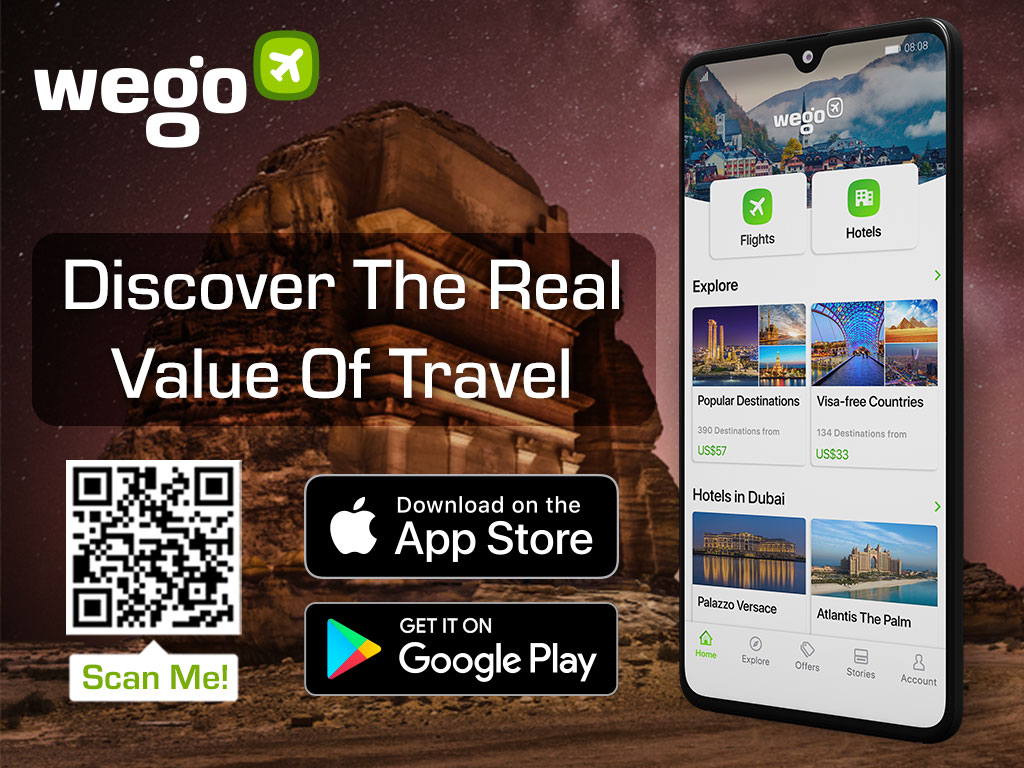 Does Saudi Arabia have a green list of countries?
Saudi Arabia has not officially announced a green list of countries allowed entry into the Kingdom. However, the authorities have detailed a list consisting of 10 countries temporarily prevented from entering Saudi Arabia at the moment.
These countries are Indonesia, Pakistan, Brazil, Turkey, Lebanon, Egypt, India, Ethiopia, Afghanistan, and Vietnam. 
For travellers departing from countries not mentioned above, the Saudi Arabian government is now issuing tourist visas/eVisas allowing anyone to visit the Kingdom for leisure and tourism purposes. Additionally, visa on arrival is now available for eligible countries. 
Please refer to our Saudi Tourist Visa article for more information regarding requirements and eligibility.
Can I travel to Saudi Arabia right now?
You can travel to Saudi Arabia should you meet certain requirements extending to vaccinations and testing. Additionally, you must not have ravelled to the countries mentioned above in the last 14 days. 
Vaccination requirements
Non-Saudi nationals holding the relevant types of visas and those eligible for visas on arrival are now allowed to enter the Kingdom if they have completed the required doses of one of the COVID-19 vaccines approved by the Saudi Ministry of Health. 
A vaccination certificate is thus necessary from one of the following:
2 doses of Pfizer BioNTech

2 doses of Oxford AstraZeneca

2 doses of Moderna

1 dose of Johnson & Johnson
The duration between receiving the last dose (the second dose of a two-dose vaccine or the first dose of a single dose vaccine) must not be less than 14 days.
Travellers who have completed two doses of the Sinopharm and Sinovac vaccines will also be accepted on the condition that they have received an additional dose of one of the vaccines approved in the Kingdom mentioned above.
Vaccinated travellers, except Saudi citizens and those who are exempt, must fill out the Registration Immunization Information Form before departure.
Testing and quarantine requirements
Travellers must also have successfully registered on the Arrival Registration Platform and are required to provide a negative PCR test certificate issued from a verified laboratory that does not exceed 72 hours from the time the test is undertaken until departing to the Kingdom. 
Within 24 hours of arrival, all non-Saudi travellers over the age of eight will be subjected to another PCR test and proceed to serve a 7-day institutional quarantine. On the 7th day, a second PCR test will be conducted and if the result is negative, they are permitted to leave quarantine on the 8th day.
Vaccinated individuals will be exempted from both, quarantine as well as testing requirements, provided they show proof of immunization. However, please note that institutional quarantine will be applied to all arrivals (including Saudi citizens) travelling from Ethiopia, Vietnam, and Afghanistan.