This article is reviewed regularly by Wego's editorial team to ensure that the content is up to date & accurate.
Reviewed 02 November 2023
30-second summary

To confirm the status of your Saudi Arabia visa, follow these steps:

visit the official portal of your choice (Muqeem, MOI Absher, or MOFA)
provide the required information
discover if your visa is approved, pending, or rejected
Possessing a valid visa document is an important prerequisite for all foreign nationals travelling from non-visa-exempt countries to Saudi Arabia. There are several types of visas issued by the Saudi authorities, depending upon the purpose of travel and the duration of stay.
If you would like to learn how you can check the validity or authenticity of your Saudi visa, this article addresses just that.
What are the requirements for checking Saudi visa status online?
To verify the status of your Saudi Arabia visa application, you'll require the following information:
application number: make use of the unique Application Number given at the time of visa application submission
visa document number: refer to the Visa Document Number issued as part of your visa documentation
visa application number: monitor your application status using your specific Visa Application Number
passport information: in certain instances, you may need to input your passport details and the application reference number to access your visa status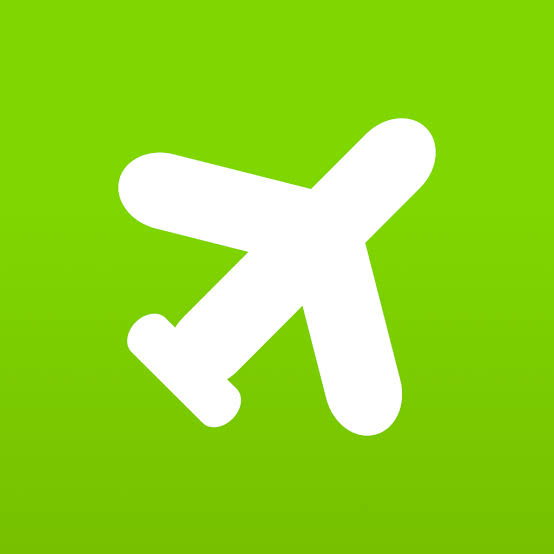 Book cheap flights to Saudi Arabia
Saudi visa check status enquiry online 2023
There are numerous ways of checking your Saudi visa. Here, we list some of the most prevalent methods of checking your Saudi visa online for both visitors and residents.
Saudi visa check on Muqeem by Iqama or visa number
Checking your Saudi Arabia visa through the Muqeem portal is an easy and simple process. There's no login required, and provided you're able to provide the required information, you can determine your visa validity in a matter of minutes. 
Follow these steps to check your visa status via the Muqeem portal:
Visit the Muqeem portal.
Select 'Visa Validity'
You can enter either your visa or Iqama number.
You can cross-match with the visa number if you entered Iqama number and vice versa, or with

passport number, name, date of birth, iqama expiry date, or visa expiry date

Click on 'Check.'
We've written about the Muqeem Saudi visa check extensively in our dedicated article. Please refer to our Muqeem article for more information.
Saudi visa check on MOI Absher portal
You can also use the Absher website to check on your visa. Here are the steps that you need to follow:
visit the Absher portal and log into your account
select "My Services" and then "Inquiries"
on the next screen, select "Passport" and then "Exit/Entry Visa Status"
provide the following details:

Sponsor ID
Iqama number
Visa number or passport number
Image code

select "View"
Using the Absher website, you can also cancel exit/re-entry visas for dependents. But for any changes in your exit/entry visa, your sponsor company will have to conduct all formalities.
Check our article on the Absher platform below for more details:
Saudi visa check on Enjazit – by visa number
Please note that the Saudi visa check facility on the Enjazit portal has been moved to the MOFA online portal.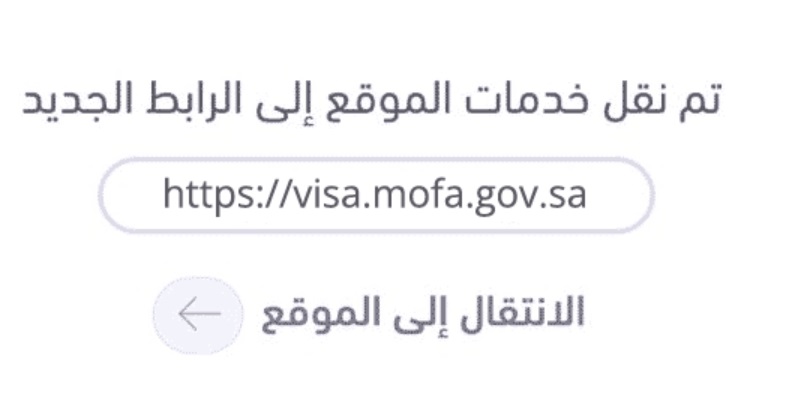 Residents and visitors looking to perform their Saudi visa check by passport number will be redirected to the MOFA visa platform.
The MOFA visa platform currently facilitates Saudi visa check queries by utilizing a visa-issued number, sponsor ID, and the visa-issuing authority as pictured.

Simply provide the required information and receive the latest information about your visa.
Saudi visa check on
MOFA
– by passport number
The Ministry of Foreign Affairs provides visa validity checking services by passport number on their online portal. Here are the steps you can take to check the validity of your Saudi visa.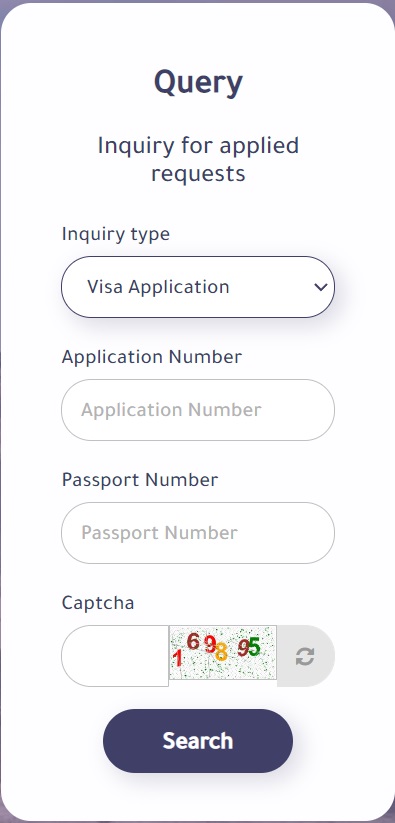 select 'visa application' on the inquiry type

provide your application number and passport number

enter the Captcha code correctly

click on 'search' 
Provided you've entered all the required information correctly, the next page will display all information concerning your Saudi visa.
For all things MOFA-related, please refer to our MOFA Visa article.
Saudi exit/re-entry visa validity check 
A Saudi exit/re-entry visa is an essential document for beneficiaries who have family members or domestic workers outside the kingdom and for employees wishing to exit Saudi Arabia and return within a stipulated time.
Checking the validity of an exit/re-entry visa can easily be performed through the Muqeem portal as follows:
visit the Muqeem portal

enter your Iqama number

select 'date of birth' to cross-check your Iqama number with  

click on the 'Check' button
After providing your selected details, your exit/re-entry visa details will be displayed as follows:
visa status (still valid or has expired)
visa type and number
visa duration
visa issuance date
return before date
inside or outside Saudi Arabia
Saudi visa status
Here are explanations for each of the various categories of visa statuses in Saudi Arabia:
Pending: Your visa application is currently under review by Saudi immigration authorities, and a decision has not been reached yet.
Approved: Your visa application has been successfully processed and authorized. You are now eligible to enter Saudi Arabia for the purpose and duration specified in your visa application.
Rejected: Unfortunately, your visa application has been denied. This may be due to incomplete documentation, discrepancies in your information, or failure to meet the eligibility criteria.
Issued: This status indicates that the Saudi embassy or consulate has processed and granted your visa. You can proceed to collect your visa and make your travel arrangements.
Expired: If the validity period of your visa has lapsed, and you have not entered Saudi Arabia, its status will change to "expired." You will need to reapply for a new visa if you intend to visit.
Why does the status of your Saudi visa matter?
Knowing your visa status provides the confidence to make travel arrangements, including flight and accommodation bookings, once your visa is approved. Simultaneously, keeping a close eye on your visa status is crucial for adhering to immigration rules, as traveling with an expired or rejected visa can lead to legal issues, fines, or even deportation.
What to do if your Saudi visa application is denied?
If your Saudi visa application is rejected, you will receive an official notification indicating the denial. While this notification may sometimes offer an explanation for the rejection, it's not always guaranteed.
Here's what you should consider in case of a rejection:
review the rejection reasons: if the notification provides reasons for the rejection, it's crucial to carefully assess them. Common causes for rejection can include incomplete documentation, discrepancies in the information provided, or not meeting the eligibility criteria.
reapplying: in the event of a rejection, you do have the option to reapply. However, addressing and rectifying the issues that led to the initial rejection before submitting a new application is essential. This increases your chances of a successful application in your subsequent attempt.
Saudi visa validity
While there are several methods online to verify the validity of your visa in Saudi Arabia, it is advisable to know the standard validity period of the visas, which are as follows:
Tourist visa: The visa is valid for up to one full year (365 days) with a maximum 90-day duration of stay at one time and multiple entries. For single-entry tourist visas, the validity is now extended to three months with a 30-day duration of stay.
Business visa: The validity of a Saudi business visa is between 30 to 60 days, depending on the country of origin and the letter of invitation issued by the MOFA-KSA. Multiple entry business visas can be issued for 6 months, 1, 2 or 5 years with a maximum duration of stay of 90 days per trip.
Family visit visa: Single-entry family visit visas are valid for 30 days, while multiple-entry visas are valid for 90 days. With multiple-entry visas, it is possible to re-enter Saudi Arabia up to 4 times, with each visit lasting up to 90 days.
Personal visit visa: The personal visit visa allows travellers to stay in the country for 90 days and is valid for 90 days in case of a single entry and for 365 days in case of multiple entry.
Hajj and Umrah visa: The Hajj visa is valid for 30 days, while the Umrah visa is valid for three months.
Saudi work visa: The visas are valid for one year from the date of issuance and allow foreign nationals to work in the country for up to six months in that one-year period without having to apply for a residence permit.
Quick solutions for troubleshooting Saudi visa status check
When encountering issues while checking your visa status, consider these simple troubleshooting steps to ensure a smoother process:
verify entered information: the first and foremost step is to double-check the accuracy of the information you enter, such as your passport number and application code
address captcha or image verification: if you're having trouble with the captcha or image verification, carefully type in the characters provided. When the image is difficult to read, most websites offer the option to refresh it or request a new one
change your web browser: try using a different web browser if you encounter problems. Some websites may function more efficiently on specific browsers
clear browser cache: if the website fails to load correctly, consider clearing your browser's cache and cookies. Occasionally, saved data can lead to issues in loading pages
patience is key: in cases where the website experiences high traffic or technical difficulties, it may not function correctly. Waiting and attempting to recheck your visa status later is advisable for a smoother experience
[Total: 337 Average: 4.8]