You may say that Qatar is the world's gateway. Connecting more than 150 destinations as a transit hub, the award winning Hamad International Airport is luxurious enough to spend over eight hours while waiting for your next flight. But why not take the opportunity to explore the capital city of Doha? Because the host of 2022 FIFA World Cup Qatar™ offers authentic experiences and many special treats for Malaysian travelers.
1. Visa-Free Entry for Malaysians
Did you know that any Malaysian who arrives in Qatar does not need a visa to explore the country? Yes, along with over 80 other nationalities, Malaysians can now enjoy visa-free entry and stay up to 30 days in Qatar!
2. Experience the Award-winning Hamad International Airport
Opened in April 2014, the state-of-the-art airport is conveniently located just south of Doha. In addition to its role as Qatar Airways' home base, HIA serves more than 50 other international airlines. Its modern art installations and top-notch facilities offer world travelers much to stay entertained and pampered. However, don't finish your stopover trip at HIA. Step out of the airport and find the true excitement! Qatar's hospitality sector offers the best guest experience in in the MENA region and visitors can choose from over 120 hotels and hotel apartments. Check out hotels in Doha, Qatar here!
3. One Bus to Show You Around Town
First time in the city? Don't worry, Doha Bus Hop On Hop Off tours will take you to at least 20  of the most iconic places in the capital. There are three bus routes that stop along visitor hotspots such as Katara Cultural Village, The Pearl Qatar, and Museum of Islamic Art with beautiful coastal sights along the way as well as stops to explore the city's suburban hubs like Qatar National Convention Centre and Mathaf Museum.  Go to this to purchase their 24-hour ticket for QAR180 (around RM206) or 48-hour ticket for QAR225 (around RM258).
4. Get a Taste of Arabic Culture
Sip on Qatari qahwa (coffee) served from a dallah (special coffee pot) in a finjaan (small delicate cup). The qahwa is served with dates instead of milk or sugar. You can enjoy qahwa in The Qataf or The 80s Café
Once done with your caffeine, let's go for some shopping at Souq Waqif, the thriving market place if you're looking for something authentic like garments, spices, gold jewelry, or scented oil. Souq Waqif is the place where locals and foreigners barter and mingle together.
5. Explore the City of Doha
The Museum of Islamic Art (MIA) should be on the top of your list while in Doha. Not just because of its huge collection of Islamic arts but also for its impressive architecture. The beautiful building floats in the corner of the Corniche waterfront offering one of the most beautiful vantage points on the city's glittering skyline.
Another place you don't want to miss is The Pearl Qatar. Take a stroll around this stylish area for shopping, cafe hopping and enjoying the breathtaking view of the marina. In the evening you can take a long walk around Katara Cultural Village. Immerse yourself in the traditional architecture, explore narrow alleyways, or walk near the sea.
6. Safari in the Desert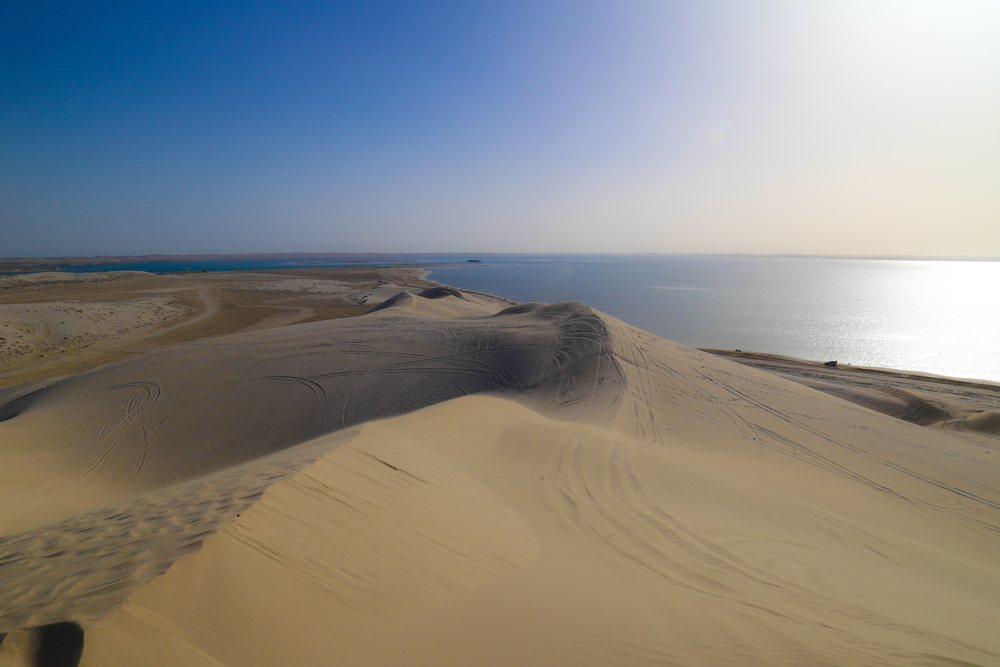 Your stopover in Doha isn't complete without a Desert Safari Tour at Khor Al Adaid. This is one of the most unsung natural wonders in the world where the desert magically blends with the sea! Enjoy a Bedouin-style camp with its vibrantly-coloured carpets, cushions, and low tables bedecked with Arab delicacies while you enjoy views of sea stretching over the horizon. If you're up for some wild activities, try a 4×4 off-road safari or have a go at camel riding, sand boarding or driving a dune buggy.
—
You might also like:
– Halal restaurants for your next trip to Australia
– 8 of the hottest airports on Instagram
– Which kind of travel buddy are you? We all know one of these