This article is reviewed regularly (every month) by Wego's editorial team to ensure that the content is up to date & accurate.
Last updated 21 January 2021
After months of dormancy due to the raging pandemic, the travel industry is gearing up for a return to small normalcy with borders reopening, easing of quarantine requirements, and the creation of travel bubbles. Travellers around the world are now keen to find out if, when and where they can travel abroad.
There's a renewed interest involving international travels to and from Saudi Arabia as news regarding the lifting of restrictions has recently been announced by the government. Soon, nationals and residents will once again be free to travel into and from the Kingdom of Saudi Arabia. If you are planning to fly internationally, please find more information below.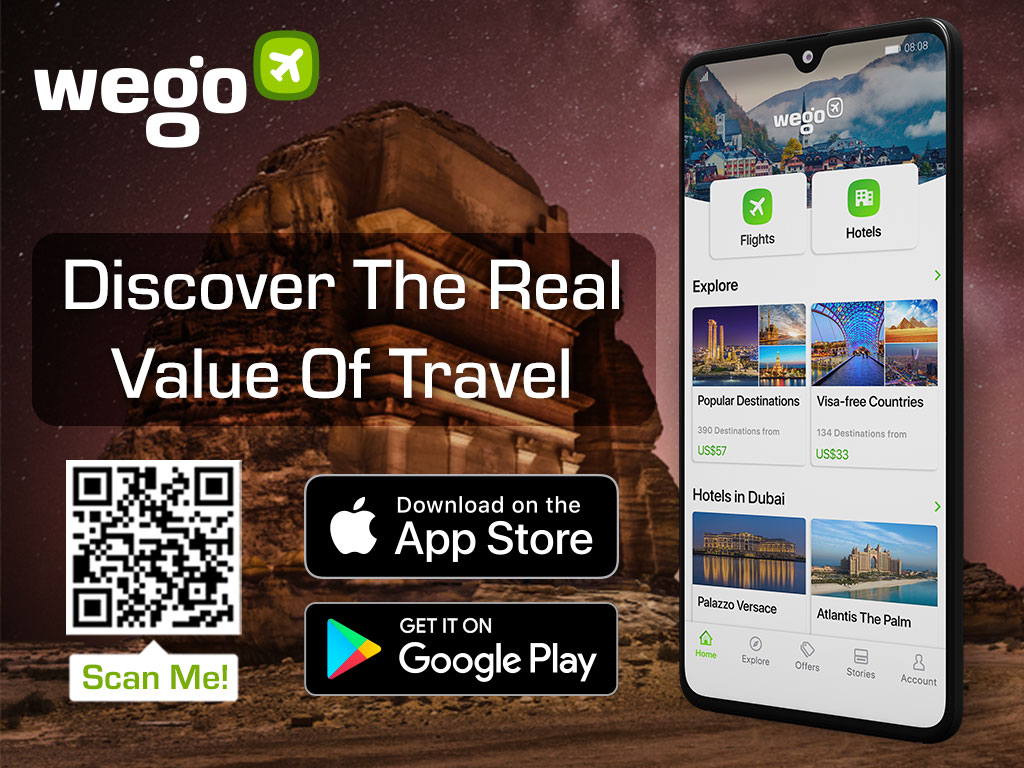 Who can travel to Saudi Arabia now?
Saudi Arabia has suspended all international flights indefinitely to help combat the spread of Covid-19. Neither citizens, residents nor tourists can enter Saudi Arabia during this period, except in exceptional cases. In exceptional circumstances, arrangements are being made for citizens and residents to return to Saudi Arabia during this period.
However, come 31 March 2021, all international travel restrictions will be lifted for Saudi nationals and residents. All land and sea borders will also be reopened on the specified date, including the King Fahd Causeway linking Saudi Arabia and Bahrain. Naturally, the resumption of travel will be in accordance with the restrictions and preventative measures set by authorities to prevent the further spread of the virus. The government's decision to lift international travel was due to the significant decrease in the number of new infections in the Kingdom.
As of now, the kingdom is primarily open only for essential travel, government officials, and repatriated citizens. Based on the list in the announcement, other types of passengers allowed to leave the country and return include patients that need to seek treatments abroad, participants in official sports events, people with humanitarian reasons, and students.
Limited Hajj and Umrah resumption
Umrah for pilgrimages already residing in the country has restarted early October. The government has announced that pilgrims from select countries will be allowed in starting November 1 and the religious rite will gradually return to full capacity only after the pandemic has been resolved.
What do you need to prepare before travelling to Saudi Arabia?
All arrivals must provide negative PCR test certificate issued from a verified laboratory not exceeding 72 hours from the time of the test until departure. Those who are unable to provide the certificate will be denied boarding. Only Saudi citizens and children below 8 years of age will be exempt from this requirement.
They will also have to fill out and sign Health Disclaimer Form and hand it over to health control center upon arrival.
As for Saudis looking to travel internationally starting from the 31st of March 2021, they will not be required to have their inoculation prior to traveling, as per the Saudi Health Ministry guidelines.
Do you need to quarantine when you arrive in Saudi Arabia?
All passengers are subjected to quarantine upon arrival. They must also download and register on Tetamman and Tawakkalna apps, and enter their home location into Tetamman within 8 hours of arrival.
Any and all eligible arrivals to the Kingdom of Saudi Arabia will be subjected to a 14-day quarantine.
You are strongly advised to confirm with a Saudi embassy/mission in your area or the airline before making any travel plan.
Are there flights to Saudi Arabia now?
Yes, since the announcement, there is a heightened interest in international flight schedules to Jeddah and Riyadh, particularly schedules of its national carrier Saudi Airlines and budget airline Flynas. If you are eligible to enter Saudi Arabia, please check Wego to see if there is a flight from your city.
Domestic flights within the country have also restarted for months now, and you can also find flights to Jizan, Dammam, and more on Wego.