This article is reviewed regularly (every month) by Wego's editorial team to ensure that the content is up to date & accurate.
Last updated 16 September 2021
Amidst news of vaccine drives, new virus variants, and closures and reopenings of international borders, the travel industry is gearing up for a return to small normalcy by taking into account the easing of quarantine requirements, and the creation of travel bubbles. Travellers around the world are now keen to find out if, when and how they can travel abroad.
In the case of Saudi Arabia, the country has reopened its international flights finally allowing travellers to both visit and travel outside of the Kingdom. But does the lifting of restrictions finally mean foreign nationals will once again be free to travel to the Kingdom? If you are planning to fly to Saudi Arabia, please find more information below. For our Arabic guide, check out this article – شروط دخول السعودية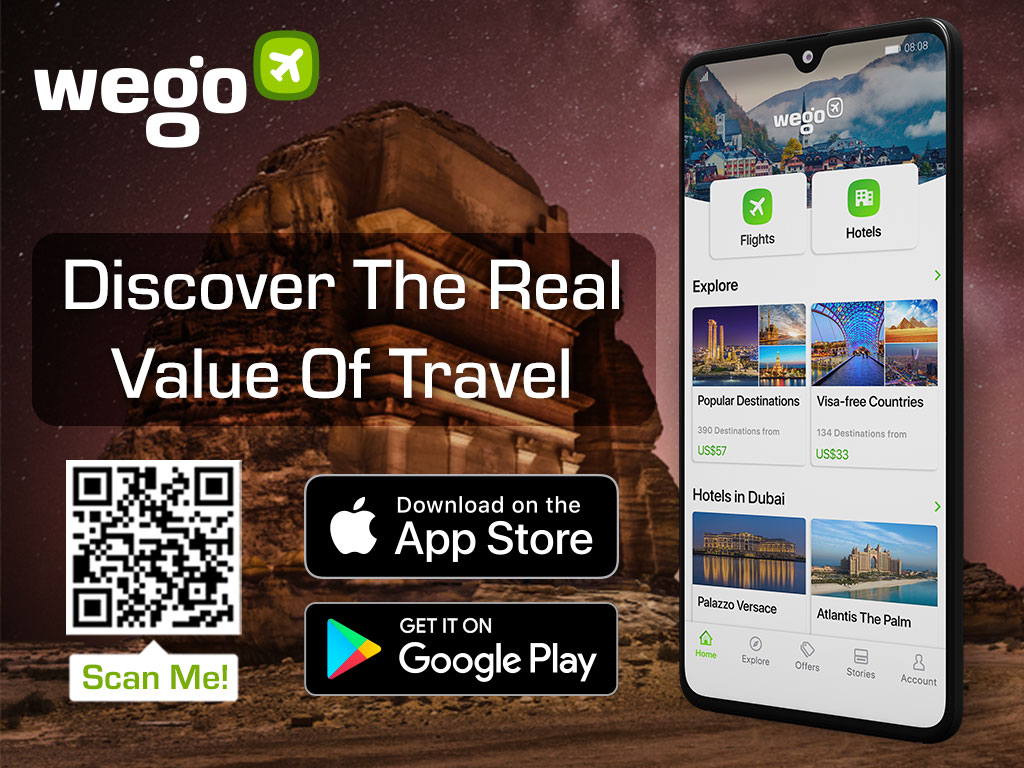 Who can travel to Saudi Arabia now?
Non-Saudi nationals holding tourist visas are now allowed to enter the Kingdom should they have completed the required doses of one of the COVID-19 vaccines approved by the Saudi Ministry of Health. Travellers must also have successfully registered on the Arrival Registration Platform and are required to provide a negative PCR test certificate issued from a verified laboratory that does not exceed 72 hours from the time the test is undertaken until departing to the Kingdom. Vaccinated tourists will be allowed to enter without having to be institutionally quarantined.
Umrah pilgrims
Foreign umrah pilgrims may now be allowed to partake in the Umrah pilgrimage providing they have been vaccinated with a Saudi-approved vaccine. As per the latest development, pilgrims coming from countries listed on Saudi Arabia's travel red list may also be allowed to perform Umrah. However, travellers from the red-listed countries must first undergo institutional quarantine upon arrival in the kingdom before being allowed to fulfil their religious obligation.
Saudi Arabia travel suspension
Please note that an entry ban is still in place for travellers originating from the following countries. Transiting in these countries will also result in denied entry. The listed countries are Indonesia, Pakistan, Brazil, Turkey, Lebanon, Egypt, India, Ethiopia, Afghanistan, and Vietnam.
Saudi Arabia entry requirements
If a person who intends to travel to Saudi Arabia was diagnosed with COVID-19 or was in contact with a person diagnosed with COVID-19, he/she should declare to health authorities at their country, and not travel until 14 days after diagnosis or last contact. Violations are subject to prosecution under (Health Control at Points of Entry Regulation).
They would be subjected to fines not exceeding 500,000 Saudi Riyals and held accountable for the consequences of their violation on others.
Perform COVID-19 PCR within the timeframe assigned by Saudi Arabia, and test result is proof of COVID-19 clearance. Violators will be denied entry to Saudi Arabia.
Furthermore, the following requirements must be satisfied:
A negative result PCR test certificate issued within 72 hours prior to departure for non-Saudi nationals over eight years old
All permitted arrivals must download and register on Tatamman and Tawakkalna App
Travellers must also have successfully registered on the Arrival Registration Platform
Exempted categories must undergo self-quarantine for a period of 7 days from the date of entry
All non-Saudi arrivals must have medical insurance that covers the costs of COVID-19 treatment in outpatient clinics, emergencies and hospitals, including the institutional quarantine.
Family members of health practitioners are allowed to travel to Saudi Arabia without the need to be accompanied by the health practitioner and without the need to spend 14 days out of the suspended countries.
Please find the list of approved laboratories in your country of origin here.
You will also have to fill out and sign Health Disclaimer Form and hand it over to the health control center upon arrival.
Vaccination requirements
Saudi Arabia is requiring all non-Saudi arrivals to have been fully vaccinated. A vaccination certificate is thus necessary from one of the following:
2 doses of Pfizer BioNTech
2 doses of Oxford AstraZeneca
2 doses of Moderna
1 dose of Johnson & Johnson
The duration between receiving the last dose (the second dose of a two-dose vaccine or the first dose of a single dose vaccine) must not be less than 14 days.
Travellers who have completed two doses of the Sinopharma and Sinovac vaccines will also be accepted on the condition that they have received an additional dose of one of the vaccines approved in the Kingdom mentioned above.
Vaccinated travellers, except Saudi citizens and those who are exempt, must fill out the Registration Immunization Information Form before departure.
Please find the full details here.
Do I need to quarantine upon arriving in Saudi Arabia?
Vaccinated individuals will be exempted from both, quarantine as well as testing requirements, provided they show proof of immunization.
Otherwise, all non-Saudi arrivals over the age of eight must provide a negative PCR test certificate conducted by a verified laboratory issued within 72 hours. Within 24 hours of arrival, all non-Saudi travellers over the age of eight will be subjected to another PCR test and proceed to serve a 7-day institutional quarantine. On the 5th day, a second PCR test will be conducted and if the result is negative, they are permitted to leave quarantine the next day.
All international travellers arriving in Saudi Arabia from destinations not on the banned list must complete a period of five days of institutional quarantine at their own expense starting from the time of arrival at the institutional quarantine facilities to the Kingdom.
A set of guidelines have been issued by The General Authority of Civil Aviation (GACA) for residents and visitors entering the Kingdom from the permitted list of countries as follows:
Any unvaccinated person will be required to undergo quarantine for 5 days. (The individual will need to take two PCR tests post-arrival in Saudi – the first within 24 hours of landing and the second on the fifth day of the institutional quarantine).
An individual who has received one dose of the Kingdom's approved vaccines will be required to undergo quarantine for 5 days and must take the second dose in the kingdom after the end of the institutional quarantine.
those who have taken vaccines approved by the WHO, but not approved in the kingdom (including Sinopharm and Sinovac) should receive a booster dose from one of the vaccines available in the kingdom after arrival. They will also be required to submit a negative PCR test – taken within 72 hours before departure.
The guidelines for dependents who are allowed to enter with their relatives are as follows:
Any non-vaccinated individual under the age of 18 will need to quarantine for 5 days.
Institutional quarantine procedures are applied to unvaccinated dependents aged 18 or older. This will come into effect September 23 onward.
Who is exempted from institutional quarantine?
Saudi citizens, citizen spouses and their mothers, citizens children and domestic workers accompanying any of these categories

Non-immune travellers, in this category, shall comply with home quarantine for a period of 7 days, and be allowed to take the COVID 19 PCR test starting on the 6TH day of quarantine

Non-immune domestic workers accompanying an immune resident

Non-immune Guests shall comply with home quarantine for a period of 7 days, and be allowed to take the COVID 19 PCR test starting on the 6TH day of quarantine

Immune Guests of citizens and residents and their companions, resident's wives and resident's children those who are under the age of (18) who are not accompanied by their parents
Non-immune Guests, shall comply with Home Quarantine for 7days, and take PCR test on the 6th day of quarantine
Those holding a diplomatic visa, diplomats and their residing families, and their domestic workers

they'll have to adhere to the quarantine procedures by staying in their homes in accordance to the minatory of health (MOH) approved regulations)

Cabin Crews
Those involved in health supply chains, according to MOH
Health practitioners working in Government sectors, their families and companions those who are under the age of 18

they must comply with home quarantine for 7 days with 2 PCR tests, one within 24 hours and another on the 7th day
The following categories will be exempted from institutional quarantine. However, they will have to home quarantine for 2 weeks:
Saudi citizens, their spouses and children
Passengers who received COVID-19 vaccines
Official delegates
Diplomats and their families residing with them
Workers in the healthcare supply chain

Airline cabin crew, navy and truck drivers
It is also mandatory for travellers to take RT-PCR tests on the first and seventh day of quarantine.
Are there flights to Saudi Arabia now?
Yes, since the announcement, there is a heightened interest in international flight schedules to Jeddah and Riyadh, particularly schedules of its national carrier Saudi Airlines and budget airline Flynas. If you are eligible to enter Saudi Arabia, please check Wego to see if there is a flight from your city.
Domestic flights within the country have also restarted for months now, and you can also find flights to Jizan, Dammam, and more on Wego.