Part one of my reflections of a motorcycle trip in Turkey saw me making a messy entrance into a country I would soon fall in love with, and exploring the mecca that is Istanbul.
After just over a week in this stunning city, I was ready to head to somewhere a little calmer. I had 3 or 4 destinations in mind, but it was often the bits in between that were the most exciting and memorable on this particular motorcycle trip.
The calming waters of Lake Eğirdir
Getting out of Istanbul was a much easier task than entering the city, and I was soon on the road southeast. The road was smooth tarmac, and though there was just a little rain, the stunning scenery remained unspoiled.
Sweeping cornfields and rocky outcrops turned into marshlands, which turned into mountains the further I rode.
I arrived at my destination earlier than expected, the stunning shores of Lake Eğirdir. The sound of the waves gently splashing on the shore was exactly what I was craving, and after checking into the local guesthouse, I went out for a refreshing swim in the lake.
Mountains surround the lake, and one could lay back and drift for hours, watching as the sun sets behind the peaks.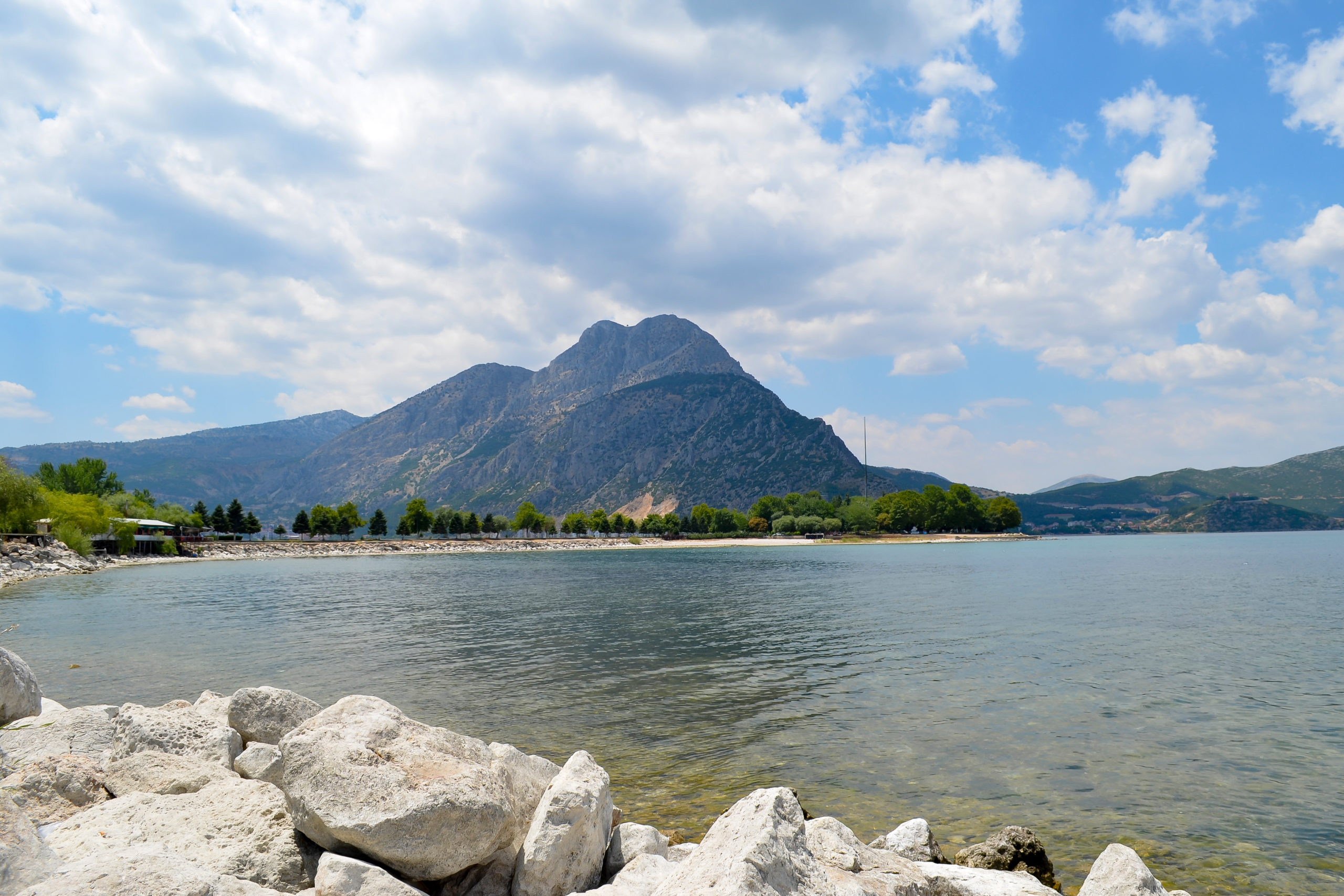 The swim helped melt away some of my worries, my biggest issue was that my rear brake pads had worn down, and the disc was becoming damaged. However, I had arranged to see a mechanic the next day. Until then, I'd relax and enjoy the place.
I met with a group of archaeologists while I was taking dinner at a local restaurant that night. We spent the evening smoking nargile, drinking rakia, and talking about the dig they were taking part in.
It was nice to talk to people who weren't travelling per se, a reminder that life is what you make it. I stayed one more day at the lake, swimming, hiking, reading, and drinking tea, and once my bike was in a rideable condition, I hit the road again.
An impromptu tour
The next day I continued toward my next stop: Cappadocia, among ever more stunning roads flanked by hills and valleys.
The closer I got, the wilder the scenery became. At one point I stopped by a stream for a bite of bread. Out of nowhere, 2 kids appeared, and insisted I follow them to their village, where they would give me a tour.
Their village was filled with caves, and while no one lived in them anymore, they were still used for storage, and animals.
In broken English, they did a great job of describing the history of their tiny village, and what it was the people did there. They were mostly farmers and herders, though these two little entrepreneurs had a knack for spotting tourists.
At the end, they held out their hands, awaiting their well-deserved tip. How could I refuse!
The caves of Cappadocia
I eventually arrived in Göreme, one of the main towns in Cappadocia. The road into town became ever-more impressive the closer I got, with stunning rock formations at every turn.
Hues of dusky yellows, reds, and oranges rippled toward the horizon, while hot air balloons filled the air. I had trouble finding a place to sleep, as almost every bed was reserved, the first time I had ever come across such a problem.
Eventually, I found one in a stunning little hostel, and while the facilities were basic, the rooms were carved into the rock, and many boasted famous guests in the past. I was staying in the Jimi Hendrix room apparently!
After settling in, I set off on foot, hiking as high as I could, in time to catch a stunning sunset over the rocks. The whole scene shifted from yellow to orange, to pink, to blood-red, before darkness began to set in.
I stayed a while at the top of the peak, joined by a few other hikers, and while we made some small talk, we let the atmosphere do the talking.
Breakfast the next day was Turkish menemen, a wonderful egg, pepper, and tomato dish, cooked in a clay pot and served sizzling hot with fresh bread.
I spent the day wandering the hills, largely alone, sipping tea in the shade when the sun became too hot. However, beautiful as it was, Cappadocia felt too busy, too touristy, and I decided to ride on the next day.
Wild camping in a 5-star hotel
My next destination was a tiny beach town called Olympos. Off the beaten track, I had heard about it from an acquaintance I met on the road a few months before. I found it on my map, and planned the route.
As I crested the mountains and made my descent, the sea loomed up ahead. I had made it to the coastal road, and enjoyed riding on cliff tops and along sandy beaches for a while.
As I neared the city of Antalya, the scenery changed, and I found myself riding through endless seaside resorts, filled with tourists, casinos, and hotel resorts. This wasn't quite my scene, but the day was drawing to a close, and I needed sleep.
I searched frantically for somewhere to camp, but nothing but hotels could be found. I considered setting up camp at a gas station, but was politely informed that I wasn't allowed to.
Eventually, I stopped at a hotel resort to ask the security guards if they knew where I might find a campsite.
They didn't, but they invited me into their office, shared tea and pastries with me, and invited me to set up camp in the grounds of the hotel. There was an abandoned football pitch I could use, complete with an old changing room, with toilets and shower.
They showed me the way, and I set up camp. It was perfect, I made a fire, cooked a meal, and enjoyed drinking a beer in solitude, as I saw hotel guests walking to and fro just behind the bushes. After a comfortable night's sleep, I thanked the guards and went on my way to Olympos.
Olympos, land of fire and water
Olympos is something of an alternative place to visit. The road from Antalya was stunning, curving along the coast, and eventually dropping into the valley that the village is in.
The tarmac turned to gravel, and it was soon apparent that I was in a riverbed rather than on a road. Unsure if I had made a wrong turn, I carried on, and there it was; a haphazard little village, consisting mostly of campsites, guesthouses, hostels, and restaurants.
I had heard about a number of tree house hostels for which the village is famed, and booked myself into one. While my room wasn't in a tree per se, it was a ramshackle wooden cabin on the second floor, accessed by a rickety ladder and adorned with sheepskins.
I'd never stayed anywhere like it, and was in love. I headed to the beach and spent the afternoon swimming and relaxing as the waves crashed around me.
Ancient monsters and eternal flames
That night after dinner, I decided to hike to the next valley and climb the slopes that were in ancient times, believed to be home to Chimera, a mythical beast with the head and body of a lion, a goat head on it's back, and a tail that was in fact a snake.
This fire breathing beast could be seen for miles around on the slopes of Mt Olympos.
In reality, the area is known locally as Yanartaş, and is the site of dozens of small fires that burn eternally as gas escapes the rocks and combusts.
These fires have been burning for at least 2,500 years, and it was a sobering thought as I lit a cigarette and brewed a pot of tea on an ancient flame.
The night sky was clear and the stars blazed above me, while the occasional meteorite burned through the atmosphere. I stayed transfixed for several hours, enjoying the peace and tranquility, before making my way back to the beach, and wading back to my shack.
The road is full of unexpected twists and turns, and you never know where it's going to take you. I learnt to make rough plans, but not to worry too much if they don't always work out. Sometimes, it's the things you can never plan, and the bits in between that stick in your memory.