This article is reviewed regularly (on a monthly basis) by Wego's editorial team to ensure that the content is up to date & accurate.
Updated October 2022
As the pandemic wanes and rises time and again, countries worldwide have adopted several measures to enable safe travelling. While Pakistan has eased most of its travel restrictions, travelling to the country requires passengers to submit essential documents, providing details of stay and health conditions. 
One such important travel requisite in Pakistan right now is the Pass Track. Here is everything you should know about Pass Track in Pakistan. 
What is the Pass Track?
The National Information Technology Board of Pakistan has put in place the 'Pass Track Platform' that enables all international travellers to the country to update their medical and travel records. 
It aids in recording and tracking the passengers' basic data and other relevant details.
As for visitors to Pakistan, the app helps to:
Provide mandatory information required for entry into Pakistan
Reduce wait time and points of contact at the airport
Provide the Government of Pakistan with voluntary updates and the development of any symptoms during the 14 days upon arrival in Pakistan.
Pass Track app download
Pass Track is available via the web portal. Travellers can also download the Pass Track App (Android, iOS) and upload their information on the app as required.
How to register and use Pass Track?
Through the app
If you are a new user, you have to register by downloading the app and:
Enter your full name 

Enter your email address

Enter your mobile No 

Enter password
Through web portal
If you don't have accessibility to the mobile app, you just need to follow below steps:
After successfully registering, you can log in and be re-directed to the dashboard, which will display the stats related to your flights, travel history and a feature to add new flight records, if required.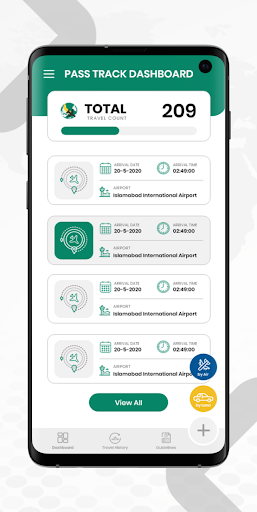 Image © Play Store
International arrivals are required to upload data to Pass Track
All passengers travelling to Pakistan are required to fill up their personal details on the Pass Track web portal 48 hours prior to their arrival in Pakistan.
All travellers are also required to submit details such as flight number, travel dates and other personal information. Pakistani nationals must scan their CNIC and passport through the inbuilt QR scanner and MRZ scanner, respectively.
Foreign travellers must get their passports scanned by the MRZ scanner while entering flight details.
They are required to have a printed copy of the uploaded information generated by the app before the issuance of boarding passes at the point of original embarkation. Any or all cases of non-compliance will be dealt with strictly in accordance with applicable rules and regulations.
After submitting all necessary details, you can view the details of your flight from the travel detail screen and receive your tracking ID, which is important for location tracing in case you are quarantined.
View the government issued manual here to know all about getting your Pass Track.
Check out our article for a complete guide on Pakistan arrival registration on Pass Track.

[Total:

162

Average:

4.6

]