This article has been reviewed by Wego's editorial team to ensure that the content is up to date & accurate.
Updated 1 October 2021
Expo 2020 Dubai is undoubtedly one of the most exciting events this year, particularly because it's one of the few major spectacles that happen offline. The theme for this year was chosen to not only reflect UAE's standing in the world and its place in the future, but also a collective hope for the rest of the world.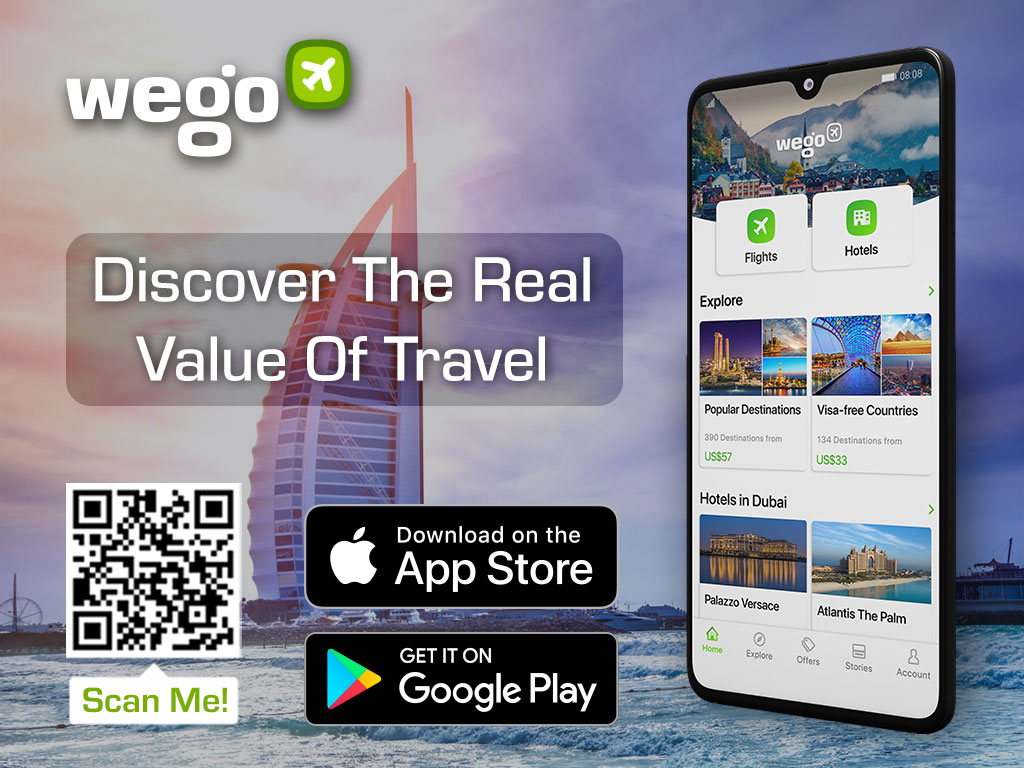 Get your Expo 2020 ticket at Wego
We are proud to announce that Wego is Expo 2020 Authorized Ticket Reseller, meaning you can now purchase your tickets easily from us!
Join us at the world-class event showcasing cultural experiences, cutting edge innovations, and mind-blowing ideas featuring more than 190 countries. Get your Expo 2020 tickets at Wego now!
Expo 2020 theme: Connecting Minds, Creating the Future
The Expo 2020 is a perfect vehicle for the UAE to showcase the economic and cultural progress made throughout the decades. The country's development will not happen without joint efforts and the same sentiment will stay true for progresses made in the future.
Expo 2020 subthemes
Expo 2020 Dubai presents three sub-themes that elaborate and illustrate how the UAE is "connecting minds, creating the future": through sustainability, mobility, and opportunity. The sub-themes will have their own districts showcasing technological, architectural, and cultural marvels that support each of the message.
Sustainability
The Sustainability sub-theme is meant to inspire people to take actions toward preserving the Earth. No matter how small the efforts are, so long it's done together, it will create a positive ripple effect on communities and the environment.
What to expect at the Sustainability district
Over at the Sustainability District, visitors will get to see some of the world's most cutting edge technology and what countries are doing to support sustainability. Travellers can expect to stroll under "trees" condensing solar energy and water, watch cultural shows at the outdoor arena, and explore fascinating country pavilions.
Terra – Sustainability pavilion
Inside the Terra Pavilion, visitors enter a mesmerizing world where they explore and wander through simulations of ocean depths, forest roots, and other natural wonders.
Open from 10:00 – 22:00
Country pavilions
Brazil, Czech Republic, and Singapore pavilions are some of the highlights of this district, showcasing sustainability efforts, natural resources, and technological advances in each country. Visitors can walk through waterfall in Brazil pavilion, try on cool devices in Germany pavilion, and more.
Mobility
Connections and mobility change lives and this sub-theme invites people to look at how progress in the both fields are breaking physical and digital barriers to information, access, and ideas.
What to expect at the Mobility district
Explore how connections and movements are being redefined now and for the future in this district. Visitors can ride in autonomous vehicles, learn about space exploration programmes, and observe the latest in mobility tech in action.
Alif – Mobility pavilion
Try on the world's largest passenger lift, watch cutting-edge mobility tech whirring past on a partly underground 330-metre track, and marvel at how connections are being made, remade, and reimagined for the future in Alif pavilion.
Open from 10:00 – 22:00
Country pavilions
Be sure that you don't miss visiting any of the country pavilion at the Mobility district. At Australia, Russia, and Republic of Korea pavilions, visitors get to walk through history and future, straddling the line between virtual and reality.
Opportunity
Every action, no matter how small, changes the world. The Opportunity sub-theme breathes life into the idea that every single action matters to ignite change toward the better.
What to expect at the Opportunity district
Meet, connect, inspire are the key activities in this district. Visitors get to network with some of the brightest minds and brilliant innovators in the world. Young participants, too, have a chance to build skills and seek mentorship with special events and activities designed for youth empowerment.
Mission Possible – Opportunity pavilion
Meet mentors and be inspired by stories of changemakers around the world in the Mission Possible pavilion.
Open from 10:00 – 22:00
Country pavilions
See people, nature, and tech that inspire at some of the country pavilions in Opportunity district. Follow the story of a creative rural child in Malawi pavilion, before making your way to witness innovative tech developments in the UK and Ukraine pavilions.
Expo 2020 theme weeks
Live events and programmes at Expo 2020 have been scheduled with the theme and subthemes in mind. Throughout the 6 months of Expo 2020, there will be 10 theme weeks exploring the world's pressing issues and their potential solutions from social, cultural, environmental and economic lenses.
Climate and Biodiversity: How to work together to better manage climate change and protect biodiversity? (3 – 9 October 2021)
Space: How to safely and productively explore the new frontier? (17 – 23 October 2021)
Urban & Rural Development: How to live and grow in harmony with our planet? (31 October – 6 November 2021)
Tolerance & Inclusivity: How to foster a greater common understanding to enable more tolerant and inclusive societies? (14 – 20 November 2021)
Knowledge & Learning: How do we harness and challenge our knowledge today to prepare for the future? (12 – 18 December 2021)
Travel & Connectivity: How to balance the impact of the expansion of our digital world with our physical reality? (9 – 15 January 2021)
Global Goals: What needs to be done together today for a better world in 2030? (16 – 22 January 2022)
Health & Wellness: How to create a happy, healthy world? (27 January – 2 February 2022)
Food, Agriculture & Livelihoods: How do we sustainably grow food to meet future demand? (17 – 23 February 2022)
Water: How to protect our most precious resource? (20 – 26 March 2022)