This article is reviewed regularly by Wego's editorial team to ensure that the content is up to date & accurate.
Updated June 2023
Jeddah, located in Saudi Arabia, serves as the gateway to the holy cities of Makkah and Madinah and is a vibrant city with a rich history and cultural heritage. Whether you are a resident or a visitor, there are plenty of things to do and places to visit in Jeddah. From exploring the enchanting corniche to participating in the vibrant Ramadan and Eid celebrations, here is our list of the top 15 things to do in Jeddah to fully experience the city's vibrant ambiance.
15 things to do in Jeddah and places to visit
Jeddah is a hospitable city that caters to both residents and visitors alike. Whether you are a local or just passing through, there are countless opportunities to explore ancient landmarks, indulge in local delicacies, immerse yourself in the vibrant Ramadan and Eid festivities that showcase cultural traditions, or simply relax by the seaside. Jeddah truly offers something for everyone, so don't hesitate to step out of your comfort zone and embark on an unforgettable adventure!
Here are our recommendations for the top 15 things to do in Jeddah, as well as places to visit, categorized for your convenience.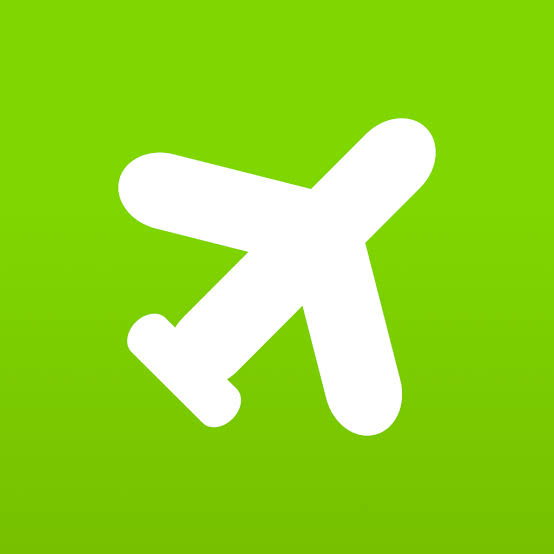 Book cheap flights to Jeddah now
Discover the charm of Jeddah
Embark on a captivating journey through the enchanting sightseeing destinations of Jeddah, where you can explore its rich cultural heritage, marvel at impressive architectural designs, and immerse yourself in vibrant marketplaces.
Explore Jeddah Corniche

Imagine this: an exquisite waterfront promenade that stretches endlessly, offering breathtaking views of the glistening, cerulean waters of the Red Sea. Welcome to the captivating waterfront walkway of Jeddah—a haven of serenity for those seeking respite from the city's bustling atmosphere. Inhale the invigorating salty breeze as you leisurely wander along the meandering pathway, mesmerized by the panoramic vistas that surround you.
Jeddah's waterfront walkway is a true treasure, an oasis of tranquility amidst the city's vibrant energy. From the deep blues of the sea to the soft pastels of the sky, the colors here are a spectacle to behold. So come, take a leisurely stroll, and allow the beauty of the Red Sea to envelop you, leaving you refreshed and revitalized.
Discover Jeddah's charming landmarks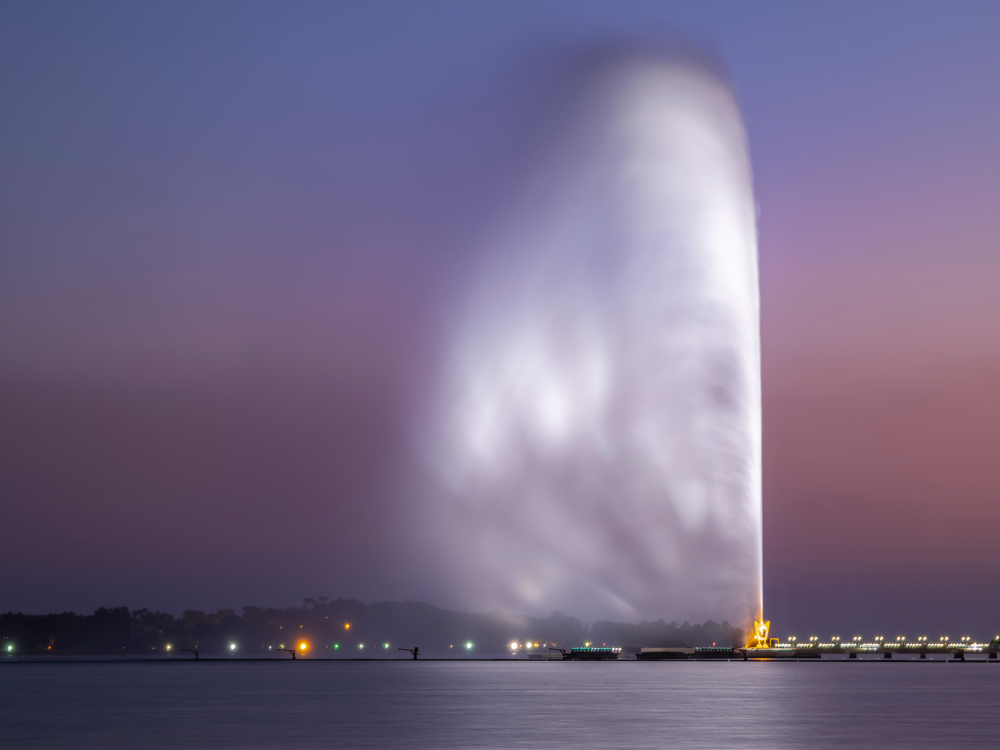 Prepare to be enchanted by the captivating landmarks and treasures of this city. Jeddah's allure extends beyond its storied past, with contemporary attractions that add an exciting touch. One such marvel is King Fahd's Fountain, an extraordinary sight that shoots water up to 300 meters in height, at an impressive rate of 1,500 liters per second. As one of the world's tallest fountains, this iconic landmark is a must-see for visitors exploring the city. Built in 1985, it was named after the former Saudi Arabian king, Fahd bin Abdul Aziz.
Equally mesmerizing is the Floating Mosque, boasting a truly unique architectural design. Its construction creates the illusion of the mosque floating above the water, setting it apart in a remarkable way. During high tide, the mosque's reflection on the seawater enhances its already serene and elegant architecture, resulting in a truly captivating sight.
If you're planning to visit the Floating Mosque in Jeddah, Saudi Arabia, make sure to familiarize yourself with the process of obtaining a Saudi visit visa. For detailed information, we recommend consulting our informative article on the topic.
Visit the Silver Sands Beach

Escape the bustling city and find tranquility at Jeddah's Silver Sands Beach. Situated along the Red Sea coast, this picturesque and secluded beach offers transparent waters, pristine sandy shores, and stunning views. Whether you're looking for a day trip to unwind or a weekend retreat with loved ones, Silver Sands Beach is the perfect destination.
Indulge in swimming and leisurely strolls along the beach. Take advantage of the sea-view cafes and restaurants for delightful meals and drinks. Relax and rejuvenate in this serene haven. Don't forget your sunscreen and beach essentials for a memorable and enjoyable day!
Explore the historic Al-Balad district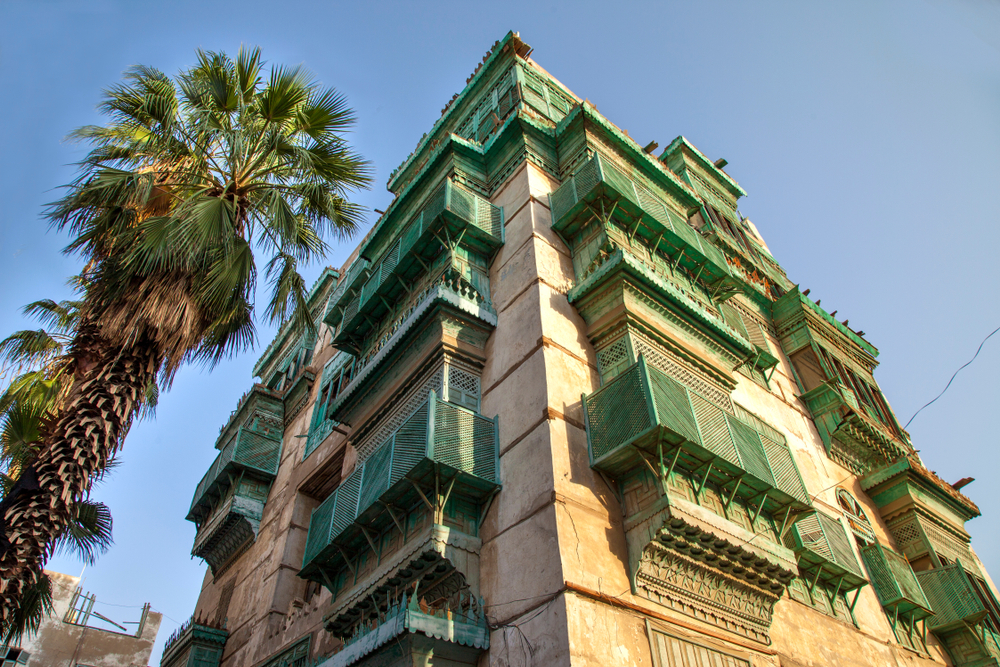 Al-Balad, located in Jeddah, Saudi Arabia, is a charming old district that showcases unique architecture and alleyways, offering a glimpse into the past. Constructed primarily from coral stone, Al-Balad reflects diverse influences throughout its history since its establishment in the 7th century. The houses' exquisite rawashin, ornate wooden balconies with intricate latticework, showcase the beautiful traditional Hijazi style, making it a true artistic wonder that continues to mesmerize visitors.
Exploring the walls of Naseef House, once a prominent wealthy family's residence and now converted into a museum, provides captivating insights into the lifestyles and customs of the past. Walking through the streets of Al-Balad evokes nostalgic memories of bygone days. Visitors can also discover traditional handicrafts, textiles, and other goods in the shops and marketplaces, and indulge in the local cuisine at cafes and restaurants serving authentic Hijazi dishes. This allows for a complete immersion in the rich cultural heritage of the region.
Check out the Fakieh Aquarium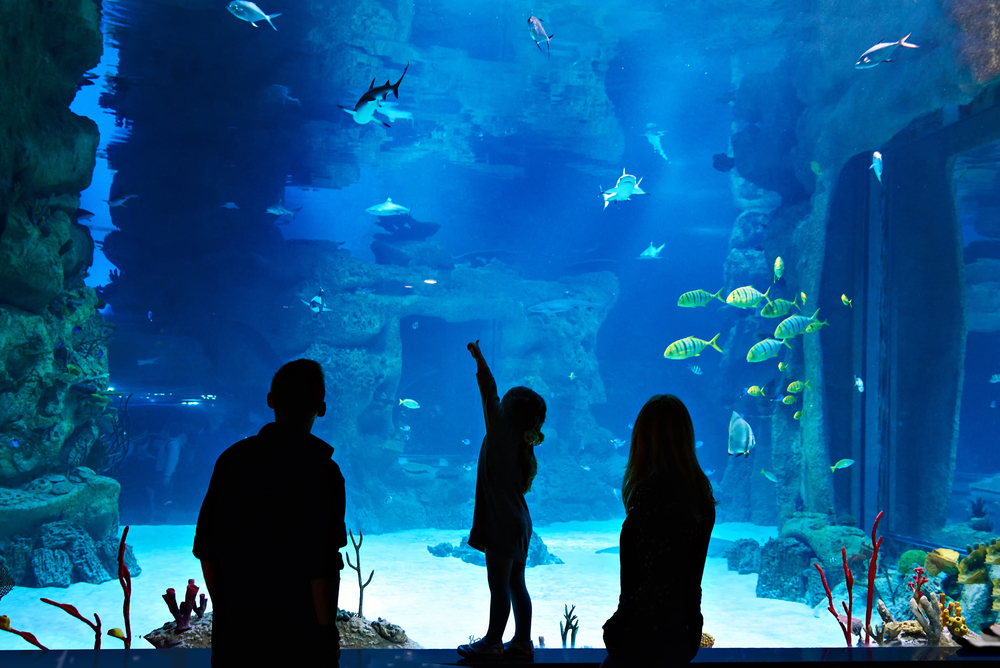 For a delightful family outing in Jeddah, look no further than the Fakieh Aquarium. With over 200 sea creatures on display, this attraction is perfect for visitors of all ages. Get up close and personal with a diverse range of marine life, including mesmerizing jellyfish and majestic sea turtles. Don't miss the captivating daily shows featuring dolphins and sea lions, showcasing their extraordinary skills and talents.
The Fakieh Aquarium also offers a designated play zone where children can engage in interactive and educational activities in a safe environment. Make sure to include a visit to the Fakieh Aquarium in your Jeddah itinerary for an unforgettable adventure that combines learning, recreation, and fun for the whole family!
Explore the Atallah Happy Land Park
For an unforgettable family day out, look no further than Atallah Happy Land Park in Jeddah. This remarkable theme park offers a wide array of rides and activities suitable for all ages, ensuring there's something for everyone. Whether you seek exhilarating thrills on roller coasters or prefer a more relaxed experience like mini-golf, this park has it all.
Not only does Atallah Happy Land Park provide thrilling rides, but it also features a fantastic water park where guests can cool off and enjoy a variety of water activities, including slides and splash pads. Additionally, the park offers facilities such as a bowling alley, arcade games, and a diverse selection of food options to cater to visitors' needs.
With its extensive range of entertainment amenities for all age groups, Atallah Happy Land Park is the perfect destination for families to create cherished and lasting memories together.
Check out the Jeddah Science and Technology Museum
Immerse yourself in the world of science and technology at the Jeddah Science and Technology Museum. This interactive museum provides a fantastic opportunity to explore and engage with various scientific concepts. Regardless of age, visitors can enjoy hands-on activities that transform learning into an exciting and enjoyable experience, making it ideal for families with children.
The Jeddah Science and Technology Museum offers a diverse range of exhibits covering subjects such as robotics, astronomy, and energy. It provides a unique chance to understand scientific principles in a pleasurable and captivating way. Guests can manipulate exhibits and gain insight into the mechanics behind their operations. As the museum caters to all ages, it is a must-visit destination for families seeking both educational and entertaining experiences.
Shopping and entertainment
Indulge in a delightful shopping and entertainment experience in Jeddah, where you'll find a perfect blend of modern malls, traditional souks, and thrilling amusement parks catering to visitors of all ages.
Shop 'til you drop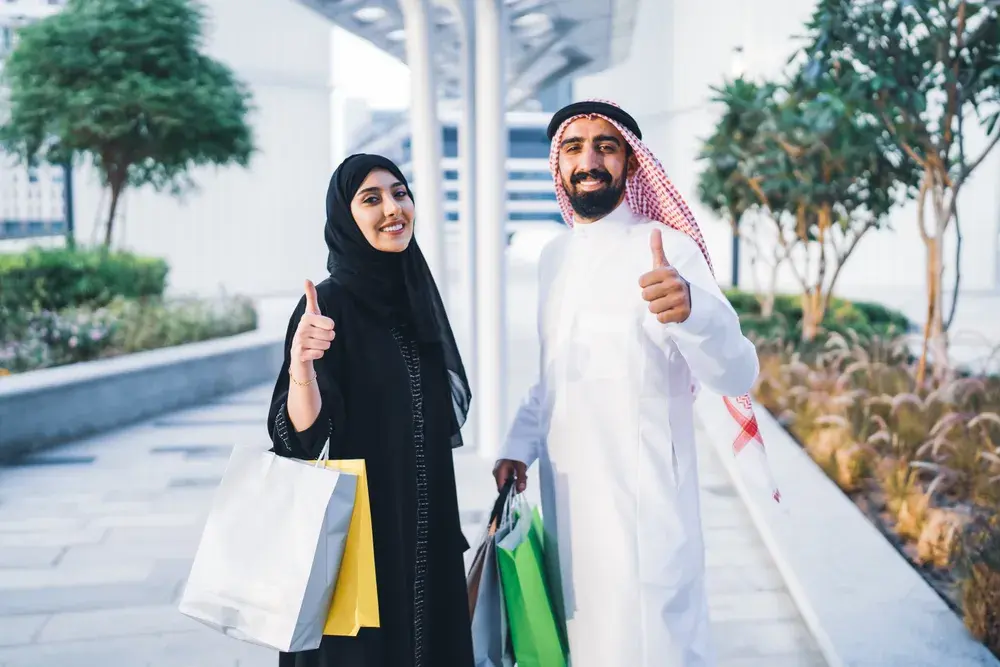 If you're a shopping enthusiast, Jeddah is the ultimate destination to satisfy your cravings. Experience an unparalleled shopping extravaganza with a mix of cutting-edge malls and traditional markets. Visit Red Sea Mall, Mall of Arabia, or Al Salam Mall for a modern shopping experience, offering a wide range of top-notch brands and local shops catering to every preference and budget.
For a more traditional retail adventure, head to Balad Souk. This vibrant bazaar is brimming with energy as merchants display a diverse array of goods, from fragrant spices to exquisite gold trinkets. Embrace the local atmosphere and don't hesitate to haggle for the best deals. Balad Souk is the perfect place to immerse yourself in the authentic local vibe and find unique souvenirs that will serve as cherished mementos of your shopping experience.
Ramadan and Eid
Immerse yourself in Jeddah's rich culture during Ramadan and Eid, where you can partake in spiritual traditions, join joyful gatherings, and savor delectable cuisine.
Join Tarawih prayers
Witness the spiritual traditions of Ramadan in Jeddah by participating in Tarawih prayers. During this holy month, Muslims worldwide observe fasting from dawn to sunset and engage in nightly Tarawih prayers. In Jeddah, you can visit numerous mosques that welcome visitors to witness the magical atmosphere of these prayer sessions, characterized by rhythmic Quranic recitations and a serene ambiance. Attending Tarawih prayers offers a truly unforgettable experience.
By joining Tarawih prayers in Jeddah, you will not only be immersed in the local culture but also experience the vibrant atmosphere of bustling mosques and lively streets during Ramadan. As sunset approaches, join the community in breaking the fast with traditional foods such as fruits, dates, and savory dishes, allowing you to savor the authentic flavors of Ramadan in Jeddah.
Explore the Ramadan night market
Immerse yourself in the lively and vibrant atmosphere of the Ramadan Night Market, a must-visit event during the holy month. This market offers a multitude of vendors showcasing delectable traditional cuisines, exclusive souvenirs, and unique gifts. As you explore, live music fills the air, enhancing the festive mood. The enticing aromas of freshly cooked local specialties like kunafa and sambosa waft through the market, tempting you to indulge in their flavors. This event provides an excellent opportunity to engage with locals, experience their warmth and hospitality firsthand, and create lasting memories.
The Ramadan Night Market in Jeddah showcases the city's cultural diversity, with displays of traditional clothing, perfumes, jewelry, and henna application. It serves as a bustling hub for families, friends, and couples to enjoy the festivities and indulge in retail therapy while immersing themselves in local traditions. Prepare for an unforgettable experience that captures the essence of Jeddah during Ramadan.
Join in Eid prayers
Muslims around the world, including in Jeddah, observe two significant Islamic festivals: Eid al-Fitr and Eid al-Adha. These celebrations are marked by special mosque prayers followed by festive feasts with family members. Many mosques in Jeddah hold dedicated prayer sessions during these occasions, providing an opportunity for worshippers to come together and express gratitude for Allah's blessings. Participating in these events allows you to explore the local customs and traditions associated with Islam while immersing yourself in a joyous atmosphere.
Eid prayers in mosques are vibrant and filled with happiness. Worshippers dress in their finest attire and exchange heartfelt greetings of "Eid Mubarak." The prayers are longer than usual, accompanied by additional takbeers (saying "Allahu Akbar") and a sermon delivered by the Imam. After the prayers, people embrace each other, and children receive Eidi, a gift from elders. Families gather to share meals, exchange gifts, and engage in various activities to maintain the festive spirit. Joining the Eid prayers is a wonderful way to experience Jeddah's warm hospitality during these special occasions.
Delight in the festivities of Eid
Jeddah, a city brimming with life, becomes an enchanting destination during the festive occasion of Eid. The streets come alive with vibrant decorations, and the air is filled with joy and excitement. To elevate the festive spirit, a spectacular fireworks display illuminates the night sky, adding an extra layer of enchantment to the celebrations.
Immerse yourself in the local traditions and culture by witnessing various traditional dances and lively musical performances held throughout Jeddah. These events offer a wonderful opportunity to fully engage with the festive atmosphere and experience the unique charm of Eid celebrations in the city. Prepare to be captivated by the blissful ambiance and create lasting memories of your Eid experience in Jeddah.
Food and recreation
Indulge in a culinary adventure and exhilarating outdoor activities in Jeddah. Delight in a wide array of flavorful cuisines and partake in thrilling water sports and more, ensuring there's something for everyone to savor and experience!
Indulge in the delectable local fare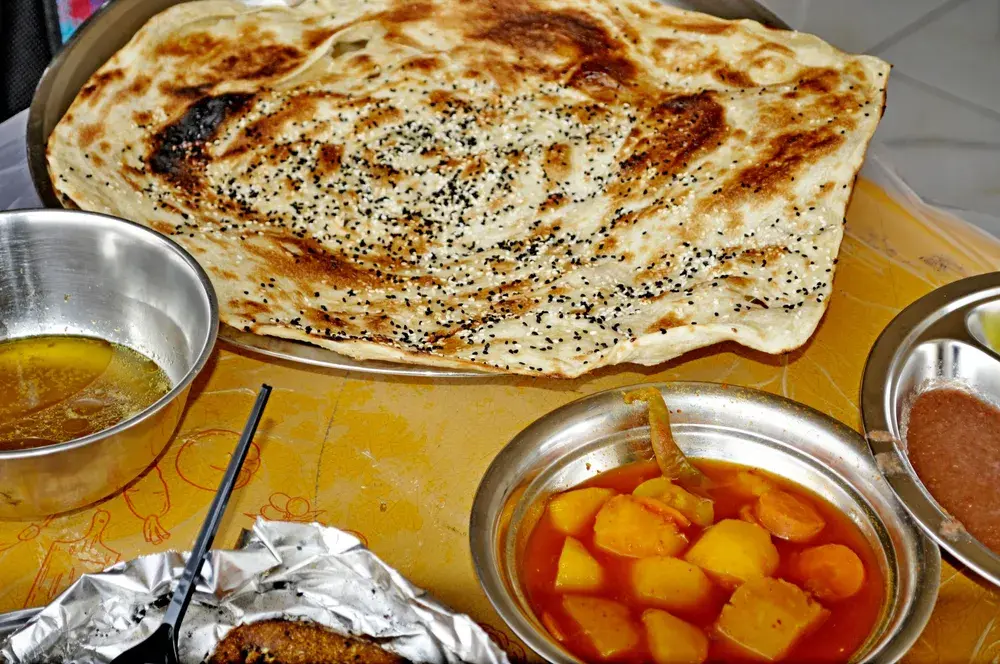 Indulge in a culinary paradise where Jeddah offers a tantalizing array of flavors. Whether you're craving traditional Saudi specialties or global cuisine, this gastronomic hub has a delightful experience in store for you. Be sure not to miss the iconic dish of kabsa, a fragrant and flavorful meat and rice dish that showcases the essence of Saudi gastronomy with its aromatic spices and tender textures. Another local favorite is shawarma, a mouthwatering combination of savory meats, vegetables, and sauces that is sure to please your taste buds.
But Jeddah's culinary delights don't stop there. The city boasts a diverse range of mouthwatering dishes, from succulent grilled meats to exquisite seafood. Come with an appetite and prepare to savor some of the finest and most unique culinary creations this region has to offer. Make the most of your time in Jeddah by indulging in their distinct local delicacies, embarking on an unforgettable culinary journey that will leave you craving for more.
Unwind at a beach club
Escape to Jeddah's beach clubs for a perfect getaway. These exclusive destinations feature pristine pools, sandy beaches, and breathtaking ocean views, providing an ideal environment to relax and leave your worries behind. Among the sought-after options is Al-Nakheel Beach Club, renowned for its expansive pool surrounded by comfortable loungers, umbrellas, and picturesque gardens.
For a private beach experience and a variety of dining options, Jeddah Hilton is a fantastic choice. Indulge in delightful meals and refreshing beverages while enjoying the serenity of the beach. Jeddah's beach clubs offer the ultimate retreat, inviting you to swim, soak up the sun, and breathe in the refreshing ocean breeze. Spending an entire day enjoying their exceptional facilities is a wonderful idea that promises a memorable and satisfying experience.
Enjoy a pleasant picnic at Al Andalus Park
Escape the hustle and bustle of the city and discover tranquility at Al Andalus Park. With its well-maintained green spaces, the park creates a serene atmosphere that encourages visitors to relax and reflect. Enjoy a range of activities, including picnicking, leisurely walks, and even boating.
Whether you seek a peaceful retreat, an exciting family outing, or a romantic picnic spot, Al Andalus Park provides an unforgettable experience. Families with children will find an array of play areas designed for kids of all ages, making it an ideal destination for family fun. Additionally, the park offers refreshments and snacks from various booths, allowing you to savor drinks and treats during your visit.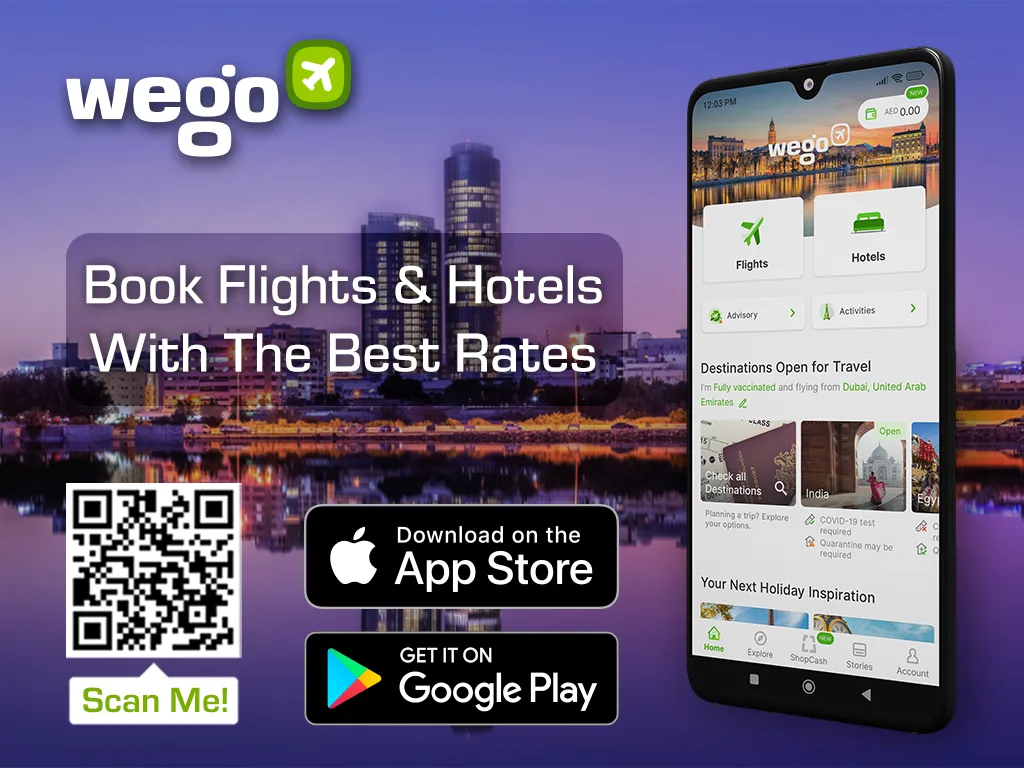 [Total:

321

Average:

4.7

]