When travelling overseas, many parents find it overwhelming and stressful to travel with their kids. You have to ensure that they are well-entertained throughout the flight journey to your destination because if they throw a tantrum, it could be very difficult to keep them quiet.
Once you get to your destination, you have to make sure they will be comfortable throughout the journey, be able to explore new locations, learn the culture of the country they are visiting and enjoy. To learn more about Germany, you can go to www.germany.travel.
Fortunately, it is not very difficult to locate tourist attractions that are geared for kids in every country in the globe. However, if you are flying to Berlin, where can you take them when you are there?
Why Berlin?
When you hear about Berlin, you immediately think it will just be a regular city where there are a lot of skyscrapers and few places to visit, mostly related to its dark history.
However, while the city does not hide its history to its visitors, there are a lot of great kid-friendly activities and attractions in the city that would definitely make your kids love their visit. From zoos, interactive centers to museums, Berlin has them all and each one of them has a special gimmick that makes them stand out from the others. Many of Berlin's hotels are childproof and family friendly too.
To help you plan your trip, here are the top 10 popular kid-friendly activities you can do with your child while in Berlin:
1. Labyrinth Kindermuseum
Are you looking for a museum that would help teach your kids a variety of activities where they can train their senses and at the same time, learn important life skills? If that is a yes, you should check out Labyrinth Kindermuseum.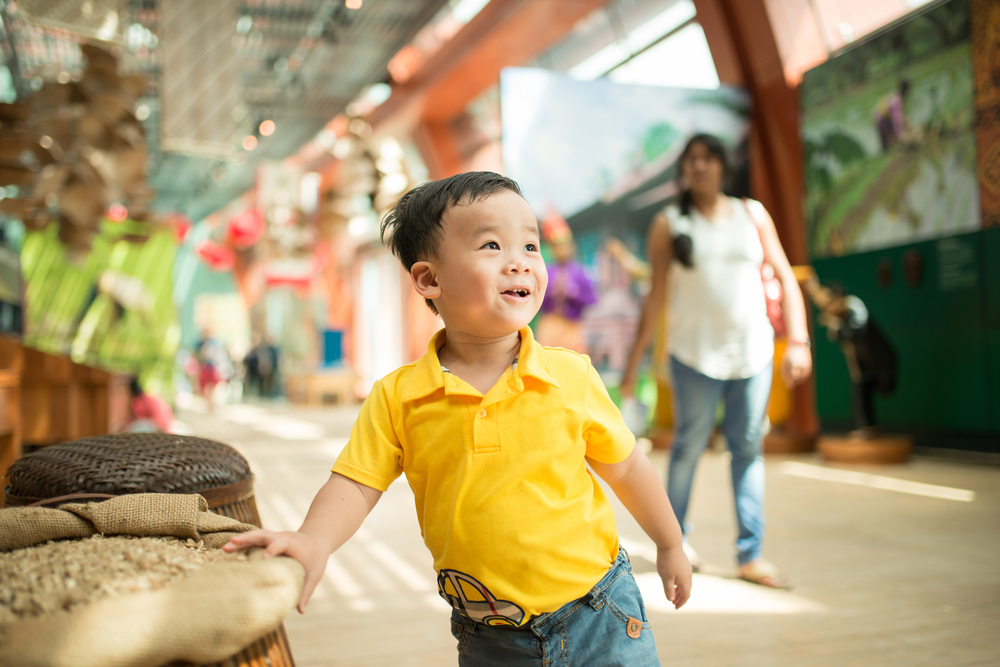 This museum was opened in 1997 inside a former match factory. Inside the museum, there are several stations where kids can role-play different activities. They could be a traffic officer, a driver, a shopkeeper, a builder or an artist. Each station enables the kids to experiment on tools and props, allowing them to use their senses and learn more about them. The exhibitions change regularly so kids would be able to try something new whenever they visit.
If you are visiting this museum, make sure to bring socks because shoes are not allowed in the museum floor. The museum also has different opening hours every month, so you have to check with their website regularly before you visit.
2. Berlin Zoological Garden

For children who are animal and plant lovers, heading over to Berlin Zoological Garden should be in your itinerary.
The zoo is Germany's oldest and is home to 20,000 animals from 1,400 different species. They have wolves, penguins, elephants, bears and many others, plus the only pair of pandas in Germany. Considering the fact that the zoological park is 33 hectares, they offer guided tours around the park and if you are lucky, you can also enjoy animal feeding sessions and shows where your child can get up close to the animal and feed them.
The Zoo is open daily from 9:00 am to 6:30 pm depending on the season you visit. If you regularly visit Berlin with your kids, you can also get an annual pass which would give you fast access to the Zoo and its affiliated attractions.
3. Legoland Discovery Centre
If your child – or yourself – is a LEGO fan, you should not miss out bringing them to Berlin's Legoland Discovery Centre.
This discovery park is one big LEGO box, allowing you and your child to create anything you want with four million LEGO blocks available for use. If you do not want to build your own LEGO paradise, you can try out their themed attractions where kids can explore the prehistoric era, the medieval period and the LEGO factory itself. If your kids want to bring some LEGO blocks at home, you can check out the center's shop or the LEGO factory where they can make their own LEGO blocks.
The discovery center is open daily from 10:00 am to 7:00 pm all year long, except on December 24. They also offer combo and annual tickets, especially if you plan to visit other attractions with your kids.
4. Tierpark
If you want to check out the largest collection of animals in Europe, you may want to include Tierpark Berlin in your itinerary.
This zoo is considered as Europe's largest animal park because it is home to 9,000 different animals of various shapes and sizes. They have elephants, bears, deer, monkeys, tigers and many others. Aside from its large number of animals, the park is also known for its camel, flamingo, giraffe and elephant enclosures. For kids, they can check out the park's feeding schedules and its petting zoo to get up close with the park's inhabitants. The zoo is also home to the historic mansion Schloss Friedrichsfelde, a former palace used by Prussian Kings and other nobles. The mansion regularly hosts concerts and exhibits depending on the season.
The park is open daily, but its opening times vary every season. The Schloss Friedrichsfelde, meanwhile, is open every Summer and Winter from Tuesdays to Sundays.
5. Natural History Museum
For kids who want to understand the natural world and its development, visiting the country's Natural History Museum is a must.
The museum was opened in 1889 by Kaiser Wilhelm II and gives visitors a different feeling as the building looks like a palace at first glance. When they enter, they will be welcomed by the history of dinosaurs and the interactive exhibits that explains their history and lifestyle. The museum also has the largest preserved skeleton of a Tyrannosaurus Rex in the world whom they named Tristan Otto. After the dinosaurs, the next wing showcases the large collection of preserved animals in glass jars of the museum which visitors can study up close and they look like they are still alive.
The museum is open every Tuesdays to Fridays from 9:30 am to 6:00 pm and from 10:00 am to 6:00 pm every weekend and public holiday.
6. Tempelhofer Park
Want to have a fun picnic with your child after a long walk around Berlin? Why not make a stop at the Tempelhofer Park?
This park used to be an airport and a parade ground used by the military. However, when the airport closed in 2008, the Berlin council reclaimed the area and turned it into the park that it is today. The park has various cycling, jogging and skating trails for families to try out, a BBQ area, a dog-walking course, and a vast picnic area. Visitors can even check out the urban gardening area of the park, which the locals use to grow carrots, tomatoes and lettuce for their meals.
The park is open daily and you can bring your entire family for the ride.
7. AquaDom and Sea Life
For children who love aquatic animals and the sea, visiting the AquaDom and Sea Life will blow their minds away.
This aquarium hosts a wide variety of sea creatures that your kids would only see in the ocean such as manta rays, sharks, catfishes and shellfishes. Each area of the aquarium showcases various animals based on their location and habitat. If you are lucky, you and your child can experience seeing the animals fed during their feeding time. They also have the Rockpool Experience where you and your child will be put to the test.   
The aquarium is open daily from 10:00 to 7:00 pm, with different opening times for New Year's Eve and New Year.
8. Waldhochseilgarten Jungfernheide
Want to challenge yourself and your kids into an obstacle course that would surely give you a workout? If that is a big yes, going to the Waldhochseilgarten Jungfernheide is a must!
This forest garden is located inside the Volkspark jungfernheide and it is not very difficult to miss. When you get to the garden, you have a choice of three obstacle courses for your kids, and nine obstacle courses for the adults. Each course has obstacles placed in random areas in the trees. Each course is carefully marked based on their difficulty and when you get hungry, you can simply check out its nearby café for their energy filled meals and drinks.
This forest garden is open daily from 11:00 am to 8:00 pm every week days and from 9:00 am to 8:00 pm every weekend.

9. Science Center Spectrum
For kids who want to explore the vast world of science and technology, the Science Center Spectrum will definitely blow their mind away.
The center was originally established in 1982 when the public were allowed to test the prototypes by the yet-to-be-opened Museum of Transport and Technology. When the museum opened in 1983, it opened its very own experiment department known as the Versuchfeld. However, the department moved on its own building in 1990 and it later became the Science Center Spectrum. Today, the center has 150 interactive exhibits that introduces science and technology in a fun and curious way.
The museum is open every Tuesday to Sundays from 9:00 to 5:30 pm on weekdays and from 10:00 am to 6:00 pm every weekend.
10. MACHmit! Museum for Children
To cap off our top 10 kid-friendly attractions in Berlin is the MACHmit! Museum for Kids.
This museum was a former church, the Eliaskirche, which had to close down because of the lack of funding for refurbishment. The owners of the museum found the location and transformed it to an interactive museum and playground for kids. In the museum, there are several areas were kids can learn about the history of the area, plants, church equipment, and arts and crafts. For active kids, they can try climbing the many climbing frames installed around the museum. If they get famished, the museum has its very own café that gives a full view of the museum floor.
The museum is open from Tuesdays to Sunday from 10:00 am to 6:00 pm. For workshops and other events, you can check their site for more details.
Conclusion
When planning a trip to Berlin with your family, you don't have to make too much effort because the city has a lot to offer for your kids. By visiting one of these ten attractions, we are sure your kids will keep asking you to come back with them because these attractions definitely caught their attention.  
Happy Holidays!
—
You might also like:
– Top 10 Must-Visit Historical Locations in Europe
– 7 Things You Should Know Before Visiting Germany