This article has been reviewed by Wego's editorial team to ensure that the content is up to date & accurate.
Last updated 30 April 2021
Just as Delhi was recovering from the initial hit of the pandemic, the second wave struck the capital city of India, causing an unprecedented spike in cases. In order to keep the daily caseload under check, the Delhi government has enforced harsh restrictions on the movement of civilians. The only Delhiites exempted from these are those who own an e-Pass.
What's this e-Pass and how can you get one? Read along to find out.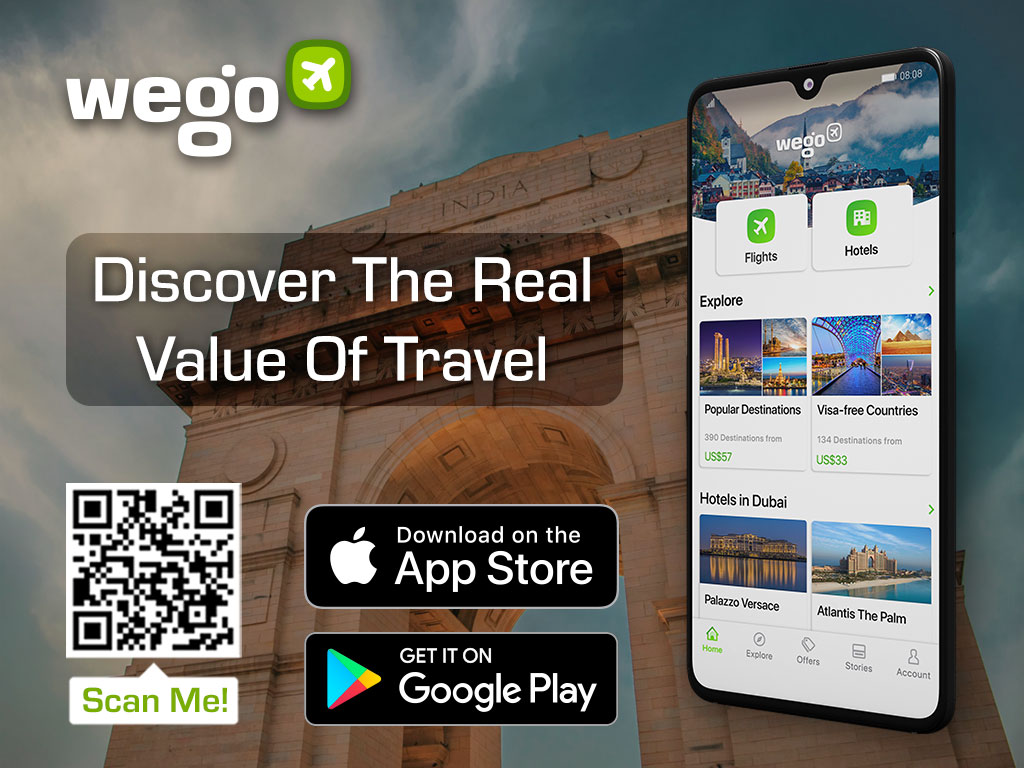 What is the Delhi e-Pass?
The Delhi government has declared a week-long complete curfew starting from 10 PM on 19 April night to 6 AM on 26 April, citing the  "acute shortage" of oxygen and beds for Covid-19 patients.
Over and above this, a weekend curfew and a 10pm-5am night curfew are also in force till 30 April.
With such strict restrictions being enforced across the capital, public movement in the city remains limited to essential services, such as health and family welfare and all related medical establishments.
Those who need to commute for any essential services are required to carry an e-Pass. This e-Pass will be verified proof that such a person indeed has a valid reason to move and should be produced in case asked for by any police personnel.
Who is required to obtain the Delhi e-Pass?
Anyone who needs to disobey the curfew restrictions for any essential service needs to obtain the Delhi e-Pass.
The following persons, however, are exempted from this requirement. They may need to show valid ID proofs/tickets.
Pregnant women and patients for getting medical/health services
People coming from/going to Airports/Railway stations/ISBTs allowed to travel
All private medical personnel such as doctors, nursing staff, paramedical, etc. and other hospital services (such as hospitals, diagnostic centres, clinics, pharmacies, pharmaceutical companies and other medical & health services)
All Judicial officers/officials of courts of Delhi
Officers/officials related to the functioning of offices of Diplomats of various countries as well as persons holding any constitutional post
Electronic and Print Media
Officers/officials of the Government of India, its Autonomous/Subordinate offices and Public Corporations and officers/officials of GNCT of Delhi/Autonomous Bodies/Corporations involved in emergency services
Inter-state and intra-state movement/transportation of essential/non-essential goods
Those going for COVID testing or vaccination
Note that a night-curfew ePass will be considered as a weekend curfew pass during the weekend and vice-a-versa. You do not need to apply for both, weekend curfew and night-curfew pass.
How to get the Delhi e-Pass?
The process of obtaining a Delhi e-Pass is quite simple. Just follow these steps.
Open the Delhi Government portal and choose the language comfortable for you.
Select the 'e-Pass for travel during night/weekend curfew' from the dropdown and submit.
Scroll down and enter your details such as name, contact number, address, service type, the time period for which you need the pass, etc.
Upload documents like ID proof, visiting card, shop/business license, etc. (Make sure the file size for each is within the 4MB limit)
Check the acknowledgment box.
Click submit to apply.
Note down the e-Pass ID for future reference.
How to check the status of the application
Open the application status portal.
Enter your unique 7-character e-Pass ID.
Click on the 'Check Status' button.
Other states asking for e-Passes
Delhi is not the only state to implement an e-Pass system. Here are the rest of the states which have mandated e-Passes along similar lines.
Gujarat
Amidst rising cases in the second wave of COVID-19, Gujarat has imposed several restrictions on public movement and also a night curfew.
If for any essential or emergency reason, you want to travel out of the state, you need to first obtain an e-Pass. Here's how:
Open the application portal.
If you have already registered on it before for any service of the Government of Gujarat, you don't have to register again. All those who haven't will have to use the "New Registration Option (Citizen)" and enter their details.
Click on the "Request a New Service" button and select "Other Services" from the "Filter Services" dropdown.
Here you can access the "COVID-19 Lockdown Exemption Pass for Movement out of Gujarat" form. Fill up the form and submit your application for Gujarat e-Pass.
Jharkhand
The initial lockdown imposed by the Hemant Soren government till 29 May has now been extended to 6 May. 
Jharkhand Movement E Pass for Curfew/Lockdown can be applied by individuals who are entitled to work even during the lockdown. You can acquire the e-pass by downloading the Pragyaam app on iOS or Android. 
All you have to do is log in using your mobile number and select "Jharkhand e-pass". You can view the complete set of instructions here. 
Maharashtra
The Maharashtra state cabinet has announced an almost complete lockdown till 15 May to deal with the staggering rise in cases. Permissible reasons for movement in curfew hours are:
Essential services
Public services provided by a local authority
Death of a first relative
Extreme medical emergency
Marriage
The e-Pass is necessary for everyone who needs to break the rules for any of these reasons. To get the Maharashtra e-Pass:
Open the dedicated registration website.
Enter details like name and contact information, dates and destination of travel, number of passengers, the reason for travel, etc.
Upload your photo, a relevant document (Essential Service Letter/ Valid Organization Document/ Medical Report/ Company ID etc.), and a negative RT PCR/ Rapid Antigen test report not older than 72 hours.
After applying, you can check whether your pass has been approved or not here, using your e-Pass Token ID.
Those who don't have access to the internet can head to their local police station for help in filling the form for e-Pass.
Karnataka
In response to the grave COVID-19 situation in the state, Chief Minister BS Yediyurappa has declared a lockdown till 12 May.
The e-Pass is required for those who need to commute or move during lockdown for any of the permitted reasons.
The government has set up different portals for the application process-
Individuals can also apply for the KSP Clear Pass on the Aarogya Setu app.
Those seeking the e-Pass for emergencies should contact the office of Additional General of Police, i.e ADGP (CL&M) of Karnataka State Police.
Kerala
Although the Kerala government hasn't declared a lockdown yet, it has introduced strict curbs and re-enforced the e-Pass requirement from 17 April.
Follow these steps to receive your Kerala e-Pass.
Open Kerala's COVID-19 Jagratha portal.
Hover on the 'Citizen' tab on the top menu.
Under 'Visitors Entry', select the type of your visit depending on your departure destination and duration of stay.
Enter your mobile number (and NORKA Registration Number, only in case of domestic entry) and verify yourself with an OTP.
Fill in the details such as contact information, date of birth, ID number, etc. and submit your application.
Tamil Nadu
The state's government has met the rise in the case count with stringent measures, including night curfew and closure of public places.
The TN government requires every travellers visiting the state from other states/countries to carry an e-Pass. Travellers from Andhra Pradesh, Karnataka, and Puducherry arriving in Tamil Nadu are exempted from this.
Only the following categories are eligible for the TN e-Pass:
Government duties
Police
Fire electricity
Water department
Health worker
Bank employees
Medial department
Patient
Death case
Medical services
Here's how you can get your Tamil Nadu e-Pass:
Open the TN e-Registration portal and select the destination you're travelling from- interdistrict, interstate or from outside the country.
Enter your mobile number and given captcha, and verify yourself with an OTP.
Fill in your personal details such as name, contact information, address, Aadhar card number, vehicle details, etc.
Tick the declaration box and submit the application.
Save the registration ID for future reference.
Uttarakhand
With curfews being imposed in different parts of the state, including Dehradun and Nainital, the government is issuing e-Passes to those who are engaged in providing essential services like health, manufacturing, transport, storage, shops, banking, media persons.
To apply for the Uttarakhand e-Pass, simply visit the portal, enter the details asked and submit valid supporting documents.