This article is reviewed regularly (on a monthly basis) by Wego's editorial team to ensure that the content is up to date & accurate. 
Updated 19 August 2021
With changes to travel restrictions occurring frequently as the pandemic ebbs and flows around the world, keeping tabs on the latest flight suspensions and bans can get quite challenging.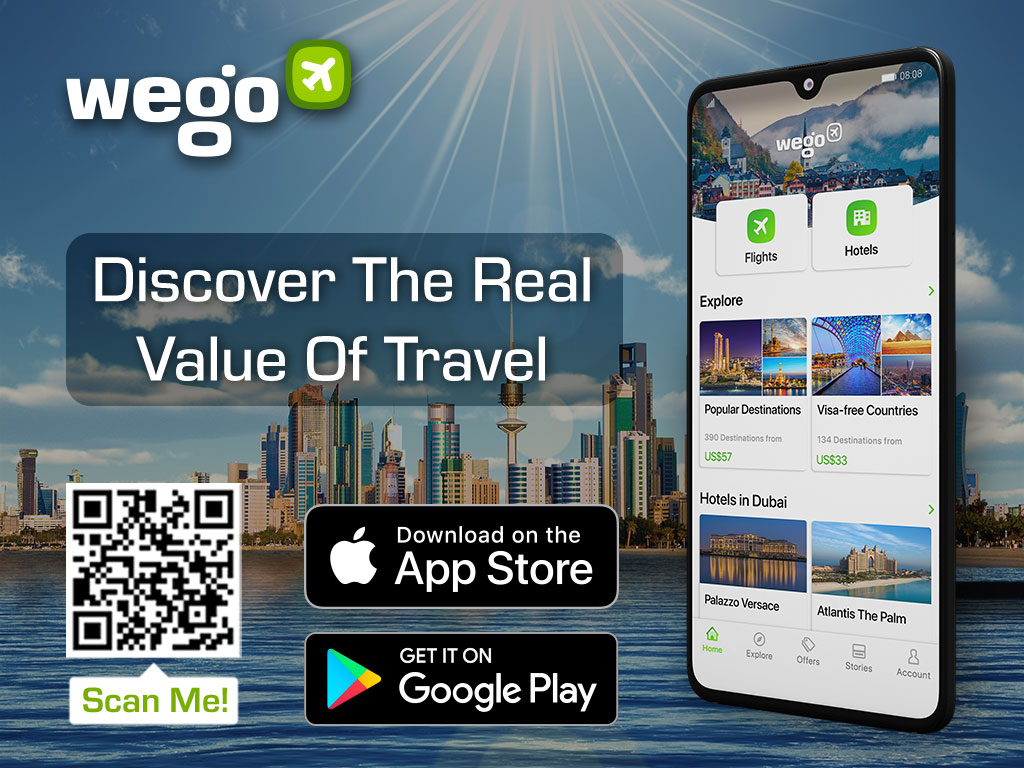 Kuwait has partially lifted its entry restrictions at the beginning of August for certain categories of travellers. However, visitor visas remain suspended and entry is contingent upon a fully vaccinated status with some exceptions. Similarly, international travel from Kuwait is also prohibited for Kuwaitis who have not been vaccinated.
Here are the latest Kuwait flight news along with what we know now about the state of international flights in Kuwait.
Kuwait latest flight news and updates
Kuwait has opted to reinstate commercial flights with Bangladesh, Egypt, India, Nepal, Pakistan and Sri Lanka after restrictions for direct flights to and from the six countries were eased. Flights to and from these countries will still be subject to stringent measures outlined by Kuwait's ministerial coronavirus emergency committee.
As Kuwait eases its travel restrictions, Kuwait Airways continues its gradual return to operating direct flights to and from the country, Kuwait Airlines currently operates three weekly direct flights to popular destinations such as London, Paris, as well as two weekly direct flights to Geneva, and Munich, among numerous others. Two daily flights to Dubai are also available seven days a week.
Who can enter Kuwait now?
Fully vaccinated residents
Non-Kuwaiti nationals holding valid residency visas who have been fully vaccinated may now return to Kuwait.
Specifically, the government announced that all residents above the age of 16 wishing to return may do so provided they have been inoculated with two doses of the Kuwait-approved Pfizer, Oxford AstraZeneca, or Moderna vaccines, or one dose of the Johnson & Johnson vaccine. Minors under 16 may enter with eligible parent(s). 
The required vaccine certificate must be registered and approved through the Ministry of Health's Immune app. The Kuwaiti government is now accepting vaccination certificates issued abroad to be registered and validated by the Public Health Department.
It's important to note that while vaccinated residents may travel into Kuwait, a ban on direct travel from Bangladesh, India, Nepal, Pakistan and Sri Lanka is still in effect. Residents looking to enter Kuwait from said countries will need quarantine in a third country for 14 days before being allowed to enter Kuwait.
Kuwaiti nationals
Apart from the non-Kuwaiti residents described above, only the following category of people are allowed to enter Kuwait:
Nationals of Kuwait

Children, husbands and wives of nationals of Kuwait;

Domestic workers of nationals of Kuwait. They must register online before departure at

https://belsalamah.com/home.html

Diplomats, their families and their accompanied domestic workers

Medical personnel and their accompanied family members 

Minors below the age of 18, who cannot get vaccinated
It is mandatory to install Shlonik (available on both iOS and Android platforms) and Kuwait-Mosafer applications on their personal devices. Visa on arrival facilities has been suspended. Every passenger must register online before their departure at https://kuwaitmosafer.gov.kw/home.html 
Article 20 passengers
A special allowance is available for Article 20 visa holders, which specifically applies to domestic workers. They may enter Kuwait even if not vaccinated but certain regulations still apply. More on this below.
Testing requirements in Kuwait
It is mandatory to travel with a negative PCR test result received no more than 72 hours before departure for Kuwait. 
This does not apply to:
Travellers younger than 6 years;

Travellers returning to Kuwait with a negative COVID-19 PCR test result issued before departure from Kuwait. They must have been a maximum of 4 days abroad.
Passengers permitted to enter Kuwait will undergo a PCR test upon arrival and another test while in quarantine. 
Quarantine requirements in Kuwait
The following categories of travellers will be subject to one week of quarantine at their own residence with a PCR test on the seventh day:
Travellers who have taken two doses of vaccine at least two weeks prior to arrival

Those who took one dose five weeks prior to arrival

Recovered individuals from COVID-19 who have taken at least one dose of the vaccine two weeks before arrival

Students who are nationals of Kuwait studying abroad with a letter issued by the Kuwait Cultural Office and a letter issued by the University
Non-vaccinated domestic workers
Non-vaccinated domestic workers arriving from banned countries must still undergo a 14-day quarantine in a third country and must undergo a 14-day hotel quarantine upon arrival. 
If arriving from a non-banned country, they may travel straight to Kuwait but must still serve a 14-day hotel quarantine.
Vaccinated domestic workers
Vaccinated domestic workers travelling from a banned country must spend 14 days in a non-banned country. Upon arrival to Kuwait, they must serve a 7-day hotel quarantine as well as complying with the instructions provided by the BelSalamah app. 
Can Kuwaitis travel abroad now?
Only citizens who are vaccinated are eligible to travel, provided they get one of the vaccines approved by the State of Kuwait and have received a green status on the Immune app. Exemptions apply to the following:
Age groups not subject to vaccination.
Those who obtained a certificate approved by the Ministry of Health stating that they could not obtain the vaccine due to health reasons.
Pregnant women provided that they obtain a pregnancy certificate from the Ministry of Health.
Kuwaitis are also required to possess valid health insurance for the duration of their stay outside the country. The health insurance must cover the treatment of coronavirus infection.
Countries open to Kuwait residents
Although travel restrictions still persist in many parts of the world, there still remain destinations to which Kuwaiti residents may travel.
As per Kuwait Airways' press release, the government has given the go-ahead for direct flights to depart from Kuwait to 14 countries.
Among the permitted destinations, several of Europe's most popular countries allow fully vaccinated travellers from Kuwait to enter their borders without having to undergo quarantine. 
These destinations include:
London
Paris
Munich
Frankfurt
Geneva
Bodrum
Trabzon
Tbilisi
Sarajevo
Malaga
Additionally, Jazeera Airways is also operating direct flights to Dubai, Istanbul, Beirut, and Mumbai.