This article is reviewed regularly by Wego's editorial team to ensure that the content is up to date & accurate. 
The United Arab Emirates (UAE) is a country with a rich Islamic heritage and culture, and as such, observes numerous Islamic holidays throughout the year. From the holy month of Ramadan to the Festival of Sacrifice, these occasions hold great significance for the people of the UAE, providing a time for reflection, prayer, and celebration, as well as enjoying some much-needed downtime.
If you're looking to make the most of your time off in 2024, you can make use of our Wego Islamic holidays calendar! Our calendar showcases all the Islamic key dates and celebrations you need to know to plan for longer breaks, enjoy more long weekends, and even take strategic leaves to explore new destinations and experiences.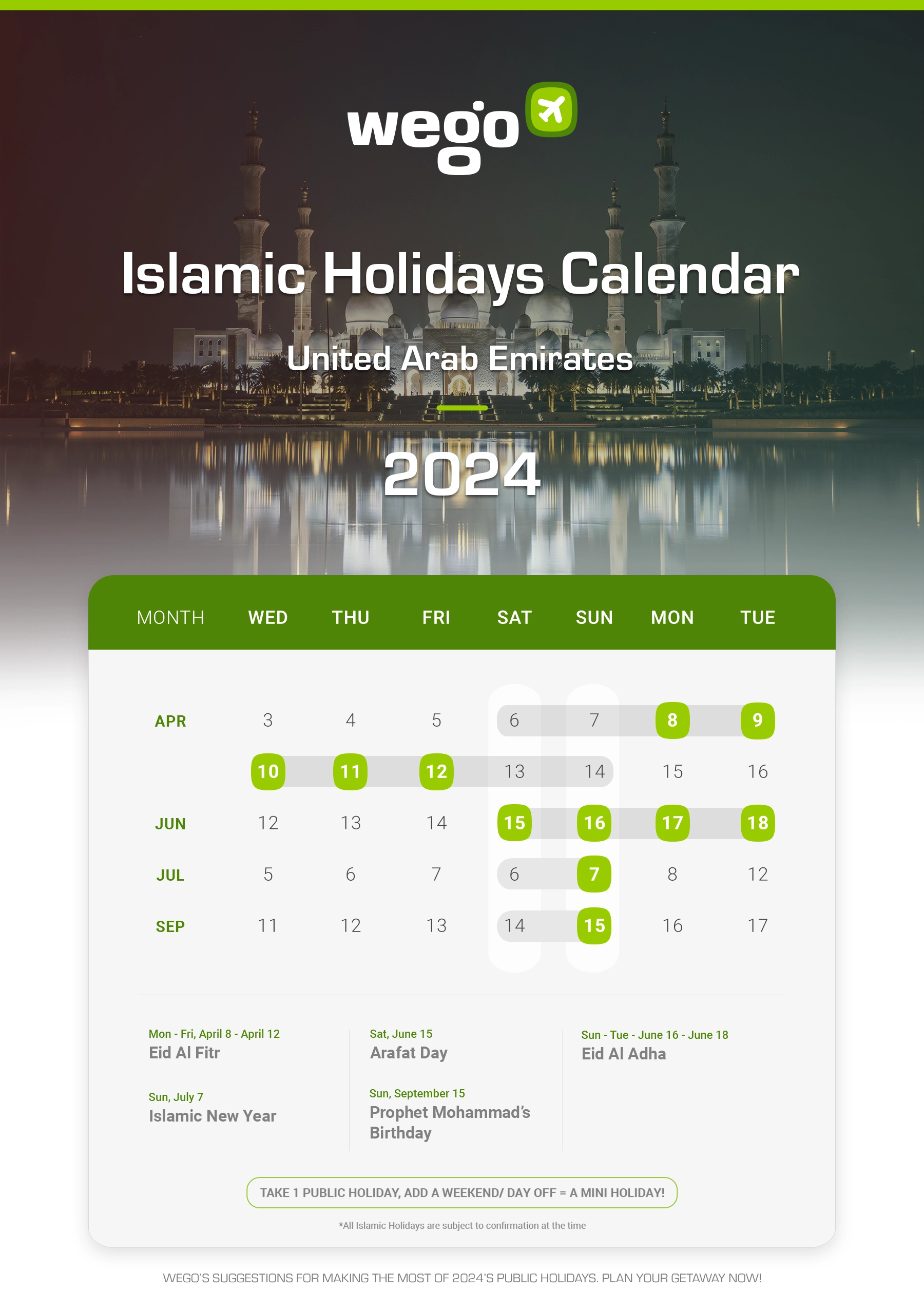 Eid Al-Fitr (8 April – 12 April)
For the year 2024, Eid Al-Fitr is expected to start on Wednesday, 10 April. Eid holidays will be from Ramadan 29 until Shawwal 3 – based on the Islamic calendar. These dates will, however, be confirmed closer to the date based on the moon sighting.
Arafat Day and Eid al-Adha (15 June – 18 June)
On Saturday 15 June, residents in the UAE is entitled to holiday as Arafat Day descends, followed by a three-day Eid al-Adha holiday and celebrations. Expect hotels, resorts, and theme parks to dish out special offers and discounts to make the most out of the celebrations.
Hijri New Year (7 July)
The Islamic (Hijri) New Year is all set to be celebrated in the UAE for the year 2024 on 7 July. In any case, the Hijri new year will afford residents that much-needed midweek day off in July.
Prophet Muhammad's Birthday (15 September)
The birthday of the Prophet Muhammad will be observed as a holiday in the UAE. For the year 2024, the event will be celebrated on sundown, 15 September and will end on sundown on Sunday, 16 September.
[Total:

112

Average:

4.8

]