This article is reviewed regularly (on a monthly basis) by Wego's editorial team to ensure that the content is up to date & accurate.
Updated 4 February 2022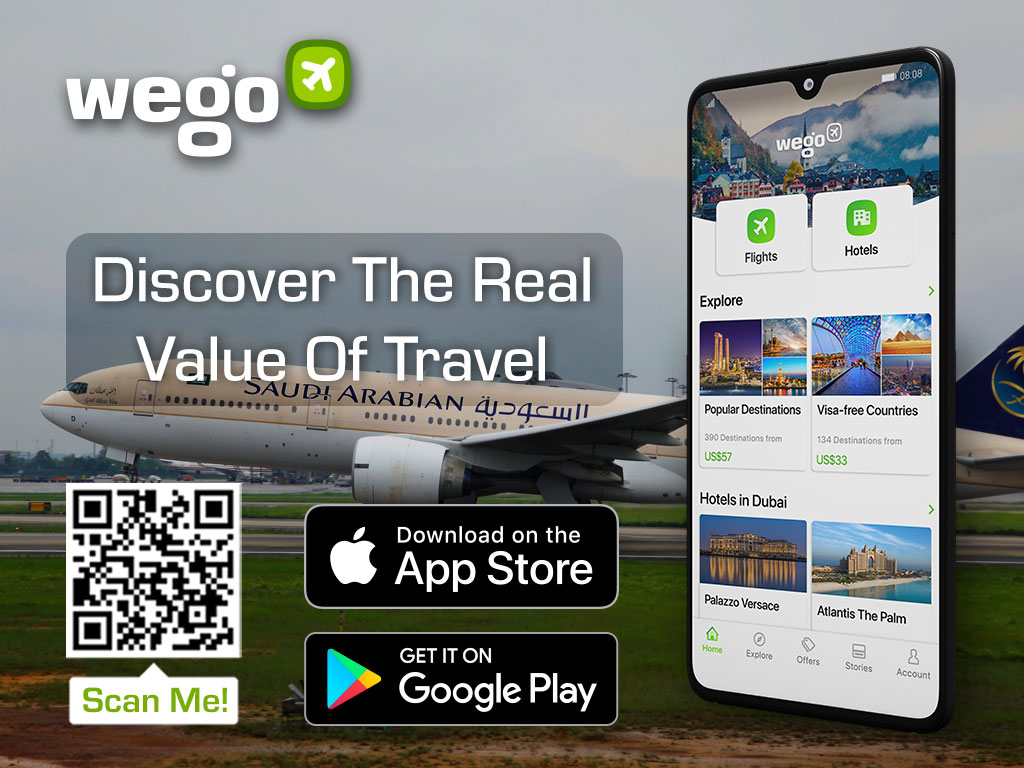 Requirements for Saudi citizens travelling abroad
Only fully vaccinated Saudi citizens may travel abroad and take domestic flights. As per the latest travel guidelines, the following categories are exempted:
Children under the age of (12) twelve years provided that they obtain a valid health insurance policy approved by the Saudi Central Bank (SAMA) to cover the risks of COVID-19.
Individuals whose status in Tawakkalna appear (Exempted) from COVID-19 vaccine, are to be treated equally as those whose status in Tawakkalna appear as IMMUNE.
Keep in mind that the vaccines being administered in Saudi Arabia are Pfizer-BioNTech, Oxford-AstraZeneca, Moderna (Spikevax), Johnson & Johnson's Janssen.
Effective 9 February 2022, Saudi has made booster doses mandatory for all its citizens who wish to travel internationally. Citizens must take a booster shot 3 months after receiving their primary vaccine doses. Booster shots are not mandatory for travellers below 16 years.
When is Saudia open?
Saudi Airlines, the Kingdom's flagship carrier, has currently resumed its international service to a variety of international destinations since May of last year. Saudi travellers looking to travel internationally can now do so with relative ease provided they are able to satisfy the requirements set by the authorities.
Saudia regularly services flight routes to over 80 cities in Asia, Europe, Africa and North America from its hubs of Jeddah, Riyadh, Dammam, Medina and Abha.
Guidelines and requirements for travellers into the Kingdom
Non-Saudi nationals holding tourist visas are now allowed to enter the Kingdom if they have fulfilled such requirements:
Completed the required doses of one of the COVID-19 vaccines approved by the Saudi Ministry of Health or vaccines approved by WHO and have received a booster dose from one of the vaccines approved in the Kingdom.
Successfully registered on the Arrival Registration Platform
Provide a negative PCR test certificate issued from a verified laboratory that does not exceed 72 hours from the time the test is undertaken until departing to the Kingdom.
Vaccination criteria
All travellers arriving in Saudi Arabia must obtain and show proof of vaccination (vaccine certificates for COVID 19) with one of the flowing vaccines:
2 doses of Pfizer BioNTech
2 doses of Oxford AstraZeneca or Covishield or SK Bioscience or Vaxzevria.
2 doses of Moderna
1 dose of Johnson Johnson & Janssen
2 doses of Sputnik V
2 doses of Covaxin
Travellers who have completed two doses of the following vaccines will be accepted :
On condition that they have received an additional dose of one of the Pfizer, AstraZeneca, Johnson & Johnson or Moderna vaccine.
Testing requirements
Quarantine requirements
As per Saudi Arabia's latest quarantine requirements, all permitted non-citizen arrivals to the Kingdom must serve institutional quarantine for a period of five (5) days. Two tests are to be conducted on the first and the fifth day. The period of institutional quarantine will end if the result of the test is negative.
Arrivals from Ethiopia and Afghanistan
Institutional quarantine will be applied on all passengers (including Saudi citizens) traveling from the Federal Democratic Republic of Ethiopia and the Islamic Republic of Afghanistan.
Excluded from the Institutional quarantine are the following:
Diplomats and their families
Cabin Crews
Health practitioners and their families
Those involved in health supply chains, according to MOH
Arrivals from restricted countries
Institutional quarantine shall be applied to all exempted categories arriving from South Africa, Namibia, Botswana, Zimbabwe, Mozambique, Lesotho, Malawi, Zambia, Madagascar, Angola, Seychelles, Mauritius, Union of Comoros, and the Federal Republic of Nigeria for a period of five (5) days. Two tests will bge conducted on the first and the fifth day regardless of their immunization status.
Excluded categories are as follows:
Citizens, with a home quarantine to be applied on them for (5) days.
Exempted those who have spent at least fourteen (14) days in one of the permitted countries
Guests shall comply with the time of the COVID-19 test based on what appears in the Tawwakalna app.
Companions with the vaccinated parents are allowed to enter in accordance to the following:
Guests under the age of 18 years are subject to Home Quarantine for 5 days and must take Corona Virus Test on day 5 for those who have completed 8 years and above.
Institutional Quarantine will be applied for those companions who have completed the age of 18 years and above.
For more information about Saudi Arabia institutional quarantine packages, please click here
Saudi Arabia's red list
The travel ban on countries that pose a risk of transmission still remains in force. Saudi travellers are strictly prohibited from travelling to the following countries:
Libya, Syria, Lebanon, Yemen, Iran, Turkey, Armenia, Ethiopia, Somalia, Democratic Republic of Congo, Afghanistan, Venezuela, Belarus, India, Vietnam, and the Republic of Indonesia.
For citizens found to have visited these countries, the penalty of infringement is a three-year international travel ban. Non-compliance will also result in legal action and hefty fines.
Direct entry from specified countries
The Kingdom of Saudi Arabia now allows travellers from the Republic of Indonesia, the Islamic Republic of Pakistan, the Federal Republic of Brazil, the Socialist Republic of Vietnam, the Arab Republic of Egypt, and The Republic of India to directly travel to the Kingdom without the need to spend fourteen (14) days out of the said countries prior to entry.
Institutional quarantine procedures must be followed for a period of five (5) five days regardless of the travellers' immunization status.