This article is reviewed regularly by Wego's editorial team to ensure that the content is up to date & accurate.
Updated October 2023
Saudi Arabia is making rapid progress towards becoming a futuristic global destination, guided by the ambitious goals of Saudi Vision 2030. Through deep economic and social reforms, the Saudi government aims to build a vibrant society, a thriving economy, and an ambitious nation that can compete in the global arena.
What is Saudi Vision 2030, and what does it aim to achieve? Read on to learn more.
Saudi Vision 2030
As described by Crown Prince Mohammad bin Salman bin Abdulaziz Al-Saud, Saudi Vision 2030 is an ambitious yet achievable blueprint that outlines the country's long-term goals and expectations while also reflecting its strengths and capabilities.
The Saudi Vision 2030 is designed to lay the foundation for a more innovative, livable, and entrepreneurial Saudi Arabia through deep economic and social reforms. The goal is to enable every citizen to prosper and contribute to the flourishing of themselves, their families, and the entire Kingdom.
Book cheap flights to Saudi Arabia
Vision Realisation Programs
Vision Realisation Programs (VRPs) have been developed to turn the vision into action. These programs align their activities with approved delivery plans that are guided by pre-defined objectives and key performance indicators (KPIs) tied to 5-year milestones.
The VRPs cover various sectors, including finance, housing, fiscal sustainability, healthcare, human capabilities, national industrial development and logistics, national transformation, pilgrim experience, privatization, public investment, and quality of life.
As Vision 2030 moves into the next phase, the VRPs have been reviewed, assessed, and realigned to better meet the needs of Saudi Arabia and to achieve the goals of Vision 2030.
Saudi Vision 2030 pillars, goals and purpose
The Saudi Vision 2030 has been built around the following three pillars, i.e. strategic objectives to enable effective implementation through the Vision Realization programs.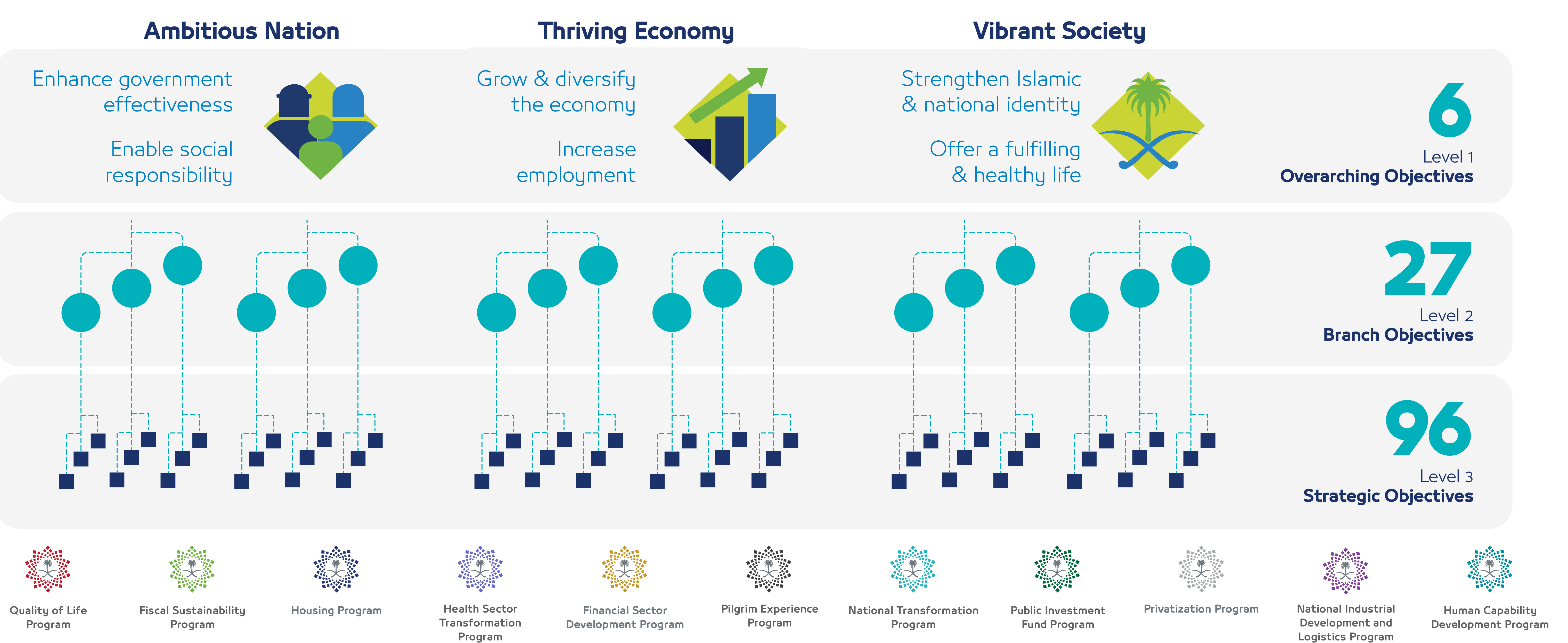 A Vibrant Society
The goal is to strengthen Islamic values and national identity and to provide a fulfilling and healthy life for every citizen. A vibrant society is crucial for establishing a solid foundation for economic prosperity. The Vision aims to create a society where people can enjoy a happy and fulfilling lifestyle, with access to world-class healthcare and education and a safe and secure environment for families. At the same time, the Vision encourages citizens to embrace their national identity, cultural heritage, and the Islamic principle of moderation.
A Thriving Economy
The goal is to diversify and grow the economy and increase employment in the Kingdom. A thriving economy provides opportunities for everyone by aligning the education system with market needs, equipping young people with the skills for the jobs of the future, and creating economic opportunities for small enterprises, entrepreneurs, and large corporations alike.
An Ambitious Nation
The goal is to enhance government effectiveness and promote social responsibility. An ambitious nation strives for efficiency and accountability at all levels, including building an effective, transparent, accountable, enabling, and high-performing government.
You can find detailed information about the strategic objectives and realization programs for each pillar here.
Saudi Vision 2030 tourism projects
As part of the Saudi Vision 2030, the Kingdom aims to become a modern, high-tech, and sustainable travel destination of the future, with cutting-edge features and amenities. To achieve this goal, the Kingdom has launched several ambitious tourism projects, including:
The Red Sea
The Red Sea Project is a massive luxury and sustainable tourism undertaking encompassing a vast nature reserve consisting of some 90 pristine islands, dormant volcanoes, heritage sites as well as coral reef dive areas.
The Red Sea project is located along the Western coast of the Kingdom of Saudi Arabia, between the cities of Umluj and Al Wajh.
The Amaala Project
The Amaala Project is a world-class ultra-luxury travel destination that aims to elevate and transform the very concept of travel. Located along Saudi Arabia's northwestern coast, Amaala will offer visitors transformative personal journeys that combine wellness, arts, culture, and the pristine natural beauty of the Red Sea.
Its sub-projects include the Triple Bay, The Coastal Development, and The Island.
NEOM
Neom is a futuristic city being built in the Tabuk Province of northwestern Saudi Arabia. The city is designed to incorporate cutting-edge smart city innovations, where world-class technology is fueled by data and intelligence to create a sustainable living space that will also function as a major tourist destination. Neom is located north of the Red Sea, east of Egypt across the Gulf of Aqaba, and south of Jordan.
It includes different sub-projects like Trojena, Oxagon, Sindalah, and The LINE.
New Murabba and Mukaab
New Murabba is a massive modern downtown development in Riyadh that is poised to become the largest of its kind in the world. Spanning nearly seven square miles, the futuristic metropolis will be roughly one-third the size of Manhattan and will feature a wide range of entertainment and cultural venues, residential properties, commercial spaces, tourist attractions, an immersive theater, a design university, and a museum. At the heart of the development will be a striking, cube-shaped structure called the Mukaab.
Avid growing aviation industry
Saudi Arabia aims to become a global leader in aviation as part of its Vision 2030 initiative. The country plans to accommodate over 300 million passengers annually and has seen a surge in international tourism, ranking 13th globally for receiving international tourists in 2020. To achieve its aviation goals, Saudi Arabia is investing in airport expansion and launching a new national airline based in Riyadh.
This new airline will complement Saudia, the existing flagship carrier. Saudia is improving its passenger services and introducing new aircraft to compete with regional rivals like Emirates, Qatar Airways, and Etihad. Additionally, Saudia offers a free 96-hour stopover visa to passengers who book flights on Saudia or Flynas, a low-cost carrier based in Saudi Arabia.
Saudi Vision 2030 resources
To learn more about King Salman's Saudi Vision 2030, you can find complete details and information compiled on the official website in the form of a PDF file.
The Saudi Vision 2030 also has an official YouTube channel that regularly posts videos about the latest updates on the ambitious plan. You can subscribe to the channel to stay up-to-date with the latest news and developments.
[Total:

122

Average:

4.8

]