This article has been reviewed by Wego's editorial team to ensure that the content is up to date & accurate.
At the end of Ramadan, the ninth month of the Islamic lunar calendar, Muslims worldwide gear up to welcome Eid al-Fitr, a joyous and triumphant day where the faithful individuals claim the ultimate prize; their return to a state of purity. On this day, prayers are offered, kinships are strengthened, and alms for the poor are given. 
Having fulfilled one of the five pillars of Islam, mouth-watering feasts are held and shared with family, friends, neighbours, and just about anyone in need of sustenance; it is believed that absolutely no soul shall go unfed on the day of Eid. 
As we prepare to welcome the festivities, here are the dates, calendar and guide to celebrating Eid al-Fitr 2024 around the world.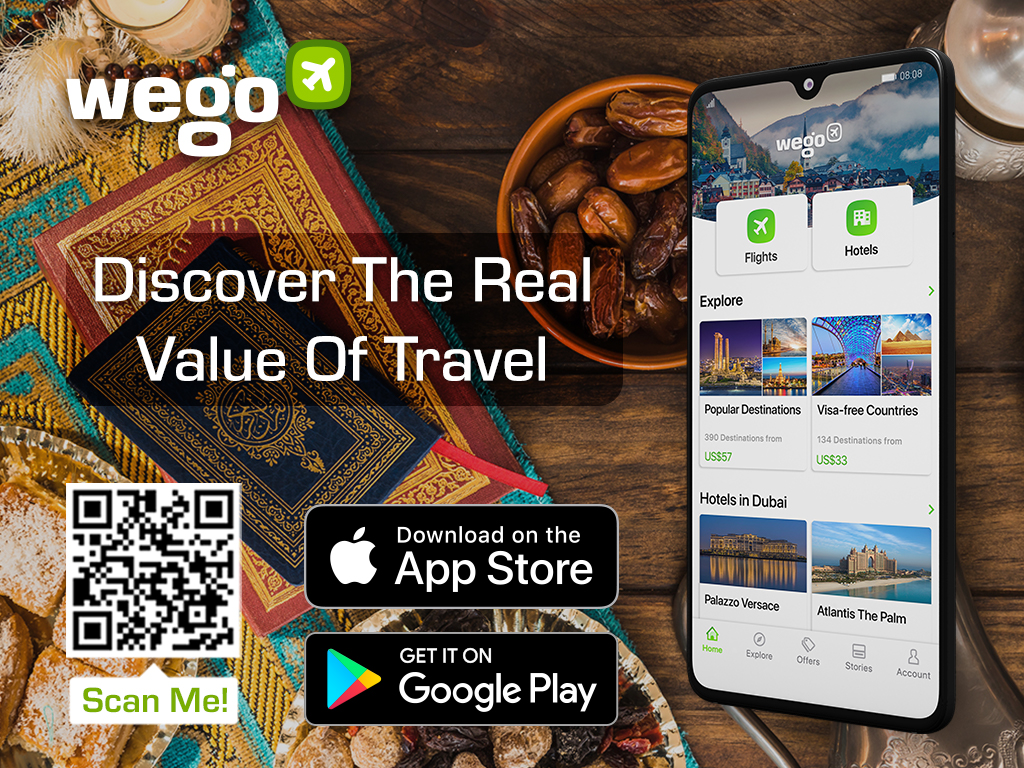 Eid al-Fitr 2024 dates and calendar
Eid al-Fitr in 2024 is expected to fall on Monday, April 8th or Tuesday, April 9th, subject to the sighting of the moon. In the Islamic calendar, Eid al-Fitr is observed on the 1st and 2nd day of Shawwal. Please note that dates may vary and are subject to change based on the sighting of the moon.
Apart from the Eid prayer, Muslims are obliged to pay the Zakat al-Fitr on this day. Zakat al-Fitr is essentially a mandatory charity obtained from every Muslim a couple of days before the end of Ramadan. Each and every adult Muslim must provide a sum of some USD 7 per person. The amassed sum will then be distributed to those in need just before Eid al-Fitr arrives. 
How Muslims around the world celebrate Eid al-Fitr 2024
The celebration of Eid al-Fitr is largely the same around the world. As soon as the crescent moon has been observed, praises to the Almighty can be heard echoing throughout the masjids, houses, markets, and essentially everywhere. The celebration begins early in the morning, with Muslims praising God loudly as they make their way to the nearest masjid. However, every country has their own ways and traditions of celebrating Eid Al Fitr. 
Eid preparations are usually cared for to perfection up to a week prior. New clothes are donned, with women wearing their new kaftans and men wearing white Jellaba as a symbol of purity. The houses of relatives and friends are visited, and sweets and gifts are given and taken as a symbol of gratitude.
The rest of the day sees families and friends visit one another, carrying out traditions such as providing gifts and small sums of money to children and partaking in the lavish feast. Muslims come together physically and spiritually as they congratulate and ask forgiveness from one another.  
In essence, Eid al-Fitr is a day of forgiveness and unity, a day where love, peace and charity prevail.
Bangladesh
Bangladesh is a place of racial harmony, and people of different religions live here in peace and harmony. Despite being a Muslim-majority country, the joy and happiness of Eid are spread amongst all citizens of the country, regardless of their religion. Children are incredibly excited as they have come to associate Eid al-Fitr with generous sums of gifts and feasts. It's typical for adults to congratulate the little ones by distributing sweets, gifts, and small sums of money to express the holiday's joy.
Preparations for celebrating Eid begin days before the day as everyone becomes busy buying new clothes for the festival. They treat themselves, their friends, and their families. One week before the Eid festival, people start going to their respective hometowns and villages from Dhaka to meet relatives and celebrate the festival.
Find more about the celebration of Eid al Fitr in Bangladesh below. 
Bahrain 
In Bahrain, the Eid al-Fitr celebrations begin with the Eid prayer. Unlike in some Middle Eastern countries, it's not just the men, but the whole family prepares to visit their nearest masjid after having a light breakfast. 
Among the most prominent features of the Eid festivities in Bahrain are family visits and gatherings. The joy of Eid will not be complete without the donning of some new clothes and the lighting of incense, followed by the trip to the masjid. These gatherings present a great opportunity for people to meet and wish the best for their neighbours. 
After completing the Eid prayer, the family typically gathers at the Al Bait Al Oud (the family house), specifically on a specially prepared table, to have their sumptuous Eid breakfast together. Often the popular dishes are ghoozi, a dish of rice, lambs and eggs, and baklava, a sweet delight drenched in honey.
Find more about the Eid al Fitr celebration and tradition in Bahrain by clicking on our article below. 
Dubai and The UAE 
In the days leading up to Eid al-Fitr, Emirati housewives dust and clean their houses. The day begins early with morning prayers, either at home or at a nearby mosque. At lunchtime, the Arabs feast on traditional dishes such as ouzi, chicken machboos, and desserts like luqaimat.
Giving gifts and donations is also an indivisible part of the festival. For those looking to acquire gifts for their loved ones, Emiratis are accustomed to taking advantage of the Eid offers as they become available. Eid gift-giving is a tried and true tradition between Emirati families and friends as a sign of affection. Children are also given sweets, gifts or money as a token. It is also customary to give zakat al-Fitr to the needy so that everyone can celebrate the festival with gaiety.
The Emirati children celebrate Hagg Al-Layla, where they dress in their best clothes and go around their neighbours' houses to recite songs and poems. In return, the neighbours reward them with various sweets and nuts that they will put in their traditional cloth bags.
You can also check out our article to find more details about the traditions and celebrations of Eid al Fitr on the UAE below.
India
On the night just before Eid ul Fitr, Muslims celebrate what's known as the Night of the Moon or Chaand Raat. Traditionally, it is a night when Muslim families visit the markets, shopping malls and bazaars for all their Eid ul Fitr needs. New clothes, traditional snacks and other festive-related items are acquired on the night.
As mandated by their faith, the Zakat al Fitr (obligatory donation) must be completed prior to the morning Eid prayer. Those with the financial means of doing so must donate either money or items such as rice, barley, dates and other similar provisions. This mandatory donation must be distributed to the poor prior to the celebrations to ensure that all souls are able to enjoy a joyous holiday.
Next comes the morning Eid prayer. Muslims congregate either in large mosques or any outdoor locations deemed fit to serve as praying venues. The Eid prayer focuses on gratitude to the almighty for having granted the will and resolves to the believers to successfully complete the arduous Ramadan fast. 
Check out for more details about traditions and celebrations of Eid al Fitr in India below. 
Kuwait
Kuwaitis usually start Eid immediately following the pre-dawn prayer with a light breakfast consisting of sweets and dates. This is to signify that Eid has definitely arrived and that Muslims will absolutely not fast on this day. 
Early in the morning, Muslims wear their finest clothing and visit the local masjid to attend the Eid prayer and meet with their neighbors. After the obligation has been fulfilled, families gather at their homes and offer Eid blessings while giving and asking for forgiveness from one another. This is the essence of Eid for many people; a time where people start anew and families reaffirm the love they have for each other.
Muslims also typically clean and decorate their houses to welcome relatives and friends who may wish to visit their homes. Typically, a feast is held with everyone aiming to be the most generous of hosts by serving generous amounts of festive food and beverages.
You can find more traditions and celebrations of Eid al Fitr in Kuwait below. 
Oman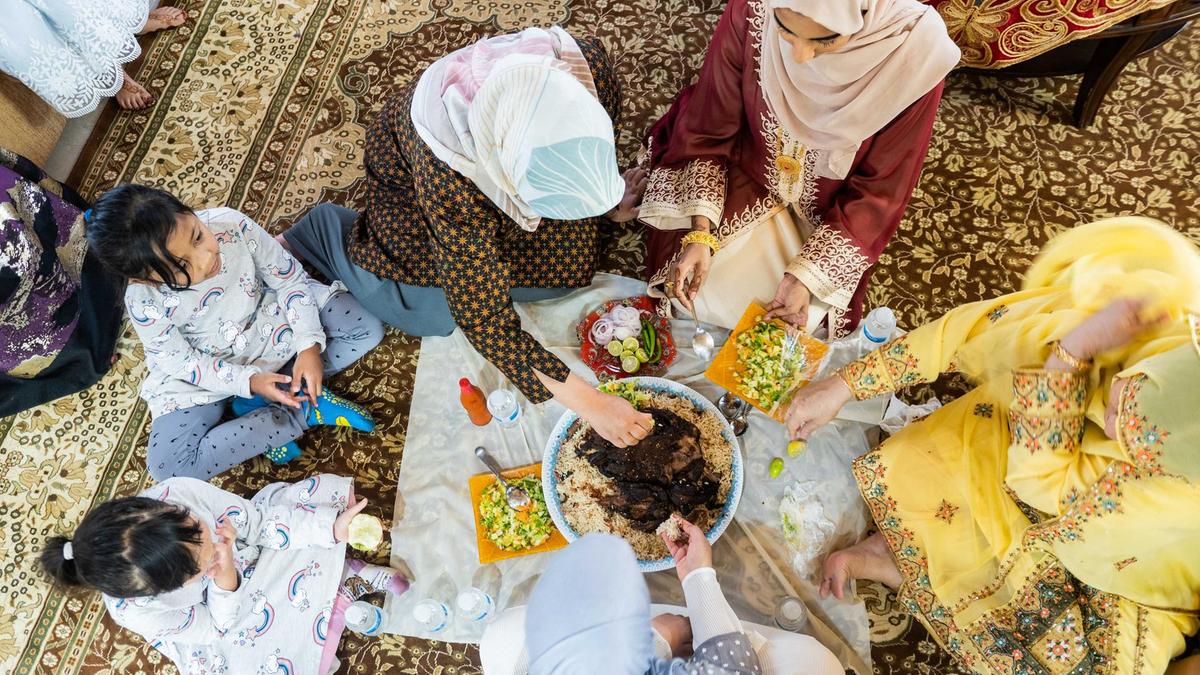 The diversity of Oman can perhaps be best observed in the way Omanese celebrate Eid al-Fitr throughout the sultanate. From prayers to festive dishes and traditional dances, the cultural diversity is a testament to Oman's rich traditions in welcoming the joy that is Eid al-Fitr. 
People in Musandam Governorate, however, do not generally go out of their way to prepare any special dishes. The traditions observed in Musandam are similar to those practised in Muscat; people mostly return to their hometowns to celebrate Eid al-Fitr with their relatives. Their tradition is defined by family gatherings followed by going on trips to rural areas on the second day.
Get to know more about the details of Eid al Fitr in Oman below. 
Qatar 
The people of Qatar celebrate Eid-al-Fitr for three days after fasting a month in the holy month of Ramadan. Though Eid may be celebrated differently in separate parts of the world, the day typically begins with a special Eid prayer held after the early morning prayers when the sun is out. It is crucial to give Zakat-ul-Fitr before the Eid prayers, giving alms to those in need. After the prayers, Muslims often visit friends and family bearing gifts and goodwill and may also get together over a meal.
Everyone wears new clothes, visits friends and family, enjoys special Eid foods and sweets, traditional Qatari dishes such as machboos, ghuzi, balalat, um ali, and exchanges gifts as part of the Eid tradition.
Find more details of the celebrations and traditions of Eid al Fitr in Qatar on our article below. 
Pakistan
Rising early on the dawn of Eid, the rich and the poor wash, dress up in new clothes, and start the day with a light breakfast consisting of fine wheat noodles mixed with milk and commonly known as Vermicelli.
A special treat associated with this festival in Pakistan is Sheer Korma, which is pasta cooked in milk and sugar, and sprinkled with almonds, pistachios, and dates. This dish is served on the morning of Eid after the Eid prayer as breakfast and throughout the day to any visiting guests.
In particular, children are incredibly excited as they have come to associate Eid Ul Fitr with generous sums of gifts and feasts. It's typical for adults to congratulate the little ones by distributing sweets, gifts, and small sums of money to express the holiday's joy.
Find more about the details of traditions and celebrations of Eid al Fitr in Pakistan on our article below. 
Saudi Arabia
Early in the morning, the men don their finest clothes and make their way to the masjid, where countless Muslims amass for the Eid prayer. Tradition dictates that everyone must first avail themselves of a light breakfast before going to prayer to signify the completion of the fasting month. After the prayer, the faithful visit their relatives and friends to present their Eid vows. Indeed, people pay subsequent visits to one another and wish everyone Eid Mubarak.
Children, in particular, are particularly excited as they have come to associate Eid ul Fitr with generous sums of gifts and feasts. It's typical for adults to congratulate the little ones by distributing sweets, gifts and small sums of money as an expression of the joy of the holiday.
Throughout the country, people prepare their abodes for the festivities by putting up decorations and arranging holiday lighting to properly receive guests. Joy and happiness prevail in all regions of the Kingdom, as the country immerses itself in the grand celebration.
Find more details about the Eid al Fitr celebration in Saudi Arabia below.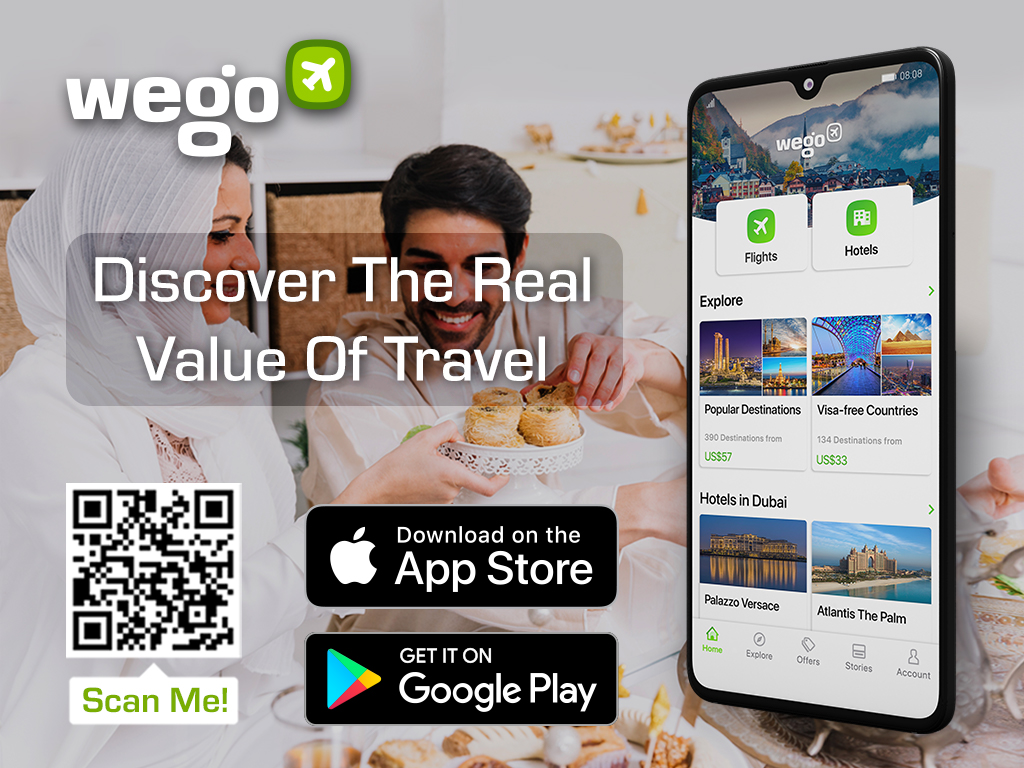 [Total:

207

Average:

4.9

]